It's Kathy Klaper AARP Illinois Staffer this week talking about Multigenerational families and home modification.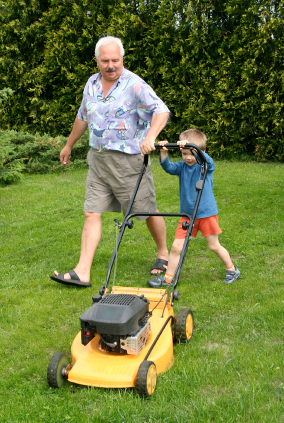 We love our homes, no matter the size, our home is our castle, but the changing face of the family unit has increased the number of multigenerational families living under one roof. Even the definition of "family" is changing. Health issues of the elderly, financial security, job loss, changing demographics of adult children, and large multicultural communities have changed the diverse culture of how we live, and how we as family take care of each other.

Multigenerational housing is not new. Many cultures have for years had three or more generations under one roof to address financial, economic, or caregiving situations. Today, purchasing homes jointly by adult children and their elderly parents seems to be more commonplace. According to PEW Research Center, and the U.S. Census Bureau approximately 51 million Americans or 16.7% of the population live in a house with at least two adult generations including grandparents. This is a 10.5% increase from 2007 to 2009.

Having elderly family members move in with their Baby Boomer children and consolidating resources makes financial sense, especially when weighing the cost of Long Term Care facilities. Seriously it's expensive... it can cost anywhere from $42,000.00 to $90.000.00 per year for assisted living facilities and even more if skilled care is required.

So let's get down to it - if you're building a home or modifying one there are some really great "universal design" principals to keep in mind that everyone in the family can take advantage of.

-Wheelchairs, scooters, lifts, and other ambulatory devices need a lot of space, our recommendation? Entryway doors that are 36 inches wide, interior doors with widths of 34 to 36 inches, and passageways measuring 42 inches wide.

-Rugs, chords, and certain types of flooring can be tripping hazards, make sure to remove, tape down, and de-clutter. Check out our Home and Safety Checklists for more information.

-In the bathroom things like a walk in bathtub, or "roll in" shower can be installed. Don't forget simple modifications like grab bars.

-Outside safety is just as important as the inside - wheelchair ramps, ice removal, level surfaces are all keys to a safe environment.

If you're looking for inspiration there are some brilliant Pinterest boards from everyone to individuals to contractor to mobility specialists, and occupational therapists, just search pinterest.com for "Home Modification"  There are even creative home building programs called, "Next Gen Housing", which is building two houses in one to meet the growing needs of multigenerational families.

Below is a list of resources on home modification:

www.aarp.org/homedesign - Home design and safety updates

www.aota.org/Consumers/consumers/Adult.aspx - The American Occupational Therapy Association

www.homemods.org - National Resource Center on Supportive Housing and Home Modification

 



If you would like to share your stories or let me know what your caregiving needs are, contact me at kklaper@aarp.org. Talk to you next week.