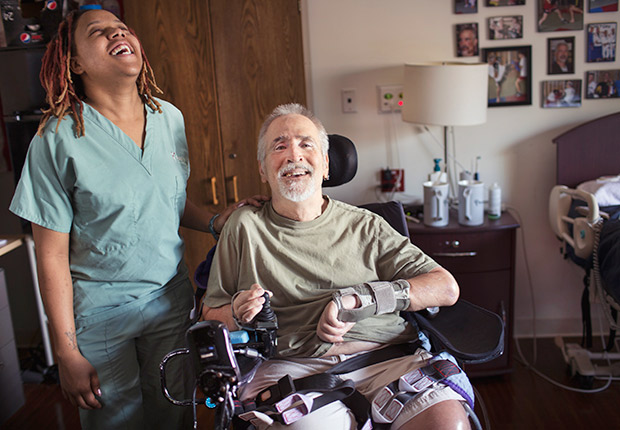 By Michelle Crouch

André Carson had three kids and a successful law practice when he hopped on his son's scooter for a ride down his driveway in Raleigh 10 years ago. Then a wheel hit the grass and he was flying through the air. When he landed, he shattered his neck—and his life as he knew it.

The accident left Carson paralyzed from the shoulders down. He could no longer bathe, dress or feed himself. He tried living at home, but it was too tough for his wife to care for him. So eventually he moved into a care facility, and his medical costs soared.

Once Carson's own resources were drained, Medicaid kicked in. "Because of Medicaid, I have a roof over my head, food to eat and round-the-clock medical care," said Carson, now 57. "I can't imagine what survival would be like without Medicaid."

Next month will mark the 50th anniversary of Medicaid, the joint federal-state program that provides free and low-cost health care to about 1.8 million poor and disabled North Carolinians.

Here are four things you may not know about Medicaid in the state.

Medicaid does not cover all poor people. Only 26 percent of North Carolina's poor adults 19 to 64 qualify for and receive Medicaid services, according to the nonpartisan Kaiser Family Foundation.In North Carolina, to get Medi­caid you have to be poor and fit into one of several categories. These include pregnant women, children under 21, people living with a disability, poor people over 65, and the parent of a low-income child under age 19, said Pam Silberman, a professor of health policy and management at the UNC Gillings School of Global Public Health. "If you're just poor but aren't in one of those categories, you don't qualify," she said.

The federal Affordable Care Act was supposed to close that gap, but state legislators have voted against expanding Medicaid. If the state reversed course and opted for expansion—a move AARP North Carolina supports—roughly half a million people would be newly eligible for coverage, according to Kaiser.

For every $1 the state spends on Medicaid, the federal government pays $1.93. If Medicaid were expanded, the federal government would pay the full cost of covering those added by the expansion, declining to 90 percent by 2020.

Medicaid is the state's largest insurer for nursing home care. Many people think that Medicare takes care of all your needs once you're 65, but it's long-term care coverage is very limited, said Bill Lamb, president of the North Carolina Coalition on Aging."One medical crisis and you've exhausted every penny you've ever saved," he said. "Once you drain your assets, you get Medicaid. This is what's providing coverage for most of those who come into care at the end of their lives."

Medicaid helps keep many people out of nursing homes. Medicaid provides services to help low-income and disabled residents stay in their homes as long as possible. About 41 percent of its long-term care spending in North Carolina is for home- and community-based services. In addition to skilled care, the program may pay for personal care, medical equipment and minor home adaptations."Just a little bit of assistance at home can go a long way in terms of keeping people independent," Lamb said. "It may be a few hundred dollars a week to have someone come into the house every day. Compare that to a nursing home" at a cost of about $75,000 a year.

Medicaid's per capita state spending has declined since 2008. While the overall cost of the program is growing, the state's per capita spending on Medicaid has dropped by 11.6 percent since 2008, while rising 6 percent nationwide, according to the General Assembly's Fiscal Research Division.The decline is partly due to an increase in the number of enrolled children (who generally cost less because they're healthier), but it also reflects rate reductions and policy changes made by the state.
AARP North Carolina will push to maintain a high quality of care and eligibility for low-income older and disabled adults, said AARP state director Doug Dickerson. "Our number one priority is to ensure the state and community help people continue to live independently in their homes."
Michelle Crouch is a freelance writer based in Charlotte.