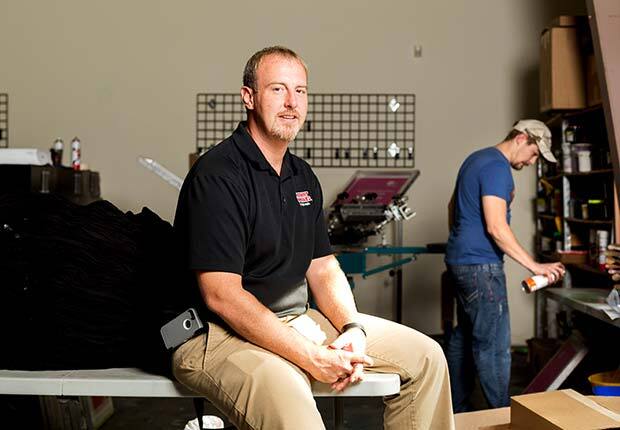 By Michelle Crouch

Chuck Sawyer, 37, wishes he had started saving for retirement a decade ago, but he was too busy ensuring the success of his promotional-items business, Instant Imprints. Now that he has nine employees in three shops, he wishes he could do more to encourage them to save.
"We've discussed setting up a retirement plan for our employees a few times, but it's expensive and time-consuming," said Sawyer, of Wake Forest. "Small-business owners have enough to deal with as it is, and that's one more thing. It would be nice to have something in place that they could just sign up for."
AARP North Carolina is urging the General Assembly to create a privately run, state-administered retirement plan for small businesses and their workers if they do not have access to employer-sponsored programs. Similar to programs under consideration in more than a dozen other states, the plan would allow workers to voluntarily save through automatic payroll deductions.
"Too many people aren't saving, and they think they can put off saving today for tomorrow," said Charmaine Fuller Cooper, AARP North Carolina associate state director for advocacy. "At some point they'll be at tomorrow and find the only thing they have is Social Security—and it won't be enough."

Financial security worries
Nationally, about 1 in 3 Americans have absolutely nothing saved for retirement, according to a recent Federal Reserve Board report. Among individuals ages 55 to 64, about 1 in 5 have nothing saved, the report found.
About 1 in 3 North Carolina residents 65 or older rely on Social Security as their only source of income, according to Census Bureau data. "That's hardly enough for a person to be self-sufficient in retirement," Fuller Cooper said. "With the rising cost of housing and health expenses, we really want to make sure that people are saving and that they have another source of revenue in retirement."
In North Carolina, 46 percent of voters age 50-plus who responded to an AARP poll said they were worried about their financial security during their retirement.
Experts have long known that Americans are much more likely to save for retirement when they are given the opportunity to do so at work. However, 52 percent of private-sector workers in North Carolina don't have access to a pension or retirement plan, according to the AARP Public Policy Institute.
The proposed plan for North Carolina, called NC Work and Save, would automatically enroll workers, giving them the choice to opt out (rather than opt in).
That type of plan generally has a much higher participation rate, said Robert Clark, a professor of economics at North Carolina State University who researches retirement issues.
The plan would likely be run by a nonprofit agency, with a board appointed by the General Assembly and the governor that would oversee operations.
The retirement plan would also:
Be portable and follow individuals as they change jobs. Workers who move to another state could either leave their money in the fund or roll it into another plan elsewhere.
Have a 3 percent minimum contribution, with the option for an annual automatic 1 percent increase.
Give workers the option to contribute a portion or all of their state tax refund to their accounts.
Allow workers to select from a variety of investment options and to seek guidance from an investment firm.
Setting up a retirement plan can be a particular challenge for small businesses, Clark said, because of the costs associated with the plan's creation, administration and compliance requirements.
"The more people you have, the easier it is to spread those costs out," he said.
AARP has been meeting with legislators to build support and draft the legislation, with the hope that it will be introduced in 2015.
You can express your views about the proposal by sending your thoughts and questions to AARP North Carolina at ncaarp@aarp.org or calling 866-389-5650 toll-free.
Michelle Crouch is a freelance writer based in Charlotte.