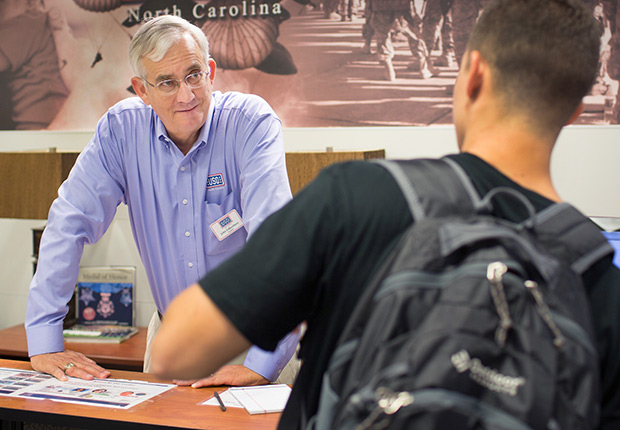 By Sue Price Johnson

Perhaps no one knows more about career and life transitions than people serving in the military. Now, AARP—with 4 million veterans as members—is expanding its efforts to help those who served and their families.

It's a natural fit in North Carolina, home to one of the nation's largest active-duty military populations. The state has about 775,000 veterans, and two-thirds of them are 50 and older.

Military and civilian AARP members face many of the same issues: career transition, finances, health care and caregiving. But there are differences.

"They specifically have different needs, different benefits, a culture that comes from that service, and we're trying to see if AARP can be more deliberate about helping veterans," said Doug Dickerson, AARP North Carolina state director.

Dickerson joined AARP North Carolina four years ago after retiring from the Air Force as a lieutenant colonel. He knows personally many of the issues facing the nation's 22 million military veterans, including more than 2.6 million who served in the aftermath of the 9/11 attacks. More than 5.5 million veterans have disabilities of some kind, Dickerson said.

Most veterans don't use all their VA benefits, either because they don't know about them or they may think it's too difficult, he added. Together with the USO and other groups, AARP can help.

"What we're working to do is to reintroduce AARP to veterans, showing them our benefits and helping vets and their families find what's available to them," Dickerson said.

At a Stop Soldier Suicide event in Durham, Dickerson talked a little about his own difficult memories, including the suicide of an airman in his command. And when Dickerson was in Afghanistan, a suicide bomber hit just three minutes and three seconds after he had gone through the same spot. "I left there so grateful to be alive today and determined to help other veterans."

Until recently, the only military-specific AARP benefit was a 20 percent discount on the basic $16 membership. Now, through the aarp.org/veterans website and programs at the state level, an effort is underway to help veterans learn more about their military service benefits and AARP programs.

Wide-ranging workshops

This fall, AARP North Carolina plans workshops for vets on issues including saving for retirement, family caregiving, financial literacy, jobs and planning the next steps in their lives and careers with AARP's Life Reimagined program. "The types of services we offer can positively impact the soldiers, sailors, airmen and Marines who are among our members," Dickerson said.

The issues can affect veterans of all ages. Younger vets with disabilities might live in the care of their parents. AARP is working to help them and their families prepare for when the parents can no longer provide that care or need help themselves.

Health and caregiver programs that AARP offers "dig deeper into why they need to take care of themselves. It's as much about families as about the veterans," Dickerson said.

The USO, which works with active-duty and retired military members and their families, is embracing partnerships with AARP.

"Programs transcend age if you're helping individuals, like Life Reimagined," said Army veteran John Falkenbury, 59, who serves as president of the USO of North Carolina.

The USO and AARP partnered at Seymour Johnson Air Force Base in Goldsboro in May, hosting the "Wings Over Wayne" air show and concert featuring American Idol contestant Kellie Pickler.

"If you want to touch a younger audience, those programs are applicable to people in their 30s. That's why we're trying to team up to do things," said Falkenbury. "It's an emerging relationship. It's a new paradigm for us to work with AARP."

Veterans seeking information about AARP workshops, volunteer opportunities and local events can email ncaarp@aarp.org, call AARP North Carolina at 866-389-5650 toll-free or go to aarp.org/nc.

Sue Price Johnson is a writer living in Raleigh.