En Espanol | A package of new state laws makes it easier for Granite State voters to stay safe amid the coronavirus pandemic by expanding absentee voting, allowing all registered voters to cast a ballot from home:

Election Day is Tuesday, Nov. 3. Polling times and locations are determined by local election officials, so use the state's voter information portal to determine where and when to cast your ballot. Your polling place may be different this year, so check before you leave.
Be prepared for potentially long lines, and remember to take your mask and to follow social distancing measures at the polls. You'll need to bring a valid photo ID to the polls.
With Election Day only days away, consider dropping off your completed ballot in person. Contact your town or city clerk for more information about where to take your ballot.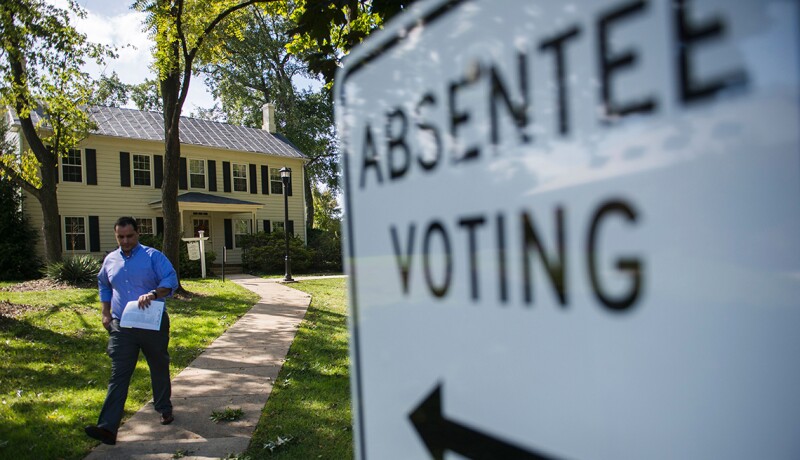 Here's what else you need to know:

How do I register to vote?

Unlike many states, New Hampshire doesn't offer online registration and makes registering by mail difficult, emphasizing in-person registration instead. But during the pandemic, the state is encouraging those concerned about the coronavirus to use absentee registration. You can request the forms and instructions from your town or city clerk's office (you can call or email) and mail the completed forms back by Oct. 21.

You can also register at your town or city clerk's office — call to ask about hours and deadlines — or you can register on Election Day at your specific polling place. You'll need a driver's license or non-driver ID from any state, as proof of identification and age, and a birth certificate, U.S. passport or naturalization document, as proof of citizenship. If you don't have this documentation, you can sign an affidavit.

New Hampshire maintains a voter hotline to answer registration and voting questions. You can call 833-726-0034.

How can I get an absentee ballot? Are there important deadlines?

To request an absentee ballot, download the form from the secretary of state's website and mail or fax it to your town or city clerk, or visit your clerk's office in person.

Voters are encouraged to apply for absentee ballots as soon as possible to ensure they arrive in time to be returned for the November election. For the general election, mailed-in absentee ballots must be received by your clerk by 5 p.m. on Nov. 3, Election Day. Hand-delivered ballots must arrive by 5 p.m. on the day before Election Day, or to the clerk at a polling place by 5 p.m. on Election Day.

How do I know my absentee ballot is secure?

Clerks use a transparent, vetted system for absentee ballots to be opened, verified and counted at each polling site on Election Day.

When is Election Day? When are polls open?

The general election is Tuesday, Nov. 3. Polling times are set by towns and will be posted on the secretary of state's website.

Can I vote before Election Day?

Only by absentee ballot; New Hampshire does not have early in-person voting.

What form of identification do I need to vote?

A valid photo ID, which can be a driver's license from any state a non-driver ID card issued by a motor vehicle agency of any state, or U.S. passport. Or you can sign an affidavit, have your photo taken and proceed to vote.

What is being done to make polling places safe from the coronavirus?

AARP New Hampshire has requested changes in polling places to maintain voter health and safety, including personal protective equipment for poll workers, antibacterial wipes and single-use pens/pencils at all sites, spread-out voting booths, sanitation equipment, and encouragement of drive-by voting. AARP has asked the state to publicize its updates. Details of the state's plans were not available as of late July.

Will I be able to vote in the same place as I always have?

Most likely. You can check your polling place at the New Hampshire Secretary of State's website.

What are the key races in my state?

U.S. President
U.S. Senate: Incumbent Jeanne Shaheen (D) vs. Bryant "Corky" Messner (R)
U.S. House: Both seats
Governor
State House of Representatives: All 400 seats
State Senate: All 24 seats
This story was updated on Nov. 2 with more information about voting in person. Voting rules and procedures may change before Election Day. We'll update this story if they do, so bookmark this page and check back.

AARP is urging older Americans to ask the candidates five key questions:

Just over half of all older Social Security beneficiaries rely on the program for at least 50 percent of their income. If elected, how will you ensure that current and future Social Security benefits are not cut as part of deficit reduction?
Half of the people with traditional Medicare spend at least a sixth of their income on health care. If elected, how will you protect Medicare from benefit cuts, as well as lower health care costs and ensure seniors continue receiving the affordable health care they have earned?
COVID-19 has caused death and suffering for too many older Americans who require long-term care. If elected, how will you make sure seniors can access safe and affordable long-term care at home, as well as in facilities like nursing homes and assisted living?
In New Hampshire, AARP's state office is also urging its gubernatorial candidates to tackle four key issues:

A workplace for all ages: What steps are you taking to adopt new ways of working for an intergenerational workplace and take advantage of the experience and expertise of older employees?
Creating livable communities: What steps will you take to ensure all Granite Staters have access to safe and affordable housing, adequate transportation options and services that allow people to remain in their communities as they age?
Caregiving and home health: How will you increase the number of qualified home health workers and the resources available to family caregivers?
Home- and community-based care: How will you protect and expand services that allow more seniors to live independently in their homes and communities?
Also of Interest