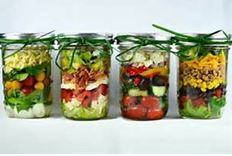 Discover the revival of mason jars!
These hip jars are back and can save you time, money and calories. Register for an upcoming Mason Jar in Minutes workshop and have Michelle Smith – Nutrition Consultant and Wellness Educator at Center for Health Promotion – teach you how to plan, prep and preserve your meals or snacks.
There's a special $5 workshop price for AARP members. And AARP members can bring one guest for an additional $5. Choose which session best fits your schedule – lunchtime or early evening. Both events will be held at Center for Health Promotion in downtown Concord and preregistration is required.
Here are the details:
Mason Jar Meals in Minutes*
Wednesday, March 14, 2018. 12:00 noon to 1:00 pm
Tuesday, March 20, 2018. 5:30 pm to 6:30 pm
Center for Health Promotions; 49 South Main Street #201; Concord, NH 03301
Directions
Registration required by calling 603 230 7300
Cost for AARP member and one guest: $5 per person
Take the stress out of meal planning and walk away with budget-friendly tasty recipes.
*Please note that any information you provide to the Center for Health Promotion shall be governed by its privacy policy.