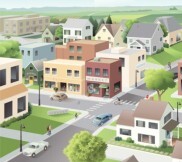 AARP and the Southern New Hampshire Planning Commission are guiding 14 communities through strategic planning to help residents live in their own homes as they age, rather than move into nursing homes.

Each community will survey its residents to evaluate needs in terms of housing, transportation, neighborhood characteristics, environment, health, opportunities, and civic and social engagement. The results will be shared with city planners and the public. The organizers hope the results will inspire other towns across the state to follow suit.

"Age-friendly communities are desirable places in which to live, work, visit and spend time for older and younger generations alike," said Todd Fahey, AARP state director.

For tips on how to make your community more age-friendly, go to aarp.org/livable.