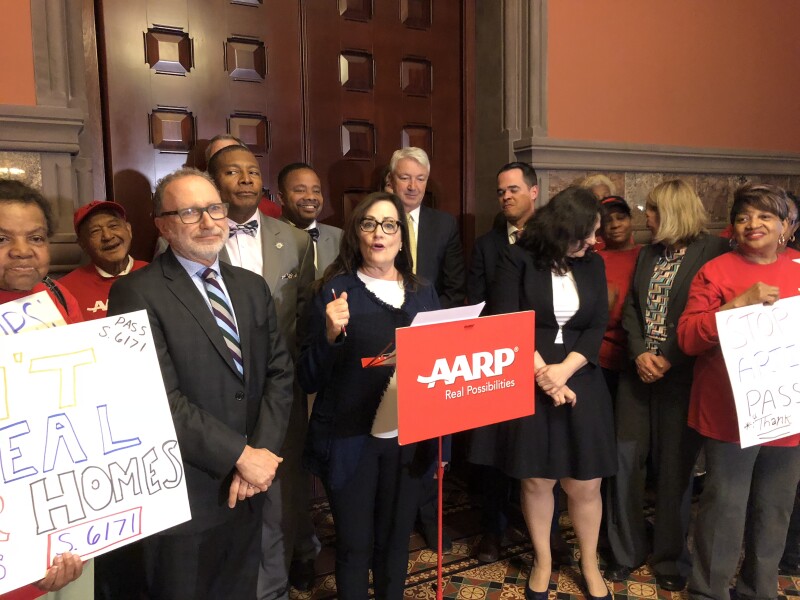 Legislation to Fight Theft and Property Consultant Scams Faces No Official Opposition; Passed Assembly Unanimously, is on Senate Floor - Needs Vote

ALBANY, N.Y. – With more than 100,000 struggling New York homeowners facing potential foreclosure every year, a bill that could help protect them from losing their homes languishes on the Senate floor.

There is no official opposition to the bill, which passed the Assembly unanimously in January and has sailed through Senate committees.

All that's needed is for Senate leaders to put the bill for a vote by the full Senate. With just two weeks left in this year's state legislative session, AARP and other advocacy groups joined today to urge Senate leaders John Flanagan and Andrea Stewart-Cousins to do just that.

Thirty-two groups around the state recently sent letters to Senators Flanagan and Stewart-Cousins urging that the bill be put to a vote.

"Scammers constantly change their methods in attempting to take advantage of people in vulnerable circumstances," said Senator Jesse Hamilton, the bill's chief sponsor. "The financial crisis resulted in a foreclosure crisis and meant scammers trying to steal from people desperate to stay in their own homes. We need to update the protections afforded homeowners and give victims of home equity theft the tools to better seek redress. The measures we highlight today would strengthen the Home Equity Theft Prevention Act of 2006 to help shield consumers from scams and give those who have been victimized an easier path to peace of mind."

"Having the need to go through the foreclosure process is daunting and emotional, to say the least," said Senator Phil Boyle, who represents two of Long Island's largest foreclosure communities and is a co-sponsor of the bill. "Legislation is greatly needed to save homeowners from further risk of losing their property, particularly our senior citizens, who fall prey to scammers and unscrupulous consultants. Kudos to Senator Hamilton and the AARP for putting forward and supporting a bill to restore property to those who are victimized with no legal recourse."

"New York homeowners at risk of foreclosure have enough to worry about without being victimized by scammers looking to swindle them out of the deed to their house or bilk them out of thousands of dollars by promising services that are never delivered," said AARP New York State Director Beth Finkel at today's event outside the Senate Chamber. "AARP calls on our Senate leaders to simply put this common sense consumer protection bill to a vote by the full Senate before another year goes by and untold more struggling New Yorkers are scammed."

In 2016, nearly 170,000 New York homeowners received "pre-foreclosure notices," which lenders are required to send at least 90 days before taking legal action that could put the homeowner in foreclosure.

The bill ( S6171-Hamilton/A1408-Weinstein) would help keep unsuspecting homeowners from falling victim to scammers who promise to help them restructure their mortgage loans but never do - or trick them into signing over the deed to their home - by:

Allowing homeowners 14 days, up from the current five, to cancel a contract with a "distressed property consultant";
Eliminating the requirement that a homeowner post a bond to bring a lawsuit against a scam artist;
Providing a clear legal path to restore the title of a property to the victim after the criminal conviction of a scammer.
Prohibiting a prospective buyer from taking undue advantage of a seller in default;
Prohibiting property consultants from pretending to be law enforcement or government representatives, from threatening to disclose false information about the homeowner 's creditworthiness, from harassing homeowners and family members, from threatening to enforce non-existent rights, from using communications simulating a judicial process, and from encumbering properties with liens having no contractual or legal basis.
This problem is particularly acute in New York's communities of color and among older homeowners who have built equity in their homes. New varieties of deed theft scams continue to evolve, as loan modification scammers become more creative while figuring out how to insulate themselves from existing legal protections for consumers.

The 10 worst neighborhoods in the state for foreclosure risk include the Long Island communities of Bay Shore, Brentwood and Hempstead; Rochdale, Springfield Gardens and St. Albans in Queens; Canarsie and Flatlands/Marine Park in Brooklyn; Bulls Head/New Springville on Staten Island; and Middletown, according to the most recent annual data (see Page 27).

In fact, Long Island and the Mid-Hudson region saw pending foreclosures balloon by 63 percent from 2013 to 215, according to a State Comptroller's Office report.

"New York's Home Equity Theft Prevention Act and Distressed Property Consultant laws are important tools in advocates' arsenal in the battle against the ever-evolving scams preying on New York's most vulnerable homeowners, who are still struggling with a foreclosure crisis of staggering proportions—communities of color and the elderly," said Jacob Inwald, Director of Foreclosure Prevention for Legal Services NYC. "The amendments that S6171 makes to these laws would close loopholes and make them a more effective tool in combatting scams, stabilizing communities and preserving the equity of vulnerable New Yorkers."

"Countless Long Island homeowners are still reeling from predatory loan practices that devastated local communities," said Rose Marie Cantanno, Associate Director for the Consumer Protection Unit at the New York Legal Assistance Group and a Long Island resident. "Now, these same homeowners are encountering new threats from deed-theft scammers who prey upon those who are desperately fighting foreclosure and only seek to provide a stable home for their families. The New York Home Equity Theft Prevention Act and Distressed Property Consultant laws provide homeowners the ability to fight back and save their homes."

"Deed theft and foreclosure rescue scams prey on the most vulnerable homeowners, including senior citizens who have a lot of equity in their homes to steal," said Kirsten Keefe, Senior Staff Attorney for the Empire Justice Center's Consumer Housing and Finance Unit. "These scams are not new, though they have evolved in ways that skirt around laws passed in NY a decade ago to address these problems. This bill simply updates and strengthens those laws to address new schemes, and makes it easier for victims to seek redress in court. In addition, when there is a criminal conviction, the bill allows for district attorneys to easily undo the illegal property transaction for the homeowner."

Contact: Erik Kriss, ekriss@aarp.org

Follow us on Twitter: @AARPNY and Facebook: AARP New York

AARP is a nonprofit, nonpartisan organization, with a membership of nearly 38 million that helps people turn their goals and dreams into 'Real Possibilities' by changing the way America defines aging. With staffed offices in all 50 states, the District of Columbia, Puerto Rico, and the U.S. Virgin Islands, AARP works to strengthen communities and promote the issues that matter most to families such as healthcare security, financial security and personal fulfillment. AARP also advocates for individuals in the marketplace by selecting products and services of high quality and value to carry the AARP name. As a trusted source for news and information, AARP produces the world's largest circulation magazine, AARP The Magazine and AARP Bulletin. AARP does not endorse candidates for public office or make contributions to political campaigns or candidates. To learn more, visit www.aarp.org or follow @AARP and our CEO @JoAnn_Jenkins on Twitter.

###