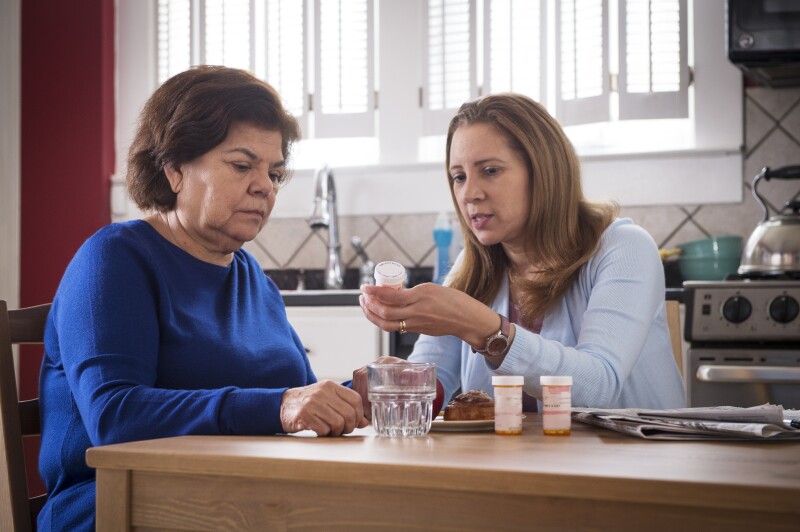 Hispanic Federation, NAACP, NY Urban League, Asian American Federation, Alzheimer's Association, entre otras, se unen a AARP
ALBANY, NUEVA YORK: Tres docenas de organizaciones de los ámbitos de la salud, el envejecimiento y la protección al consumidor, entre otros, le han pedido al gobernador Andrew Cuomo que incluya un crédito tributario para los cuidadores familiares de clase media en su próxima propuesta presupuestaria para el estado.

Los 36 grupos firmaron conjuntamente una carta al gobernador en la que le pidieron que proporcione un muy necesario alivio financiero a los cuidadores familiares, quienes gastan, en promedio, alrededor de $7,000 de su propio bolsillo en el cuidado de sus seres queridos, a la vez que brindan cuidados no remunerados por un valor de aproximadamente $32,000 millones por año en el estado de Nueva York.

Según una encuesta del 2018, el 84% de los votantes de Nueva York de 40 años o más apoyan la creación de un crédito tributario para cuidadores.

Si bien el cuidador promedio gasta alrededor del 20% de sus ingresos en la prestación de cuidados, la carga es aún más grande para los cuidadores de color: el 44% de los ingresos, en el caso de los cuidadores hispanos —quienes gastaron un promedio de más de $9,000 en el 2016— y el 34% en el caso de los cuidadores afroamericanos, según una encuesta nacional de AARP.

Entre las organizaciones que se sumaron a AARP para solicitar al gobernador que tome medidas figuran Hispanic Federation, NAACP of New York, New York Urban League, Asian American Federation, Alzheimer's Association of New York State y la organización que coordina las Oficinas para el Envejecimiento, de los condados del estado.

"Un crédito tributario para los cuidadores familiares les daría un alivio financiero muy necesario y los ayudaría a proporcionar los cuidados en el hogar, que es donde quiere estar la gran mayoría", dice la carta. "Aunque el relevo es fundamental para que los cuidadores descansen de sus responsabilidades, también necesitan ayuda con la carga financiera que conlleva cuidar a sus seres queridos".

Los grupos exhortan a Cuomo a adoptar o establecer un crédito en base a un proyecto de ley (S5100/A7209) que patrocinan la senadora Rachel May y el asambleísta Harry Bronson, presidentes del Comité sobre Envejecimiento. Bajo este proyecto, las personas con un ingreso bruto anual de $75,000 o menos y las parejas con un ingreso bruto anual de $150,000 o menos podrían reclamar un crédito de hasta $3,500, o la mitad de los gastos que cumplan ciertos requisitos.

Estos gastos podrían incluir pagos para auxiliares de cuidados en el hogar, el cuidado diurno de adultos, servicios de atención personal, servicios de tareas domésticas, cuidado de relevo, equipo médico, modificaciones para el hogar y transporte. Todas estas categorías ayudan a que los adultos mayores continúen viviendo de manera independiente en sus hogares.

Los casi 2.6 millones de cuidadores familiares en Nueva York desempeñan un papel fundamental para mantener los costos de la atención médica bajo control. Y un crédito tributario para cuidadores beneficiaría a todos los residentes de Nueva York, ya que permitiría que los seres queridos eviten los cuidados más costosos y menos deseables de los hogares de ancianos, lo que representaría un ahorro para todos los contribuyentes.

Síguenos en Twitter: @AARPNY y Facebook: AARP Nueva York

AARP es la organización sin fines de lucro ni afiliación política más grande de la nación, dedicada a facultar a las personas de 50 años o más para que puedan escoger cómo viven a medida que envejecen. Con casi 38 millones de socios y oficinas en cada estado, el Distrito de Columbia, Puerto Rico y las Islas Vírgenes de Estados Unidos, AARP trabaja para fortalecer las comunidades y lucha por los asuntos de mayor importancia para las familias, con enfoque especial en la seguridad de la salud, la estabilidad financiera y el bienestar personal. AARP también trabaja para los consumidores en el mercado al proponer nuevas soluciones y permitir que productos y servicios de alta calidad, cuidadosamente escogidos, lleven el nombre de AARP. Fuente confiable de noticias e información, AARP produce las publicaciones de mayor circulación en el país, AARP The Magazine y AARP Bulletin. Para conocer más, visita www.aarp.org/espanol (en español) o www.aarp.org (en inglés). También síguenos en los medios sociales en @AARP y @AARPadvocates.


###