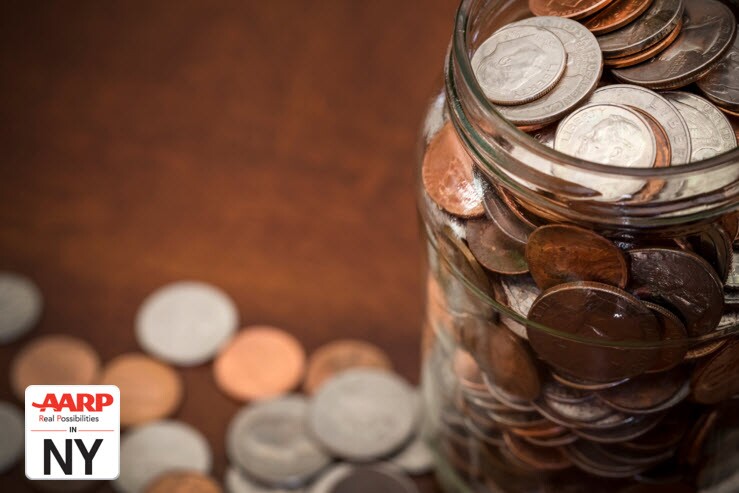 Voter Survey Shows 70% of Gen X, 64% of Boomers May Leave State in Retirement; AARP Urges State-Facilitated Workplace Savings Option

Long Island's Gen Xers and Baby Boomers face major retirement savings hurdles that could deprive them of financial independence in their golden years - while increasing the need for taxpayer-funded public assistance, a groundbreaking AARP survey of voters in the two generations has found.

With the first Gen Xers turning 50 this year, AARP commissioned the survey of voters ages 35-69. High Anxiety: Long Island Gen X and Boomers Struggle with Stress, Savings and Security found large majorities of voters are worried about not saving or planning enough for retirement, and with good reason, since nearly a quarter of them have neither a work-sponsored nor personal retirement savings account.

This high anxiety portends a possible "Gen-Xodus" from Long Island; 70% say they're at least somewhat likely to leave New York in retirement, along with a highest-in-New York 64% of Boomers.

The Long Island survey, which parallels an AARP statewide survey, was released today at a round-table discussion at the Hofstra University Club moderated by Ronald Fatoullah, Principal, Ronald Fatoullah & Associates, and featuring Lawrence Levy, Executive Dean of Hofstra's National Center for Suburban Studies; John A. Hill, Founder, President and CEO of JAH & Associates, Inc. and founder of Long Island Advancement of Small Business; and Frank A. Boccio, Financial Services Professional Agent, New York Life – Long Island. It found:

75% of Gen Xers and 65% of Boomers worry about not saving enough.
64% of Gen Xers and 65% of Boomers worry about not planning enough for retirement.
20% of Gen Xers and 25% of Boomers lack any kind of retirement savings account.
25% of working Gen Xers and 25% of working Boomers are not confident they'll ever be able to retire.
62% of Gen Xers and 60% of Boomers feel anxious about achieving a comfortable retirement.
Among working survey respondents, 16% of Gen Xers, 25% of Boomers and 47% of small business owners and employees lack access to any kind of employer-sponsored savings plan – either a pension or a 401(k) type account. This lack of coverage is much worse for younger generations and private sector employees; statewide, 52% of private sector workers aged 18 to 64 – over 3.5 million New Yorkers - lack access to any kind of retirement savings plan through their employer, according to AARP research.

Workplace savings plans are critical since Americans are generally 15 times more likely to save for retirement when they have an option available for them to do so at work.

AARP NY is proposing a state-facilitated, payroll-deduction retirement savings option with no ongoing taxpayer costs that could help millions of New Yorkers help themselves achieve financial independence in retirement and avoid the need for taxpayer-funded public assistance.

The plan has the backing of a whopping 76% of Gen X and 70% of Baby Boomer voters on Long Island. At this summer's White House Conference on Aging, President Obama directed the U.S. Labor Department to develop guidelines by the end of the year for states to design and enact their own workplace retirement savings plans.

"As the first Gen Xers turn 50 this year, they are juggling multiple responsibilities – caring for aging parents, trying to pay for their own or their children's college educations, and working long hours," said Beth Finkel, State Director of AARP in New York State. "Lost is the time to manage their finances. A state-facilitated retirement plan would ease worries and promote savings among those whose employers offer no 401(k) or pension."

Adding to Long Island voters' stress, 36% of Gen Xers don't expect to receive any Social Security and an astounding 79% of Gen Xers are either current or expected future student loan borrowers for themselves and/or their children – with about two thirds of those saying the debt makes it harder, or will make it harder, to save for retirement. Among both generations, over half are concerned about affording their utility bills and their rent or mortgage in the coming years.

"Boomer flight and a 'Gen-Xodus' could prove a major drain on Long Island's economy," said Bernard Macias, Associate State Director of AARP for Long Island. "The 50+ are disproportionately large contributors to New York's GDP, not to mention their valuable cultural, family, social and volunteer contributions. We can't afford to lose them."

Despite their specific worries, 71% of working Gen X voters confident they'll be able to retire expect to do so by age 65, reflecting a reality gap paralleling national trends and underscoring the need for solutions. A lack of solutions could have dire consequences; 83% of survey respondents worry insufficient savings will make some New Yorkers reliant on public assistance.

Contact: Erik Kriss, ekriss@aarp.org

Follow us on Twitter: @AARPNY and Facebook: AARP New York



AARP is a nonprofit, nonpartisan organization, with a membership of more than 37 million, that helps people turn their goals and dreams into real possibilities, strengthens communities and fights for the issues that matter most to families such as healthcare, employment and income security, retirement planning, affordable utilities and protection from financial abuse. We advocate for individuals in the marketplace by selecting products and services of high quality and value to carry the AARP name as well as help our members obtain discounts on a wide range of products, travel, and services. A trusted source for lifestyle tips, news and educational information, AARP produces AARP The Magazine, the world's largest circulation magazine; AARP Bulletin; www.aarp.org ; AARP TV & Radio; AARP Books; and AARP en Español, a Spanish-language website addressing the interests and needs of Hispanics. AARP does not endorse candidates for public office or make contributions to political campaigns or candidates. AARP Foundation is an affiliated charity of AARP that is working to win back opportunity for struggling Americans 50+ by being a force for change on the most serious issues they face today: housing, hunger, income and isolation. AARP has staffed offices in all 50 states, the District of Columbia, Puerto Rico, and the U.S. Virgin Islands. Learn more at www.aarp.org