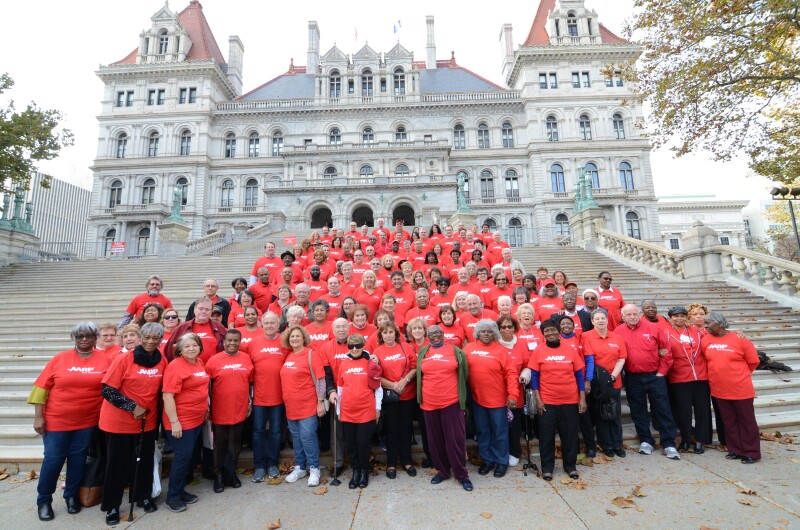 Strong Proposals to Fight ID Theft, Elder financial Exploitation, but Little Help for Middle Class to Save for Retirement, Care for Older Loved Ones
ALBANY, N.Y. – AARP New York today praised Governor Andrew Cuomo's 2017-18 executive budget for proposing sensible protections for older New Yorkers against financial abuse but criticized the plan for missing a key opportunity to advance two proposals that would help the struggling middle class.
"Governor Cuomo's state budget proposal is on target with strong protections against the growing scourge of elder financial exploitation, but the budget misses a great chance to help struggling middle class New Yorkers save for retirement and take care of their older loved ones," said AARP State Director Beth Finkel.
AARP applauded the Governor for proposing that state law be modernized to keep pace with the sophistication of financial crimes targeting the elderly - toughening penalties to match the severity of the offense, extending homeowner foreclosure protections to reverse mortgage holders, and training bank employees to spot and halt potential abuse. Those are positive steps toward the ultimate goal of a broader, coordinated strategy.
But the budget neglects the looming retirement savings crisis that threatens the future of New York's middle class – and future taxpayers. The Governor himself has acknowledged that more than 3.5 million New Yorkers – around half the state's private sector workforce and an astounding 67 percent of Hispanics - can no longer get a pension or 401(k) on the job as fewer companies are able to offer retirement savings plans.
And the Governor's proposal ignores the increasing need in an aging society to support family caregivers who help their older loved ones age at home rather than in much costlier, taxpayer-financed nursing homes.
"The budget process gives the Governor maximum leverage to enact a state-facilitated workplace savings option for millions of private sector employees who are in danger of missing out on a financially independent, middle class retirement that would also reduce reliance on public assistance," Finkel said. "AARP is disappointed the Governor's budget includes no such proposal. We are also disappointed that the budget includes no increase in funding for services that provide middle class family caregivers the support they need to help their older loved ones age at home."
An AARP NY/Siena College poll found 82 percent of New York Generation Xers and Baby Boomers support a state-facilitated workplace retirement savings option for those who lack access, and a separate AARP survey revealed support from two thirds of the state's small businesses.
For family caregivers, non-Medicaid in-home services for the elderly such as transportation to doctor's appointments, home-delivered meals, assistance with daily activities and respite help avoid burnout and personal financial strain – which often lead to unwanted placements in much higher-priced institutional care settings at taxpayer expense.
"On behalf of our 2.6 million members statewide and all New Yorkers, AARP urges Governor Cuomo to confront these problems in his budget amendments," Finkel concluded. "We look forward to working with the Governor and Legislature to enact his sensible protections against elder financial exploitation and address middle class retirement savings and caregiving concerns in the months ahead."
Contact: Erik Kriss, ekriss@aarp.org
Follow us on Twitter: @AARPNY and Facebook: AARP New York
AARP is a nonprofit, nonpartisan organization, with a membership of nearly 38 million that helps people turn their goals and dreams into 'Real Possibilities' by changing the way America defines aging. With staffed offices in all 50 states, the District of Columbia, Puerto Rico, and the U.S. Virgin Islands, AARP works to strengthen communities and promote the issues that matter most to families such as healthcare security, financial security and personal fulfillment. AARP also advocates for individuals in the marketplace by selecting products and services of high quality and value to carry the AARP name. As a trusted source for news and information, AARP produces the world's largest circulation magazine, AARP The Magazine and AARP Bulletin. AARP does not endorse candidates for public office or make contributions to political campaigns or candidates. To learn more, visit www.aarp.org or follow @AARP and our CEO @JoAnn_Jenkins on Twitter.
###