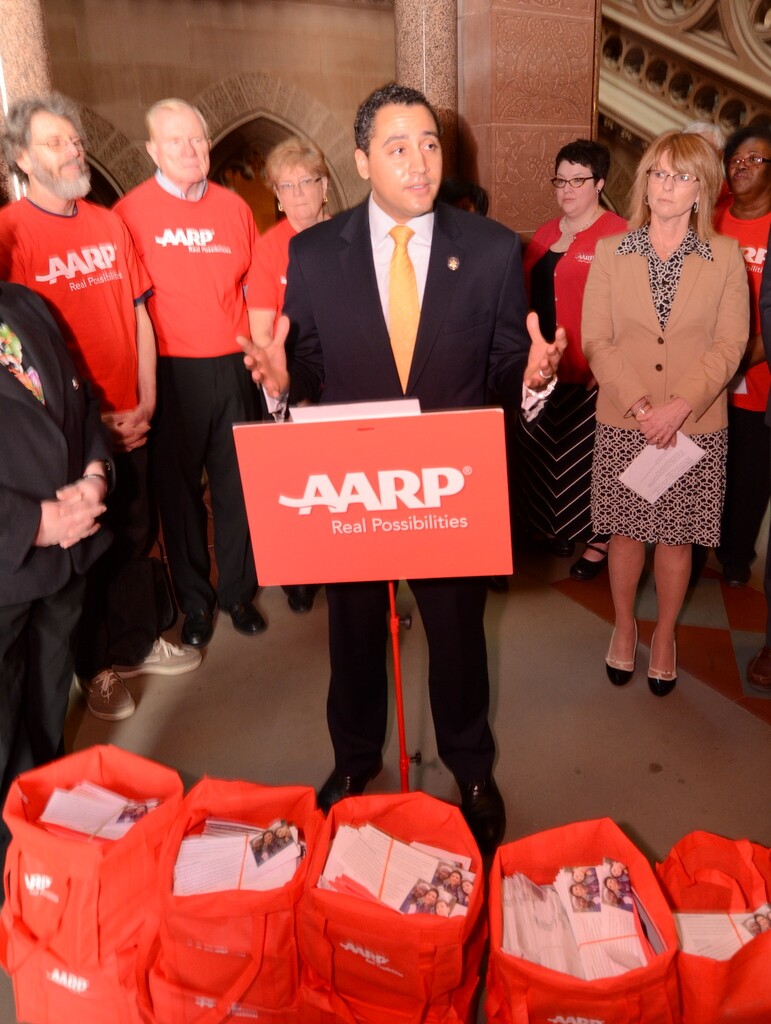 AARP Delivers 6,000+ Postcards from NYers to Legislative Leaders Urging State-Facilitated Payroll-Deduction Plan to Help Workers Save.

ALBANY, New York - Over half New York's private sector employees – more than 3.5 million people – lack access to a retirement savings plan at work, including over 60% of Millennials, 67% of Hispanics and 52% of African-Americans.

To address this growing problem, AARP today joined Assemblyman Robert Rodriguez and other organizations to call for inclusion of "Secure Choice," a state-facilitated, payroll-deduction workplace savings plan, in the new state budget. AARP delivered over 6,000 postcards from New Yorkers to Senate Majority Leader John Flanagan and Assembly Speaker Carl Heastie urging them to adopt Secure Choice. The plan carries only nominal costs to the state and employers.

"Secure Choice" legislation sponsored by Assemblyman Rodriguez and Senator Diane Savino would establish a state-facilitated plan to give working New Yorkers of all ages the option to save at work via payroll deduction if their employer offers no such plan.

Americans are 15 times more likely to save for retirement if they have access to employer-sponsored plans - and too many aren't saving enough. AARP surveys of New York Generation X and Baby Boomer voters found 70% support a Secure Choice type plan – including 70% of small business owners and employees.

"Earlier generations took pensions and 401ks for granted, but the world has changed and we must keep pace," said Beth Finkel, State Director of AARP in New York State. "AARP urges our elected officials to include Secure Choice in the state budget as the common sense way to help millions of New Yorkers help themselves, take control of their own financial futures and build a financially independent retirement."

"It's troublesome that over half of all New Yorkers under age 65 have no real access to a means to save for their futures," said Assemblyman Robert Rodriguez (D- East Harlem/El Barrio/ Upper East Side). "It's worse for Latinos and African-Americans, who are faced with even fewer options to a company-sponsored retirement program. We need to get serious about saving for retirement. The Secure Choice Savings Program will give employers the ability to help their workers save for retirement and ensure that workers are able to maintain a comfortable lifestyle as they age."

"Many of New York's working- and middle-class families work hard their entire lives, only to face retirement with little to no savings," said Senator Diane Savino (D-Staten Island/Brooklyn). "After working for over 30 years, many find that they have no nest egg on which to retire - in fact, 52 percent of private sector employees across the state have no retirement savings at all. My legislation would establish the Empire Secure Choice Retirement Program, a state-sponsored IRA that would provide employees that have no retirement plan access to a state-run employee payroll deduction program. This could help up to 2.5 million New Yorkers ensure that they have a financially safe future."

"Americans are saving less, living longer and unfortunately unprepared to meet the cost of long-term care," said Ginger Lynch Landy, Director and Lobbyist for New York ALFA (Assisted Living Federation of America), a provider association that advances secure housing for aging New Yorkers to live with independence and dignity. "New York ALFA supports initiatives enabling access to an employer-based retirement savings plan to help build financial security and preserve choice, independence and dignity later in life."

"The Baby Boomers that are aging into the senior citizen demographic are increasingly women, with less resources, ethnically diverse, and who will be living longer," said Maria Alvarez, Executive Director of the New York StateWide Senior Action Council. "Many were victims of the financial downturn in 2008. In addition, younger New Yorkers who are part of today's workforce are increasingly working at jobs that do not offer retirement pensions that would secure their future. We want to ensure that future generations of older New Yorkers are able to enjoy economically stable retirements that would allow them to thrive with a good quality of life in their communities. We urge the Governor and state legislature to include the retirement savings program in the final state budget."

"The ever-upwards spiraling costs of attending college, coupled with pensions being the exception rather than the rule, and often inadequate workplace retirement programs, leave younger New Yorkers - and many older adults - with too few tools to plan and secure their retirement years," said Blair Horner, Executive Director of the New York Public Interest Research Group (NYPIRG­). "New York can help. We urge lawmakers to help New Yorkers save for their future by including the Secure Choice Savings Program Act in the state budget."

AARP research shows 52% of New York's 18- to 64-year-old private sector workforce lacks access to an employer-sponsored savings plan. The number exceeds 60% for 18- to 34-year-olds - Millennials. To address the issue and discuss the Secure Choice plan, AARP last month joined Young Invincibles to host Cheers to Your Future: A Happy Hour on Millennials' Economic Outlook , featuring New York City Comptroller Scott Stringer, City Public Advocate Tish James, Demos and about 50 Millennials, at Joe's Pub in the Public Theater in Greenwich Village.

"Access to a retirement savings plan and the ability to work toward a more secure financial future shouldn't be a privilege reserved exclusively for a few," said Kevin Stump, Northeast Director of Young Invincibles. "Currently, less than half of low-income Millennial workers are offered an employer-sponsored retirement plan, making it clear that the state needs to provide an alternative to ensure long-term economic security for all workers and the economy at large. A recent poll conducted by Young Invincibles finds that 85% of Millennials strongly support state-facilitated retirement accounts, regardless of political affiliation. We know young adults want to save; now we need to give them the tools to do so. New York must pass Secure Choice legislation to ensure we don't leave our generation behind."

Social Security, while providing a critical safety net, will not be enough for New Yorkers in retirement; the program's average annual benefit in New York is below $16,000 – in other words, below the federal poverty line. The National Institute on Retirement Security estimates a $6.8 trillion national retirement savings deficit.

Contact: Erik Kriss, ekriss@aarp.org, 518-360-9213

Follow us on Twitter: @AARPNY and Facebook: AARP New York



AARP is a nonprofit, nonpartisan organization, with a membership of more than 37 million, that helps people turn their goals and dreams into real possibilities, strengthens communities and fights for the issues that matter most to families such as healthcare, employment and income security, retirement planning, affordable utilities and protection from financial abuse. We advocate for individuals in the marketplace by selecting products and services of high quality and value to carry the AARP name as well as help our members obtain discounts on a wide range of products, travel, and services. A trusted source for lifestyle tips, news and educational information, AARP produces AARP The Magazine, the world's largest circulation magazine; AARP Bulletin; www.aarp.org ; AARP TV & Radio; AARP Books; and AARP en Español, a Spanish-language website addressing the interests and needs of Hispanics. AARP does not endorse candidates for public office or make contributions to political campaigns or candidates. AARP Foundation is an affiliated charity of AARP that is working to win back opportunity for struggling Americans 50+ by being a force for change on the most serious issues they face today: housing, hunger, income and isolation. AARP has staffed offices in all 50 states, the District of Columbia, Puerto Rico, and the U.S. Virgin Islands. Learn more at www.aarp.org .