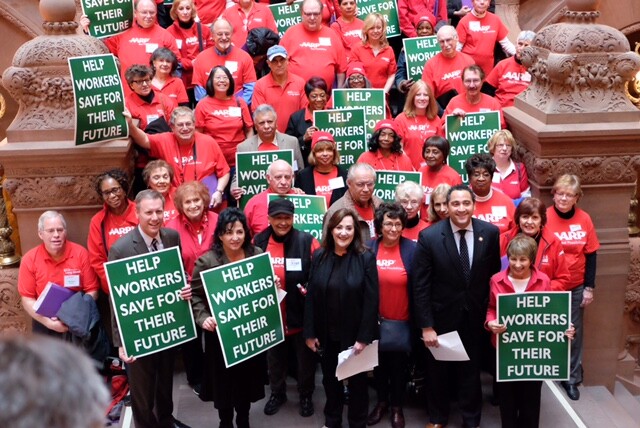 Legislators Stand with AARP Volunteers from Brookhaven to Buffalo on Key Economic Security, Dignity Issues

ALBANY, N.Y. –Urging better economic security and more dignity for New York's 50+, AARP volunteers from every corner of the state came to the state Capitol today and lobbied their legislators to include three key measures in the 2017-18 state budget:

The Secure Choice state-facilitated workplace retirement savings option for millions of private sector employees who can no longer get a pension or 401(k) from their employer.
Authorization for banks to halt a disbursement of money from the account of a senior who is a suspected victim of elder financial exploitation.
An additional $25 million for home delivered meals, transportation and other in-home services that help older middle class New Yorkers age in their own homes - supporting family caregivers and delaying unnecessary, expensive and taxpayer-funded institutional care.
"Helping working New Yorkers save for retirement, protecting older New Yorkers from financial exploitation and supporting family caregivers as they enable loved ones to age safely at home all serve to safeguard economic security and dignity for the 50+," said AARP New York State Director Beth Finkel.

Senators Diane Savino (Staten Island) and David Valesky (Central New York) and Assemblymember Robert Rodriguez (East Harlem) joined Finkel and AARP volunteers on the Capitol's Million Dollar Staircase to urge that their legislation be included in the budget.

Senator Sue Serino (Dutchess County) and Assemblywoman Donna Lupardo (Binghamton), chairs of the legislative aging committees, are urging additional funding for in-home services and anti-elder financial exploitation provisions as part of the state budget.

"It has been very clear to me and many of my colleagues in the Legislature that we need to address the lack of access to retirement savings in the workplace," said Senator Diane Savino, sponsor of Secure Choice ( S4344). "Many of New York's working- and middle-class families work hard their entire lives, only to face retirement with little to no savings. The New York Secure Choice Retirement Program, a state-sponsored IRA that would provide employees who have no retirement plans access to a state-run employee payroll deduction program, could help up to 2.5 million New Yorkers ensure that they have a financially safe future."

"It's time that New York State takes action to ensure that everyone has access to retirement savings by including the Secure Choice Savings program in this year's budget," said Assembly Member Robert Rodriguez, Assembly Secure Choice sponsor ( A4982). "The retirement savings crisis will only worsen if we do not take action."

"We are seeing increasing incidences of elder abuse, and we must do all we can to stop this disturbing trend," said Senator David Valesky, sponsor of S1093 authorizing banks to halt a disbursement of money from the account of a senior who is a suspected victim of elder financial exploitation. "This bill would establish a new protection for our elderly citizens by authorizing banks to refuse suspicious transactions. This would give law enforcement officials an additional tool to pursue and prosecute those who would take advantage of and harm adults who are unable to protect themselves."

"After a lifetime of contributing to our community, our seniors deserve to have their needs prioritized," said Senator Sue Serino. "Investing in their health and safety is good for our communities, it's good for our economy and it's great for our families. I commend AARP for giving voice to their needs and I urge my colleagues in both houses to step up for seniors in this year's budget and ensure that they have the resources they need to age at home, with dignity."

"As the Chair of the Assembly Committee on Aging, I'm focused on ensuring older New Yorkers have the supports to age in place and that our systems can provide the services and protections seniors need," said Assemblywoman Donna Lupardo (Binghamton), sponsor of A6099. "Among many, two specific initiatives are being advanced as part of this year's budget discussions. The Secure Choice Savings Program will set up a state facilitated payroll deduction plan similar to an IRA for New Yorkers who don't have a retirement plan. In addition, the Executive's budget proposal has made it a priority to protect vulnerable adults from financial exploitation. I'm confident that we'll be able to work with our colleagues in the Senate to address this concern."

"Our population is aging, and AARP thanks Senators Savino, Valesky and Serino and Assembly members Rodriguez and Lupardo for their leadership and support," Finkel added.

As fewer employers offer workplace retirement savings plans, over half New York's private sector workforce – 3.5 million people – can no longer get a pension or 401(k) on the job. Secure Choice would provide millions of New Yorkers an effective way to save for their future at work through payroll deduction. The voluntary "auto enrollment" plan would carry minimal costs to businesses and the state.

Illinois, Oregon, California, Connecticut and Maryland have enacted similar plans. Recent AARP surveys show 82% of New York Generation Xers and Baby Boomers support a state-facilitated workplace retirement savings option, as do 68% of the state's small businesses.

With 10,000 Americans turning 65 every day, elder financial abuse is a growing problem. The state already estimates its annual cost at $1.5 billion. Reported cases of financial exploitation increased more than 35% between 2010 and 2014. Yet according to Lifespan, for every case reported to authorities, 23 go undetected.

Across New York, nearly 2.6 million family caregivers provide unpaid care valued annually at $31.3 billion, helping loved ones age safely at home - rather than in costlier, taxpayer-financed institutional care settings like nursing homes.

An AARP NY/Siena College survey last fall found 87% of New York Generation X and Baby Boomers want themselves and their loved ones to age at home, while two thirds or more say assistance with transportation and providing meals, and with managing household chores and medication help them care for older loved ones.

Yet thousands of middle class New Yorkers who qualify for non-Medicaid, in-home services for the elderly such as home-delivered meals, transportation to medical appointments and assistance with daily activities – invaluable in supporting their family caregivers - are stuck on waiting lists because of a lack of funding.

Follow us on Twitter: @AARPNY and Facebook: AARP New York

Contact: Erik Kriss, ekriss@aarp.org

AARP is a nonprofit, nonpartisan organization, with a membership of nearly 38 million that helps people turn their goals and dreams into 'Real Possibilities' by changing the way America defines aging. With staffed offices in all 50 states, the District of Columbia, Puerto Rico, and the U.S. Virgin Islands, AARP works to strengthen communities and promote the issues that matter most to families such as healthcare security, financial security and personal fulfillment. AARP also advocates for individuals in the marketplace by selecting products and services of high quality and value to carry the AARP name. As a trusted source for news and information, AARP produces the world's largest circulation magazine, AARP The Magazine and AARP Bulletin. AARP does not endorse candidates for public office or make contributions to political campaigns or candidates. To learn more, visit www.aarp.org or follow @AARP and our CEO @JoAnn_Jenkins on Twitter.