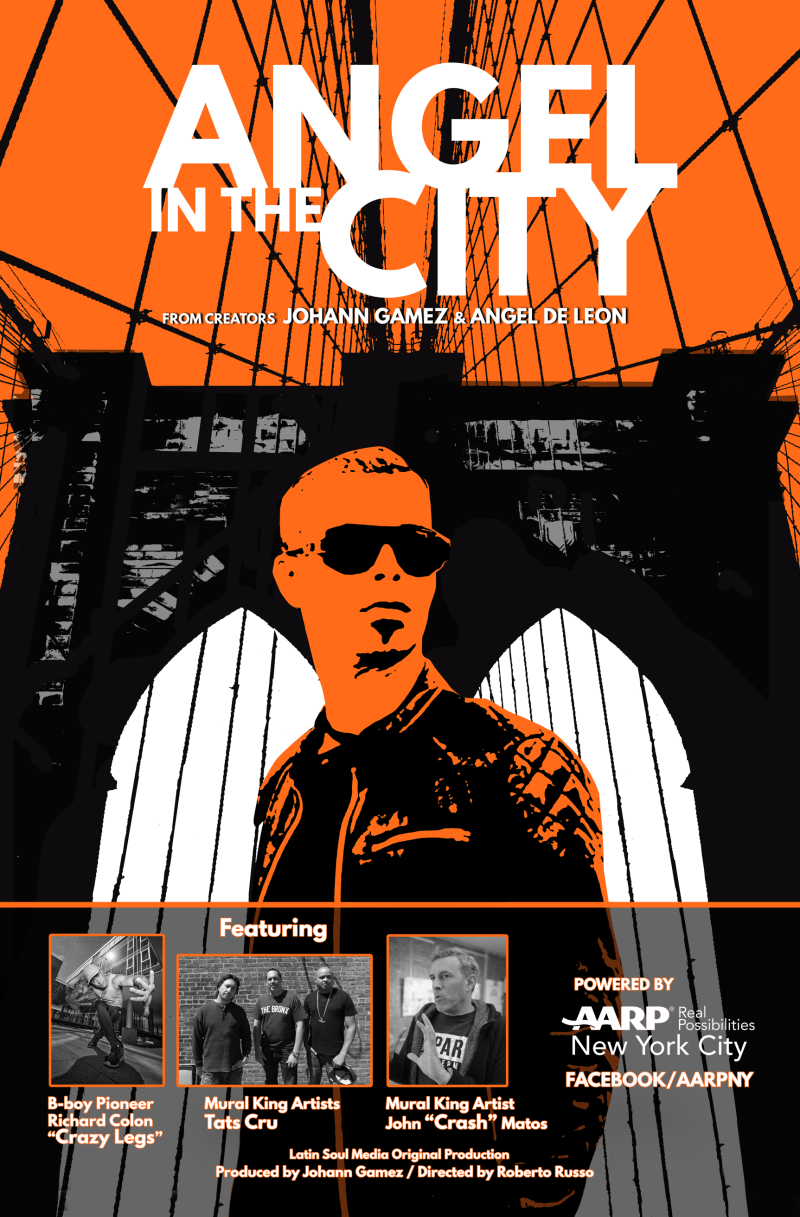 AARP Nueva York invita a los socios y sus invitados a la proyección de Angel in the City en el Festival de Cine Latino de Nueva York el 25 de agosto.
El video Angel in the City lleva a los espectadores en un viaje de descubrimiento fortalecimiento a través de leyendas locales y reconocidas mundialmente. En este debut, el presentador Angel De Leon pasea en su motocicleta y lleva a la audiencia alrededor del Bronx. En algunos segmentos vemos a Richard "Crazy Legs" Colon, leyenda del baile breakdance y presidente del Rock Steady Crew, y a los artistas pioneros de grafiti y muralistas John "Crash" Matos y los miembros del Tats Cru. Angel revela cómo ellos han aceptado un nuevo capítulo en la vida después de los 50 y comparten la manera en que manejan los retos de la vida y abordan temas como el envejecimiento, la jubilación, la satisfacción personal y más.
La producción es una creación original de De Leon y Johann Gamez, de Latin Soul Media, dirigida por Roberto Russo y patrocinada por AARP Nueva York
Los socios de AARP y sus invitados pueden obtener boletos gratis para el debut y una discusión con TT Torrez, presentadora de Culture List en Centric (BET), y con los mayores de 50 que están transformando el envejecimiento: el nativo del Bronx De Leon, Crazy Legs y el actor Malik Yoba.
Los socios de AARP y sus invitados pueden inscribirse para la proyección gratuita, seguida de una conversación sobre el programa.
Acompaña a AARP el sábado, 25 de agosto del 2018 a las 3:00 p.m. en AMC Empire 25, Pantallq 17, 234 West 42nd Street, New York, NY 10036