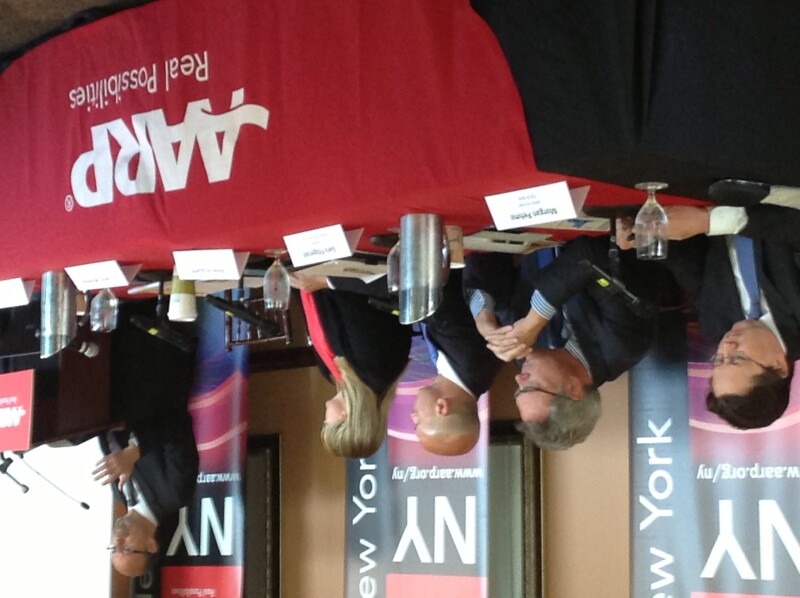 Contacts: David Irwin, dirwin@aarp.org; Erik Kriss, ekriss@aarp.org
AARP, City & State Join with Comptroller DiNapoli, State & National Leaders to Look at 50+ Economy & Impact - Problems & Solutions to Boomer Flight
Albany, New York – Baby Boomers in New York State's workforce are set to deliver a whopping $179 billion a year to the state's economy in their retirement - if they stick around, that is. A new AARP report out today says that 60% of working Boomers could be headed out of state, carrying with them over $105 billion annually.
AARP is calling it Boomer Flight and the day before state primaries says state lawmakers and candidates may want to pay attention, as the group represents such a large voting bloc (New York's 50+ voters accounted for 58% of all votes in 2010, and nearly 60 percent of the 50+ population are Baby Boomers).
Today, the Association teamed up with City & State, State Comptroller Tom DiNapoli and a virtual think tank of state and national leaders, including: Jody Holtzman, Senior Vice President for Thought Leadership, AARP; Dr. Debra Whitman, Executive Vice President for Policy, Strategy and International Affairs, AARP; Steve Acquario, Executive Director, NYS Association of Counties; and Gary Fitzgerald, President, Iroquois Healthcare Alliance to discuss the state's 50+ economy, its massive impact (representing about half of New York's Gross Domestic Product), some of the issues that could be driving Baby Boomers out of the Empire State – and what can be done to keep the group here.
"New York State's 50+ are a major force both at the ballot box and in the local and state economy – but many are worried about their futures here, and finances and affordability are major factors for them," said Beth Finkel, State Director for AARP in New York State. "We are working with lawmakers to help identify solutions to New York's looming billion-dollar Baby Boomer flight problem and tackle some of the key issues of concern to the overall 50+ population."
According to AARP's Holtzman, working with Oxford Economics, the total economic impact of New York's 50+, known as the "Longevity Economy," is huge - nearly $600 billion, supporting 53% of the state's jobs, 48% of its employee compensation and 44% of all state taxes.
So why do so many say they are leaving? For many, it's all about their kitchen table economies, according to AARP's new statewide survey of 50+ voters:

40% say they worry about paying their rent or mortgage.
56% are extremely (33%) or very (22%) worried about paying property taxes.
51% worry about being able to pay what are some of the highest utility bills in the nation.
Large majorities are looking for improvements in health care (77 percent), housing (70 percent), transportation (66 percent) and jobs for older residents (61 percent).
The Association is actively supporting measures to help utility consumers, family caregivers and the more than one quarter of 50+ voters in the work force who say they have no access to a retirement savings plan through their employer. Today's event at Taste Penthouse in Albany launched AARP's efforts to engage citizens and community leaders around the state in supporting and identifying solutions to protect New York's nearly $600 billion longevity economy and keep the 50+ in New York.
Follow us on Twitter: @AARPNY and Facebook: AARP New York
AARP is a nonprofit, nonpartisan organization, with a membership of more than 37 million, that helps people turn their goals and dreams into real possibilities, strengthens communities and fights for the issues that matter most to families such as healthcare, employment and income security, retirement planning, affordable utilities and protection from financial abuse. We advocate for individuals in the marketplace by selecting products and services of high quality and value to carry the AARP name as well as help our members obtain discounts on a wide range of products, travel, and services. A trusted source for lifestyle tips, news and educational information, AARP produces AARP The Magazine, the world's largest circulation magazine; AARP Bulletin; www.aarp.org ; AARP TV & Radio; AARP Books; and AARP en Español, a Spanish-language website addressing the interests and needs of Hispanics. AARP does not endorse candidates for public office or make contributions to political campaigns or candidates. AARP Foundation is an affiliated charity of AARP that is working to win back opportunity for struggling Americans 50+ by being a force for change on the most serious issues they face today: housing, hunger, income and isolation. AARP has staffed offices in all 50 states, the District of Columbia, Puerto Rico, and the U.S. Virgin Islands. Learn more at www.aarp.org .
####