---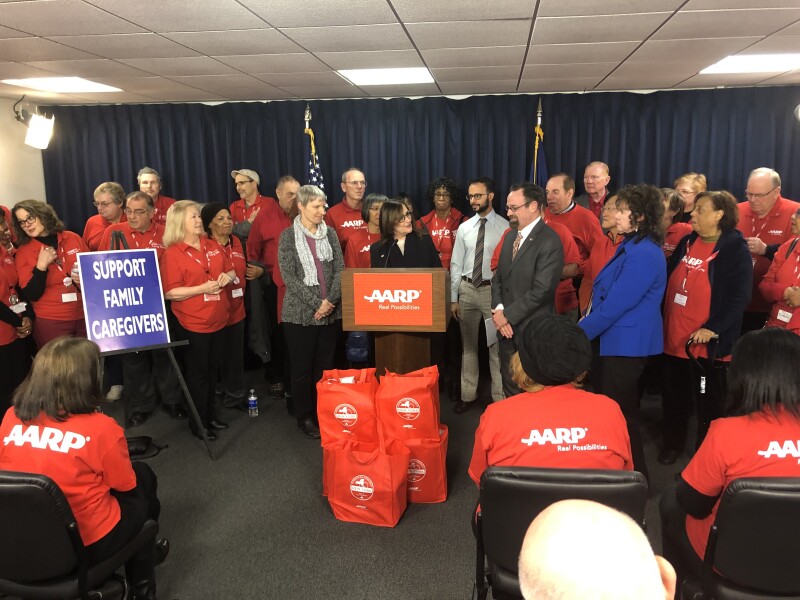 AARP Delivers 15,000+ Signatures to State Leaders Supporting Funding Increase
ALBANY, N.Y. – AARP stood with the chairs of the state Legislature's aging committees today to ensure the state budget includes critical funding to support working and middle class family caregivers in helping their loved ones age at home, rather than in costlier, taxpayer-funded nursing homes.
AARP then delivered over 15,250 post cards from members across New York to state leaders urging them to increase funding for services such as home-delivered meals, transportation to medical appointments and assistance with daily activities, and to enact a caregiver tax credit.
In-home services such as home-delivered meals, transportation to medical appointments and assistance with daily activities help New Yorkers age at home, but thousands of working and middle class families that qualify for these non-Medicaid services are not receiving them.
Governor Andrew Cuomo proposed a $15 million increase for these services. Older New Yorkers are counting on the Governor, Senate and Assembly to agree on a budget that includes and builds upon that commitment.
AARP is urging a $25 million increase to help end waiting lists. To highlight the need, AARP is undertaking a multi-platform campaign that includes TV, digital and Facebook ads which began airing across the state today.
"New York's population is graying at an alarming rate, and it's time for the state to open its eyes and deal with this undeniable reality," said AARP New York State Director Beth Finkel, citing a new Center for an Urban Future report showing that the state Office for the Aging is spending 40 percent less per older adult than in 2000, adjusting for inflation - even though there are now more New Yorkers 65 and older than children younger than 13. "We will all pay more in the long run, emotionally and financially, if we don't attack this issue at the front end and help more New Yorkers age in their own home, as the vast majority want."
"Issues related to aging will touch all of us at some point in our lives - whether we are caring for an aging parent or loved one, or find ourselves facing these challenges ourselves," said Senator Rachel May, Chair of the Aging Committee. "I am committed to doing all I can to advance policies that support the health and wellbeing of elders and all who support them. Increased funding for these crucial in home services will allow seniors to age with dignity in their homes and save taxpayer money - a true win-win."
"As the Chair of the Assembly Committee on Aging, I am proud to stand with the thousands of AARP members who have made it clear that New York must do more to protect the health, safety, and independence of our aging population," said Assemblymember Harry Bronson, Chair of the Aging Committee . "I will fight to ensure this year's budget recognizes the needs of older New Yorkers and those who care for them by investing in expanded in-home services and a new tax credit for caregivers that will allow New Yorkers to age in place and remain a vital part of the communities they have helped to build throughout their lives."
"In virtually every area of the state, there are older New Yorkers waiting for services that would allow them to maintain their independence at home," said Michele Roberts, Executive Director of the Association on Aging in New York, the umbrella group for county offices on the aging. "Governor Andrew Cuomo's proposed 2019-20 executive budget includes $15 million to address unmet needs and waiting lists for services for approximately 9,000 older adults around the state, This investment in services by the Governor is monumental, and a testament to his dedication in ensuring that New York, the first age-friendly state in the nation, is improving the lives of our older New Yorkers."
"How do you tell someone in their 80's and 90's who is living alone and needs help that they have to wait for services or privately hire when you know they are only living on Social Security?" said MaryAnn Spanos, Director of the Chautauqua County Office for the Aging, where as many as 450 families have been on waiting lists - and where in the past year 60 residents died while waiting for services and another 60 had to go into institutional care. "Our older population is the one that built and continues to support the great state of New York so it is only right that we find a way to help them without forcing them into a facility to get services that can be provided more economically at home."
"We hold a responsibility to provide support and services that allow seniors to remain in their homes with dignity, and care for their basic needs," said Tina M. Cardoza-Izquierdo, Director of the Rockland County Office for the Aging. "No older adults should go hungry or have to remain isolated due to a lack of funding. The Governor's budget addresses a necessitated $15 million dollars in funding to relieve the wait lists for our seniors."
"Meals on wheels has helped me eat nutritious meals and stay healthy," said Henry Steck of Cortland County, an 83-year-old retiree who signed one of the postcards – and makes contributions to help support the program. "My wife did the cooking, and when she died I would have struggled without the help. I know a lot of people who benefit from these and other services like transportation. My mother used to have to take taxis to doctor's appointments when she could no longer get around. Getting a taxi to her doctor and then back home was always very time consuming and difficult and hard on her."
"From Buffalo to Long Island, older adults are driving nearly all of the population growth in New York," said Christian Gonzalez-Rivera, senior researcher for the Center for an Urban Future and co-author of its new report. "The Governor and Legislature should take new steps to support the state's expanding older adult population and make investing in older adult services a higher priority."
"With thousands of older adults across the state that are on waiting lists for critical in-home services, LiveOn NY is incredibly supportive of the $15 million in proposed new funds included in Governor Cuomo's budget," said Allison Nickerson, Executive Director, LiveOn NY. "In-home services for older adults have the ability to foster independence, improve wellbeing, and avoid more costly levels of care, saving the state money in the long-run. It is critical that given existing demand, proven programmatic success, and the rising older adult population, that the state make the necessary strategic investments to truly serve and support New York's older adult population."
By the state's own estimate, nearly three million family caregivers across New York provide $32 billion worth of unpaid care every year to our parents, spouses and other loved ones.
AARP supports Assemblymember Bronson's plans to introduce a family caregiver tax credit, which would help family caregivers offset out-of-pocket expenses to care for loved ones that average nearly $7,000 a year – almost 20% of income.
Contact: Erik Kriss, ekriss@aarp.org
Follow us on Twitter: @AARPNY and Facebook: AARP New York
AARP is the nation's largest nonprofit, nonpartisan organization dedicated to empowering Americans 50 and older to choose how they live as they age. With nearly 38 million members and offices in every state, the District of Columbia, Puerto Rico, and the U.S. Virgin Islands, AARP works to strengthen communities and advocate for what matters most to families with a focus on health security, financial stability and personal fulfillment. AARP also works for individuals in the marketplace by sparking new solutions and allowing carefully chosen, high-quality products and services to carry the AARP name. As a trusted source for news and information, AARP produces the world's largest circulation publications, AARP The Magazine and AARP Bulletin. To learn more, visit www.aarp.org or follow @AARP and @AARPadvocates on social media.
###