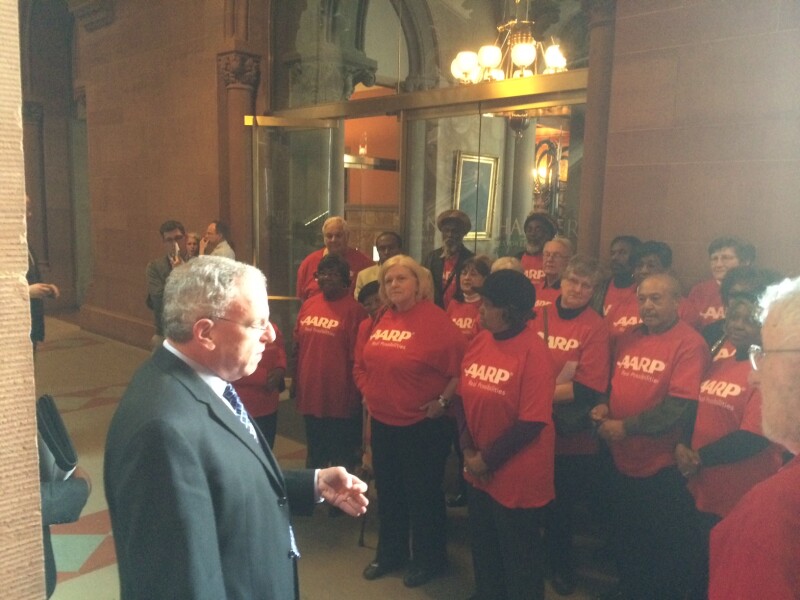 Contacts: Erik Kriss, ekriss@aarp.org; David Irwin, dirwin@aarp.org

Association Members From Around NYS Travel to Albany to Urge Adoption of Moreland Commission Recommendation

ALBANY, N.Y. – With New Yorkers paying among the highest utility costs in the nation, members of New York's most powerful voting demographic travelled to Albany today to urge that the final state budget include an independent watchdog to protect ratepayers from unwarranted rate increases.
As state leaders negotiate a final state budget due by April 1, AARP members from Upstate, Downstate and the North Country gathered in front of the State Senate Chamber to urge them to follow the advice of the Moreland Commission on Utility Storm Preparation and Response (see pgs 44-46) by empowering an independent utility consumer advocate.
AARP members were joined by State Assemblyman Jeffrey Dinowitz (D-Bronx), chair of the Consumer Affairs and Protection Committee and a lead legislative champion of the issue.
The average electric bill for New York residents is far above the national average; residential customers of Consolidated Edison pay more than twice the national average. AARP says older New Yorkers, many of whom are on fixed incomes, must devote a higher percentage of their income than the average resident to pay for the basic necessity of energy.
AARP recently issued a report showing utility companies spend more than $10 million a year of their own customers' money to try to increase those same customers' rates, while residential consumers have virtually no voice before regulators.
"There is an uneven playing field in New York," said Derrick Holmes, an AARP member and volunteer from Albany. "Utility companies spend more than $10 million a year to push for rate increases. And they bill those costs to us, the very same ratepayers whose rates they're trying to increase. But we ratepayers have virtually no one making our case before regulators. That has to change."
"When it comes to rate increases and other issues that affect us, everybody has a seat at the table except us consumers," Assemblyman Dinowitz said. "My Con Ed bills in the past few years have skyrocketed. New York is the largest state that does not have an independent utility consumer advocate's office and we need to do that this year."
"We need a fiscal watchdog in place that will protect New York ratepayers from unscrupulous rate hikes and give consumers a stronger voice when lobbying before the Public Service Commission," said State Senator Diane Savino (D-Staten Island), another key legislative supporter. "Our state has some of the highest energy rates anywhere across the nation, and we cannot continue to rubber stamp these costly rates year after year. This common sense proposal will save working class residents real money and ensure they are able to continue to afford to live in their own homes."
Forty other states have an independent advocate with the power to sue over unfair rate hikes, and AARP says it's no coincidence that New Yorkers pay sky-high rates and have no such advocate fighting for them.
Other states save their ratepayers far more than their advocates cost. Connecticut, for instance, reported reducing rates by $730 million in 2012 at a cost of $3 million – a 243-1 return on investment.
Both the state Assembly and the state Senate's Independent Democratic Conference back such an independent advocate.
AARP volunteers also delivered thousands of letters and postcards from members to legislators in Albany today calling for an independent advocate.
Follow us on Twitter: @AARPNY and Facebook: AARP New York
AARP is a nonprofit, nonpartisan organization, with a membership of more than 37 million, that helps people turn their goals and dreams into real possibilities, strengthens communities and fights for the issues that matter most to families such as healthcare, employment and income security, retirement planning, affordable utilities and protection from financial abuse. We advocate for individuals in the marketplace by selecting products and services of high quality and value to carry the AARP name as well as help our members obtain discounts on a wide range of products, travel, and services. A trusted source for lifestyle tips, news and educational information, AARP produces AARP The Magazine, the world's largest circulation magazine; AARP Bulletin; www.aarp.org ; AARP TV & Radio; AARP Books; and AARP en Español, a Spanish-language website addressing the interests and needs of Hispanics. AARP does not endorse candidates for public office or make contributions to political campaigns or candidates. AARP Foundation is an affiliated charity of AARP that is working to win back opportunity for struggling Americans 50+ by being a force for change on the most serious issues they face today: housing, hunger, income and isolation. AARP has staffed offices in all 50 states, the District of Columbia, Puerto Rico, and the U.S. Virgin Islands. Learn more at www.aarp.org.