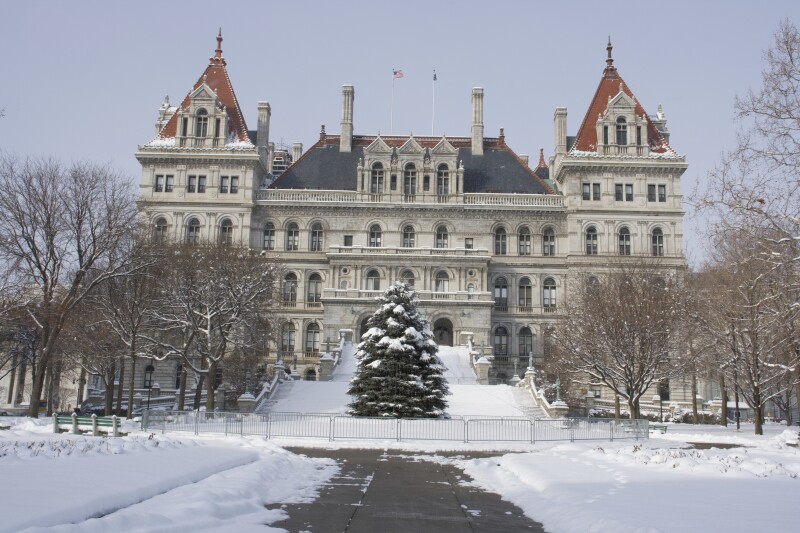 Top Advocate for 50+ to Urge State-Facilitated Retirement Savings Plan, Support for Family Caregivers



ALBANY, New York – AARP today announced a Middle Class agenda for 2016 at the New York State Capitol aimed at facilitating retirement savings in a changing workplace and supporting family caregivers to help the 50+ achieve financial stability and ease the burden on taxpayers in an aging society.

The top lobbying association for the state's most powerful voting bloc outlined these priorities:

Creation of a state-facilitated, payroll-deduction workplace retirement savings plan - "Work and Save" - for the growing number of New Yorkers who lack such an option through their employer.
A $25 million increase in next year's state budget for cost-effective non-Medicaid home and community based services for the elderly to eliminate waiting lists that total nearly 10,000 people around the state who qualify but are unable to receive the services.
An extra $30 million for State Office for the Aging (SOFA) programs that support family caregivers in need and in crisis situations while they try to care for loved ones at home.
Family leave insurance to provide up to 12 weeks of partially-paid leave a year that could be accessed by family caregivers who need to take time off from work to provide care.
Expansion of the types of health tasks trained and certified advanced home health aides are authorized to perform to include administering eye drops, ear drops and suppositories, operating nebulizers and ventilators, and applying catheters.
Continuing to fight for fair utility rates.
Designating New York the first "age-friendly" state in the nation.
"These initiatives are all aimed at helping middle class New Yorkers make ends meet – but they will also benefit taxpayers by helping New Yorkers remain financially independent through their later working years and into retirement," said Beth Finkel, State Director of AARP in New York State. "Helping New Yorkers help themselves to save for retirement in a world where fewer and fewer employers offer pensions or 401(k)s is common sense – and could help many avoid poverty in retirement. Supporting family caregivers in their labor of love to help older New Yorkers age at home, where the vast majority wants to be, is both compassionate and cost-effective."

"And as our population ages, support for caregivers will become more and more critical," Finkel added.

The number of New Yorkers 65 and older is expected to grow from one in seven in 2010 to nearly one in five by 2035. But the number of potential 45- to 64-years-old caregivers for every New Yorker 80 or older is expected to dwindle from 6.6 in 2010 to 3.5 in 2050. Meantime, the 50+ continue growing as a share of the state's electorate, rising from 58% of all voters in the 2010 election for governor to 61% in 2014.

The "Work and Save" plan would help fill the gap for millions of New Yorkers whose employers offer neither a pension nor a 401(k). Already, over half the state's 18- to 64-year-old private sector workers – over 3.5 million New Yorkers – lack such workplace access, including two thirds of Hispanics and over 60 percent of workers 18 to 34 years old.

Non-Medicaid home and community based services for the elderly, family leave insurance, SOFA programs and expansion of allowable health tasks by advanced home health aides would all help support the invaluable work done by nearly 2.6 million family caregivers across New York. They contribute care valued at $31.3 billion annually, helping their older loved ones age with dignity and independence in their homes and communities, rather than in far costlier, taxpayer-funded institutional settings such as nursing homes.

AARP will continue to fight for fair utility rates on a case by case basis; New York consistently ranks at or near the top of the nation in residential electric costs.

And while more municipalities in New York have joined AARP's Network of Age Friendly Communities than any other state in the nation, AARP will urge the state itself to become the first in the country to approve such a designation.

The Network provides funding opportunities as well as mentoring and information-sharing with existing members to help government make improvements aimed not only at the aging but at all generations, such as curb-cuts for both wheelchairs and baby strollers and longer crosswalk times for both the elderly and children. Age-Friendly features also include larger and more visible traffic signs, broader road striping, bus stops with benches, "universal design" in housing such as one-story living, no-step entries and wider doorways and hallways, easily accessible libraries and parks, more accessory apartments and shared housing, and better access to homecare and clinics.

Contact: Erik Kriss, ekriss@aarp.org

Follow us on Twitter: @AARPNY and Facebook: AARP New York

AARP is a nonprofit, nonpartisan organization, with a membership of more than 37 million, that helps people turn their goals and dreams into real possibilities, strengthens communities and fights for the issues that matter most to families such as healthcare, employment and income security, retirement planning, affordable utilities and protection from financial abuse. We advocate for individuals in the marketplace by selecting products and services of high quality and value to carry the AARP name as well as help our members obtain discounts on a wide range of products, travel, and services. A trusted source for lifestyle tips, news and educational information, AARP produces AARP The Magazine, the world's largest circulation magazine; AARP Bulletin; www.aarp.org ; AARP TV & Radio; AARP Books; and AARP en Español, a Spanish-language website addressing the interests and needs of Hispanics. AARP does not endorse candidates for public office or make contributions to political campaigns or candidates. AARP Foundation is an affiliated charity of AARP that is working to win back opportunity for struggling Americans 50+ by being a force for change on the most serious issues they face today: housing, hunger, income and isolation. AARP has staffed offices in all 50 states, the District of Columbia, Puerto Rico, and the U.S. Virgin Islands. Learn more at www.aarp.org



###