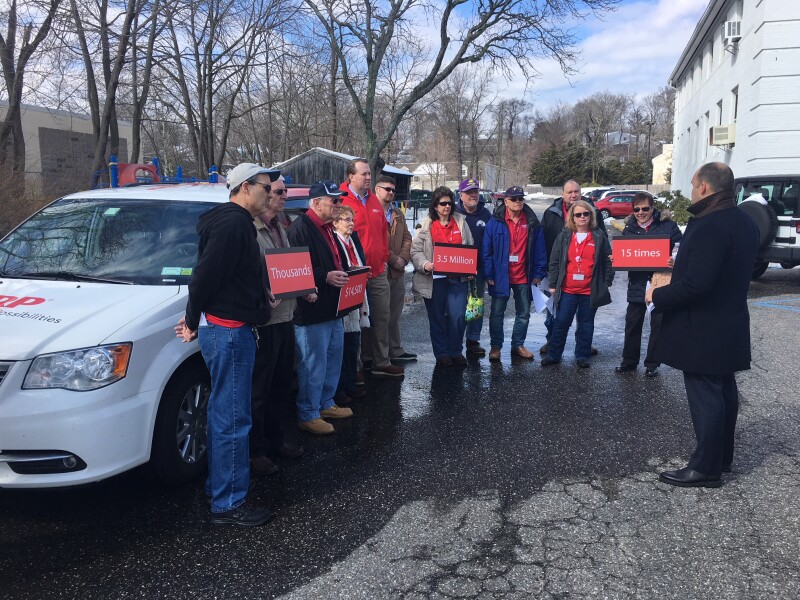 AARP Van Tour Asks Flanagan, Senators to Include Governor's "Secure Choice" Retirement Savings Proposal in Final State Budget

SMITHTOWN, N.Y. – AARP volunteers began fanning out across Long Island today to deliver a message to their State Senators: help New Yorkers save for retirement.

Dozens of Long Island volunteers will participate in a three-day tour in AARP's van calling on Senate Majority Leader John Flanagan and his Island colleagues to include in the final state budget Governor Andrew Cuomo's " Secure Choice" proposal, which would make it easier for many New Yorkers to save for retirement by creating a voluntary workplace retirement savings option that private sector companies could offer their employees.

A secure retirement has become out of reach for many Long Islanders as fewer private sector companies offer their employees any retirement savings option. Social Security is important, but at less than $16,000 a year on average in New York, it's not enough.

"I want to thank our Long Island volunteers for devoting their time and effort to a cause that could help generations of New Yorkers be better prepared for their financial future," Associate New York State Director for Long Island Bernard Macias told about 20 volunteers from Senator Flanagan's North Shore District as they gathered to head to his district office in Smithtown today.

"More and more, New Yorkers are struggling to save enough money for their futures," added Associate New York State AARP Director Chris Widelo. "We need to help them with an easy, effective way to save. Secure Choice, as proposed by Governor Cuomo in this year's executive budget, is it."

Over half of all private sector employees in New York – more than 3.5 million New Yorkers – lack access to a pension or 401(k) at work as fewer businesses offer retirement savings options.

A recent AARP-commissioned survey found nearly three quarters of New York small businesses that don't provide their employees a retirement savings option would offer Secure Choice if they could. Prior surveys showed significant support for the idea among Long Island's Generation Xers and Baby Boomers.

Secure Choice ( see pages 170-185) would provide an easily accessible workplace savings option that could empower up to millions of private sector working New Yorkers to take control of their futures – and choose how they live as they age.

The program would be voluntary for both businesses and for employees of companies that choose to offer it, establishing a payroll deduction Roth IRA option for businesses to offer their employees if the business does not already offer its workers a retirement savings plan.

Secure Choice would not cost ongoing taxpayer dollars to run. Employee contributions would be managed by a professional investment firm, and each employee would own their IRA – and could take it to any new job. Participating businesses would have no fiduciary responsibility, would not match employees' contributions, and would simply need to add an automatic deduction line to employees' paychecks.

Three dozen organizations from across New York have joined AARP in signing a Secure Choice Sign-on Letter to Senator Flanagan, Assembly Speaker Carl Heastie and Senate Coalition Leader Jeff Klein urging that Secure Choice be enacted as part of the final 2018-19 state budget due April 1.

The van tour also included a visit to Senator Carl Marcellino's Oyster Bay district office Thursday morning and resumes tomorrow with visits to the district offices of Senators Elaine Phillips (Mineola), Kemp Hannon (Garden City) and Phil Boyle (BayShore), and concludes Monday with visits to the district offices of Senators Ken Lavalle (Mt. Sinai) and Tom Croci (Hauppauge).

Contact: Erik Kriss, ekriss@aarp.org

Follow us on Twitter: @AARPNY and Facebook: AARP New York

AARP is a nonprofit, nonpartisan organization, with a membership of nearly 38 million that helps people turn their goals and dreams into 'Real Possibilities' by changing the way America defines aging. With staffed offices in all 50 states, the District of Columbia, Puerto Rico, and the U.S. Virgin Islands, AARP works to strengthen communities and promote the issues that matter most to families such as healthcare security, financial security and personal fulfillment. AARP also advocates for individuals in the marketplace by selecting products and services of high quality and value to carry the AARP name. As a trusted source for news and information, AARP produces the world's largest circulation magazine, AARP The Magazine and AARP Bulletin. AARP does not endorse candidates for public office or make contributions to political campaigns or candidates. To learn more, visit www.aarp.org or follow @AARP and our CEO @JoAnn_Jenkins on Twitter.