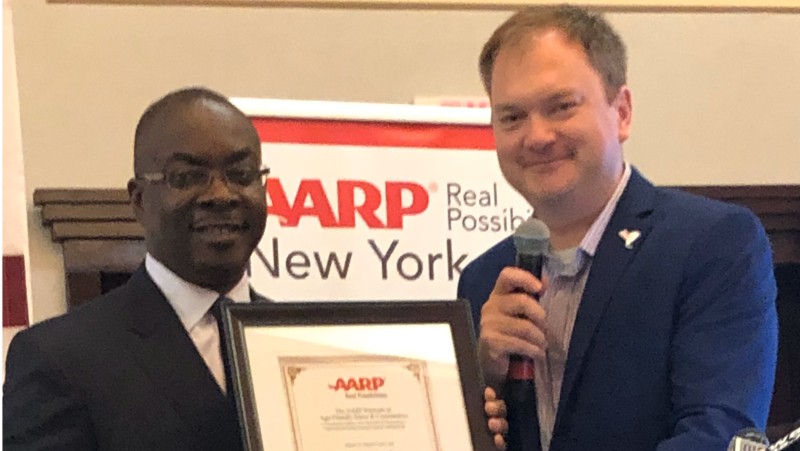 100+ Elected Officials, Policymakers, Planners Gather in Buffalo for AARP NY Livability Summit
Brainstorm Ways to Make Communities More Livable for Residents of All Ages
BUFFALO, N.Y. —Over 100 government officials, policymakers and community planners from across New York State and beyond gathered in Buffalo today for AARP New York's 3rd annual statewide Livability Summit, brainstorming ways to make communities in Western New York and across the state more livable for residents of all ages.

Buffalo Mayor Byron W. Brown kicked off the two-day gathering at the Hyatt Regency Hotel, which featured a keynote by the Director of the Charleston, S.C. Department of Traffic and Transportation, Keith Benjamin.

"This community has placed a lot of focus on livability and being 'age-friendly,'" said Mayor Byron W. Brown, who directed that the top of the City Hall dome be lit red from dusk Monday to dawn Tuesday in honor of the summit. "This is something that is a real priority for all of us in Buffalo and Erie County. 27% of our population is age 55 and older, so it's imperative that we address current and future needs of our older residents, not only providing them with a network of support but also tapping their skills, wisdom and abilities to continue to drive progress in our community."

"There are now more New Yorkers 65 and over than under 13," said AARP New York State President Leo Asen. "That remarkable demographic shift underscores the urgency of what we're doing here and across the state. AARP is focused on making communities healthier and overall better places to live for people of all ages."

"AARP's focus on livability is important and timely," said New York State Senate Aging Committee Chair Rachel May of Syracuse, where AARP New York held last year's Livability Summit. "We in the legislature are working to fulfill New York's commitment to age-friendly communities because the more people of all ages can be actively engaged, the better off we all are. It isn't just about providing a range of services to those who need them, but about enabling people to contribute to society for as long as possible."

"New York became the first state in the nation to receive Age-Friendly designation and it is through state and local level partnerships that we continue to build solutions that will make all communities in New York great places to grow up and grow older," said Greg Olsen, Acting Director of the New York State Office for the Aging.

New York State committed to join the World Health Organization-AARP Network of Age Friendly Communities in 2017 and is working on policies and initiatives to meet the network's criteria.

"The building blocks of our wellness are found in nearly every aspect of our lives – from our housing and transportation options, to the people and services we can turn to for support," said Nora OBrien-Suric, President of the Health Foundation for Western and Central New York. "Since 2007, we've invested nearly $3 million to prevent falls (including) conducting a 'walkability' audit in the city of Buffalo. We also put an emphasis on caring for the caregivers of older adults … and how we can help remove barriers to health care access."

AARP launched its first annual Livability Summit in 2017 in Albany in the face of a fast-aging population.

This year's two-day event features workshops, panels and breakout sessions to showcase successes and best practices that new communities can adopt in senior housing, "universal design" in public buildings and construction, "walkability" and trails – featuring the experiences of Hamburg and Buffalo – transportation, access to healthy food, and other areas. Participants also brainstormed additional ideas for improving livability, particularly in rural, refugee and LGBTQ communities.

Among those also participating are Paul Beyer, Director of Smart Growth for the New York State Department of State, and Millicent Proud, Executive Assistant to the C.E.O. of the Seneca Nation.

Lindsay Goldman, Director of Health Aging for the New York Academy of Medicine served as panel moderator and Randy Hoak, AARP Associate State Director for Western New York, hosted the Summit.

More and more communities around New York and the nation are moving to join the network – Buffalo committed this year and Erie County in 2014.

Follow us on Twitter: @AARPNY and Facebook: AARP New York

AARP is the nation's largest nonprofit, nonpartisan organization dedicated to empowering Americans 50 and older to choose how they live as they age. With nearly 38 million members and offices in every state, the District of Columbia, Puerto Rico, and the U.S. Virgin Islands, AARP works to strengthen communities and advocate for what matters most to families with a focus on health security, financial stability and personal fulfillment. AARP also works for individuals in the marketplace by sparking new solutions and allowing carefully chosen, high-quality products and services to carry the AARP name. As a trusted source for news and information, AARP produces the world's largest circulation publications, AARP The Magazine and AARP Bulletin. To learn more, visit www.aarp.org or follow @AARP and @AARPadvocates on social media.