AARP Commends Mayor, City Council for Providing Housing Court Lawyers to Low-Income Tenants, Fighting Wrongful Evictions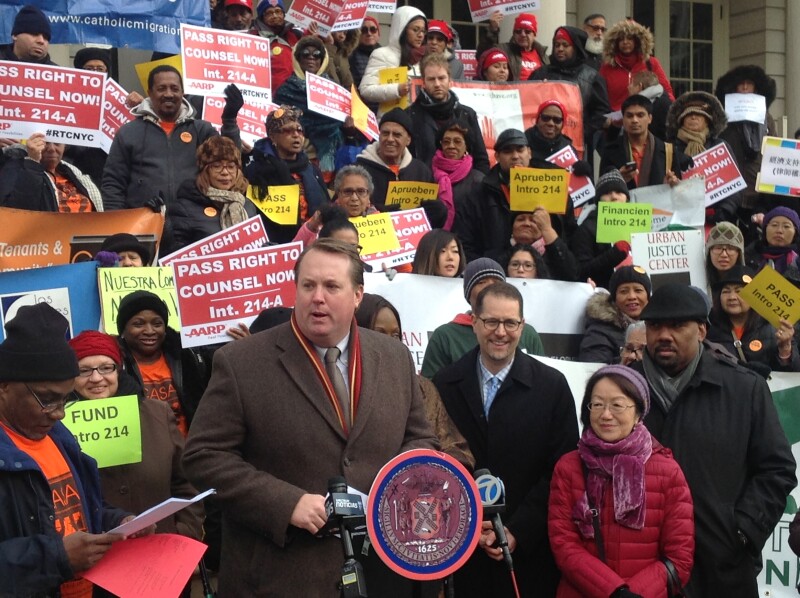 NEW YORK, N.Y. – New York City tenants and taxpayers won a big victory with today's announcement by Mayor Bill de Blasio and the City Council of an agreement to provide all low-income tenants access to a lawyer in housing court.

AARP applauded the agreement on what would be first-of-its-kind legislation to make New York City a leader in preventing wrongful evictions– and dramatically reduce the bill to taxpayers for homeless shelters to house those wrongfully convicted.

AARP New York and fellow members of the Right to Counsel Coalition have been calling for all low-income tenants (with incomes up to 200% of the federal poverty level) to have access to lawyers in housing court.

The vast majority of tenants who don't have a lawyer in housing court lose, while the vast majority who do win. But while almost 90% of landlords have lawyers in housing court, only 30% of tenants do. The Right to Counsel Coalition estimates that half of all evictions in New York City could be prevented with access to a lawyer.

"This agreement represents a huge step towards making New York City a more fair and equitable place," said Chris Widelo, Associate State Director for AARP New York. "It will prevent wrongful evictions and save taxpayers hundreds of millions of dollars in the process by keeping New Yorkers in their homes and out of the shelter system. AARP thanks the Mayor, City Council Members Mark Levine and Vanessa Gibson and the Council for coming together to protect New Yorkers by providing access to counsel."

Preventing wrongful evictions can save city taxpayers $320 million a year. The $1,600-$3,200 per case price of full legal representation in housing court pales in comparison to the $36,000-a-year cost for each bed in a city municipal shelter – the destination for many wrongfully evicted tenants. Developing a single affordable housing unit costs over $250,000.

In addition to providing lawyers to low-income tenants in housing court, the city's access to counsel legislation will also ensure tenants at all income levels access to consultation before their case is brought up in housing court, expanding protection for all New Yorkers.

Contact: Erik Kriss, ekriss@aarp.org

Follow us on Twitter: @AARPNY and Facebook: AARP New York

AARP is a nonprofit, nonpartisan organization, with a membership of nearly 38 million that helps people turn their goals and dreams into 'Real Possibilities' by changing the way America defines aging. With staffed offices in all 50 states, the District of Columbia, Puerto Rico, and the U.S. Virgin Islands, AARP works to strengthen communities and promote the issues that matter most to families such as healthcare security, financial security and personal fulfillment. AARP also advocates for individuals in the marketplace by selecting products and services of high quality and value to carry the AARP name. As a trusted source for news and information, AARP produces the world's largest circulation magazine, AARP The Magazine and AARP Bulletin. AARP does not endorse candidates for public office or make contributions to political campaigns or candidates. To learn more, visit www.aarp.org or follow @AARP and our CEO @JoAnn_Jenkins on Twitter.