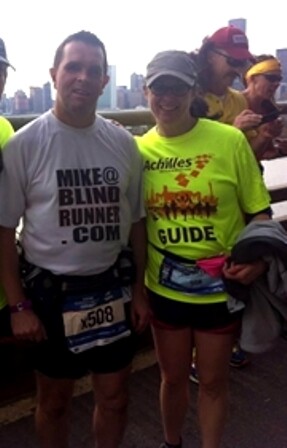 By Donna Liquori

When I ran my first two New York City Marathons in 2013 and the following year, I noticed these runners in bright yellow shirts that said " GUIDE." They were surrounding runners who were blind or had artificial limbs or were in wheelchairs.

That, I thought, is something I want to do. So I did. I volunteered last year with Achilles International to run alongside Mike Lloyd, a New Zealander who is blind and has Parkinson's. It was the best race I've ever run. This year, we do it again.

This experience made me think of some of the parallels to caregiving. While it's only one day once a year, your goal is essentially the same: you're just trying to keep someone safe.

The thing about caring for another person while running is that it's incredibly mental and busy. You're constantly looking out for potholes or things he could trip over, like discarded sweatshirts. You're also trying to make sure other runners don't run into him. He holds a tether connecting him to another member of his team. People often don't pay attention and try to cut in between him and the person holding the tether. It was my job to prevent that and alert other runners that didn't notice our bright yellow shirts that they needed to be aware. We also ran ahead and grabbed water for him since water stations can be particularly challenging.

Because of his Parkinson's, we also stopped a few times so he could stretch out his muscles. And a couple of times, I kneaded out some knots in his neck.

There's this sense of comradery that you don't get from running solo in a marathon. The Achilles International folks make you feel so welcome and appreciated before and after. Running is such a single-minded sport. But when you're running as a team – a caregiving team – it's not about you.

November is National Caregiver's Month and AARP has tips and resources to help family caregivers, in particular information about a new law in New York that helps family caregivers - the CARE Act.

Written by Donna Liquori, an AARP program specialist in Albany, N.Y., who advocates for caregivers and age friendly/livable communities. She's also a runner, a mom and a writer.