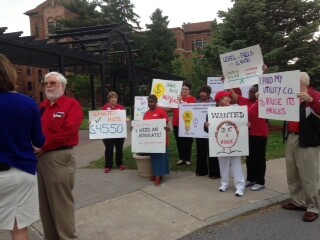 Contacts: Erik Kriss, ekriss@aarp.org ; David Irwin, dirwin@aarp.org
AARP Members Stressed by High Utility Bills Press for Utility Consumer Advocate
ROCHESTER, New York – After a harsh winter that sent utility bills soaring, fed-up Rochester-area residents boarded a bus for Albany today to urge their Republican State senators and the State Senate's GOP Leadership to give consumers a voice.
AARP members are calling on Senators Joseph Robach, Michael Nozzolio, Michael Ranzenhofer, Patrick Gallivan and George Maziarz – who chairs the Senate Energy Committee – and their leadership to pass a bill before the 2014 state legislative session ends in nine days that would create an independent utility consumer advocate office. Forty other states have such advocates, saving their residents billions of dollars a year.
The bill ( S4550B/ A6239B) passed the Assembly last month with a strong, bi-partisan vote and has bi-partisan sponsorship in the Senate. But the Senate's Republican leadership opposes the legislation.
With New York home to the highest average residential electric rates in the continental United States, a new AARP survey shows an overwhelming majority of Monroe County voters 50 and older feel their voice isn't being heard by utility regulators – or by elected officials – and strongly support the bill.
The statewide survey of New York's largest voting demographic – the 50+ - found that in Monroe County:
- 72 percent don't think "the interests of residential utility consumers are sufficiently represented and taken into consideration" when gas and electric rate hikes are proposed.
- 79 percent support creating an independent utility consumer advocate office – as 40 other states already have.
- 56 percent are concerned about their ability to pay utility bills in the coming years.
- 69 percent said the cost of heating their homes this past winter put a strain on their household finances.
"We're heading to Albany with a clear message for our Republican State Senators and their leadership: We need relief from high energy costs," Bill Armbruster, Associate State Director for AARP in Western New York, said outside Monroe Community Hospital on Henrietta Road before he and other AARP members boarded the bus.
"Our utility bills keep going up and we have no say in the matter," said Patrick Fox of Irondequoit, AARP's lead volunteer in Monroe County. "We're fed up, and we want a voice when utility companies push for rate hikes. We want our Senators and their leadership to hear that we are struggling to pay our utility bills, and we need their help."
Fox noted the bill to create a utility consumer advocate office in New York has the votes to pass the Senate, and he urged GOP leaders to allow a vote. "All we need is Senate Republican leadership to let democracy take its course," he said.
"Utility consumers have been playing a losing game when utility companies press for rate hikes," said Beth Finkel, State Director of AARP in New York, noting utility companies pass more than $10 million a year onto their own customers for the cost to push rate increases onto those same customers - while ratepayers have little to no representation before regulators. "It's no coincidence New York has the highest average residential electric rates in the continental United States. A utility watchdog will finally give consumers a fighting chance.
In neighboring Connecticut, the utility consumer advocate reported $730 million in savings in 2012 - 243 times the office's $3 million cost. California reported a 153-1 return on investment.
"It's getting harder and harder for New Yorkers to afford energy, a basic necessity," Finkel added.
Gov. Andrew Cuomo's Moreland Commission on Utility Storm Preparation and Response recognized the uneven playing field in New York and last summer recommended an independent utility consumer advocate to represent residential ratepayers (pgs 44-46).
Follow us on Twitter: @AARPNY and Facebook: AARP New York
AARP is a nonprofit, nonpartisan organization, with a membership of more than 37 million, that helps people turn their goals and dreams into real possibilities, strengthens communities and fights for the issues that matter most to families such as healthcare, employment and income security, retirement planning, affordable utilities and protection from financial abuse. We advocate for individuals in the marketplace by selecting products and services of high quality and value to carry the AARP name as well as help our members obtain discounts on a wide range of products, travel, and services. A trusted source for lifestyle tips, news and educational information, AARP produces AARP The Magazine, the world's largest circulation magazine; AARP Bulletin; www.aarp.org ; AARP TV & Radio; AARP Books; and AARP en Español, a Spanish-language website addressing the interests and needs of Hispanics. AARP does not endorse candidates for public office or make contributions to political campaigns or candidates. AARP Foundation is an affiliated charity of AARP that is working to win back opportunity for struggling Americans 50+ by being a force for change on the most serious issues they face today: housing, hunger, income and isolation. AARP has staffed offices in all 50 states, the District of Columbia, Puerto Rico, and the U.S. Virgin Islands. Learn more at www.aarp.org .
###