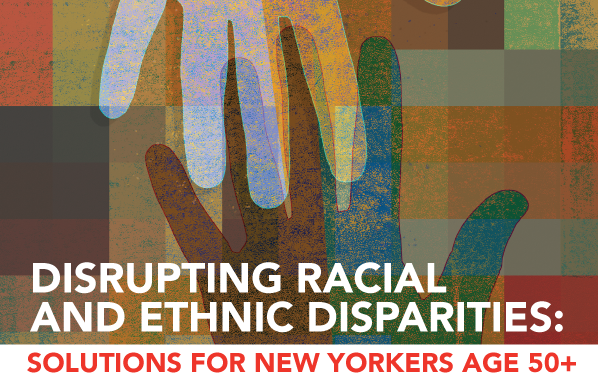 (en español)

AARP, Hispanic Federation, Bronx Community Leaders Brainstorm Ways to #DisruptDisparities

BRONX, N.Y. - New York's Hispanic/Latino (H/L) residents face wide and growing disparities in health, economic security and livability, and AARP joined today with the Hispanic Federation and Bronx community leaders at Hostos Community College to brainstorm solutions.

The 60 and over population of the state's communities of color – of which H/L account for the largest share - grew by a staggering 43% between 2000 and 2010, over 20 times that of the entire population (2.1%) and over five times the 8% increase among the state's 60+ White population, according to the U.S. Census Bureau. This disproportionately rapid growth is projected to continue in the decades ahead and significantly worsen the wide gaps that already exist.

"For the large and rapidly growing 50+ population of Hispanic/Latinos in New York, challenges around economic security and access to affordable housing, transportation and healthcare will continue to mount," said Maggie Castro, AARP Associate State Director for Hispanic Outreach. "Today's forum at Hostos Community College brought together some of the best minds and top community leaders in the Bronx and New York's Hispanic/Latino community to plot achievable solutions to help narrow these gaps."

"For decades Latinos have contributed to New York's vibrancy and vitality," said José Calderón, President, Hispanic Federation. "And yet, Latinos in New York face grave disparities in a variety of social, health and economic issues - especially for Latinos age 50-plus. Hispanic Federation has worked for more than a quarter of a century to empower and advance the U.S. Hispanic community. We welcome the opportunity to partner with AARP and CUNY Hostos to bring together Latino thought leaders, elected officials and local community advocates from across the city to address the grave disparities that exist among older Latinos in the areas of health, financial security and livable communities. This forum will serve as a dynamic brainstorming session to develop macro-level solutions that will close the gaps that persist among older Latinos and uplift all."

Research commissioned by AARP as part of an unprecedented multi-year policy solutions agenda intended to #DisruptDisparities among New Yorkers of color 50 and older in health, economic security and livable communities, in partnership with the Hispanic Federation, the Asian American Foundation, the NAACP of New York and the New York Urban League, found:

Unpaid H/L family caregivers spend 44% of their income on out-of-pocket caregiving expenses vs. just 14% by unpaid White family caregivers on average, nationally.
60% of Bronx residents speak Spanish vs. only 10% of Bronx healthcare providers.
A higher proportion of older H/Ls than Whites report at least one of seven costly, chronic conditions: asthma, cancer, heart disease, diabetes, high blood pressure, obesity, or anxiety/depression.
22% of adult H/Ls in New York do not have health insurance.
50+ City H/Ls are paid just 51 cents for every dollar 50+ Whites are paid, on average – resulting in only 60.8 cents for H/Ls to every dollar for Whites in Social Security statewide.
White 50+ New Yorkers' re­tirement incomes are almost double that of H/L New Yorkers.
White New Yorkers' households have more than 12 times the wealth of H/L households.
34.9% of H/L New Yorkers 55 to 64 years old lack a bank account vs. only 1.6% of similarly aged White Yorkers – leading many H/Ls to turn to high-cost providers for check-cashing, money orders, and other financial services.
45% of 50-plus H/Ls statewide spend at least 30% of their income on housing vs. 29% for White homeowners. And 25% of all 50-plus city H/Ls spent at least half their income on housing compared to 17% of Whites – making H/L communities particularly vulnerable to gentrification and displacement.
Many subway stations in neighborhoods of color lack eleva­tors, leading to isolation and missed medical appointments and treatments.
H/L neighborhoods have more pedestrian accidents due to unsafe street crossings.
As recommended in " Disrupting Racial and Ethnic Disparities: Solutions for New Yorkers Age 50-Plus " - the report released at the #DisruptDisparities launch in January - New York State this year enacted a voluntary workplace retirement savings option for private employees to help New Yorkers save, expended "telehealth" as part of the Medicaid program and included goals to disrupt disparities in in the state's health prevention agenda. Next year, AARP and partners will push these other recommendations:

A state tax credit to help unpaid family caregivers offset out-of-pocket caregiving expenses.
Sufficient state funding for non-Medicaid home and community based services for the elderly to keep pace with growing need and prevent burnout by unpaid family caregivers.
Further expansion of "telehealth" to expand access to healthcare through smart phones and other technology and avoid obstacles such as lack of transportation to medical appointments.
Cultural and linguistic competency training for all state-licensed healthcare professionals.
Preservation of New York's strong usury laws to defend against predatory lending, small-dollar loans and other exploitative consumer financial products that target communities of color.
Support for community development financial institutions to provide sound and affordable loans and financial products and services to people and small businesses in communities of color.
Stronger consumer protections against deed theft scams that disproportionately target 50-plus New Yorkers of color.
Make housing more affordable and preventing displacement and gentrification through inclusionary zoning and support of Community Land Trusts and property tax exemptions.
Allow more "mother-in-law" apartments ("accessory dwelling units") and expand funding available to lower-income older adults for home modifications to increase accessibility.
Improve accessibility within the Metropolitan Transit Authority system
Increase funding, particularly for neighborhoods of color, to support a state law requiring pedestrian safety be taken into consideration in new and redesigned streets.
"AARP has a long history of advocacy on behalf of members of the 50+ community in our effort to empower people to choose how they live as they age," said AARP Director of State Advocacy and Strategy Gerri Madrid-Davis. "AARP New York's Disrupt Disparities initiative is giving us a special opportunity to shine a light on the particular challenges facing New York's multicultural communities."

"Hostos Community College is excited to co-host and be a part of this important discussion on Hispanic disparities in health, economic security, and livable communities," said Christine Mangino, Provost and Vice President for Academic Affairs for Hostos Community College. "This work is in alignment with our mission and the reason we do what we do every day. Any opportunity we have to contribute to this discourse helps us serve our community."

"We are asking policymakers, advocates and the public at large to share their knowledge and experiences of existing disparities so we can press public officials to adopt policy changes that address these inequalities," added AARP's Castro. "By closing the serious gaps that exist, people in Hispanic/Latino communities can enjoy the same stability and equal footing as everyone else by having more choices in how and where they live as they age."

Those interested in following or joining the conversation can visit www.aarp.org/nydisruptdisparities, which will serve as a platform to host the latest research findings, policy updates and information related to this effort, and a place to contribute ideas and insights (by emailing NYAARP@aarp.org ).

Contact: Erik Kriss, ekriss@aarp.org

Follow us on Twitter: @AARPNY and Facebook: AARP New York

AARP is the nation's largest nonprofit, nonpartisan organization dedicated to empowering Americans 50 and older to choose how they live as they age. With nearly 38 million members and offices in every state, the District of Columbia, Puerto Rico, and the U.S. Virgin Islands, AARP works to strengthen communities and advocate for what matters most to families with a focus on health security, financial stability and personal fulfillment. AARP also works for individuals in the marketplace by sparking new solutions and allowing carefully chosen, high-quality products and services to carry the AARP name. As a trusted source for news and information, AARP produces the world's largest circulation publications, AARP The Magazine and AARP Bulletin. To learn more, visit www.aarp.org or follow @AARP and @AARPadvocates on social media.

###