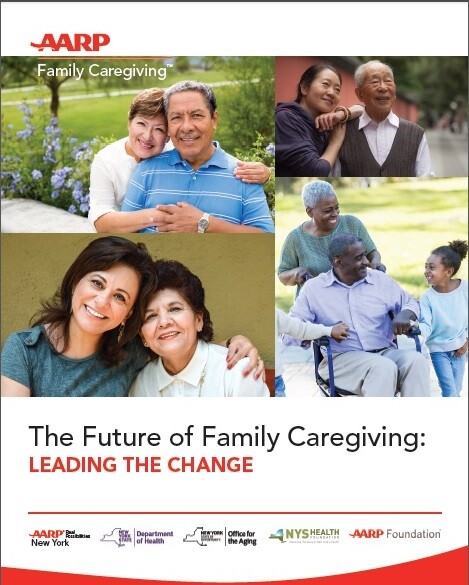 Proposals Range from State Tax Credit for Caregiving Expenses to Expansion of 'Telehealth'

NEW YORK, N.Y. – As the number of older New Yorkers explodes with the aging of the Baby Boomer generation and as New Yorkers live longer with more chronic conditions, unpaid family caregivers need help – and a new AARP NY_Family Caregiving Whitepaper_finalpages (2) from AARP outlines a host of potential solutions ranging from a middle class tax credit for out-of-pocket caregiving expenses to an expansion of "telehealth."

The Future of Family Caregiving: Leading the Change resulted from a summit AARP convened with the New York State Health Foundation (NYSHealth) and the state Health Department and Office for the Aging with family caregivers, aging-service organizations and advocacy groups. The summit and report were funded by the New York State Health Foundation and AARP Foundation, the charitable affiliate of AARP, which works to end senior poverty by helping vulnerable older adults build economic opportunity and social connectedness.

"We now have a great roadmap for how to better support New York's nearly 2.6 million family caregivers - the backbone of our long-term care system who provide unpaid care valued at over $31 billion a year," said AARP New York State Director Beth Finkel. "This report should serve as a blueprint for our elected officials and policymakers as we face an aging population that will put more and more stress on caregivers."

"Caregivers play a critical role in the health care system—providing vital unpaid care to family members or loved ones," said David Sandman, Ph.D., President and CEO of NYSHealth. "The physical, financial, and emotional impact of caregiving can take a big toll. This report offers solutions that can help alleviate some of that burden and ensure that New Yorkers have the support they need to remain effective in their caregiving roles."

"As life expectancies among New Yorkers continues to increase, we remain committed to working with AARP and our partners in government and communities throughout the state to make it easier for family caregivers to not only provide care to their aging relatives, but to also improve the health and wellbeing of these vital caregivers," said State Health Commissioner Dr. Howard Zucker. "The findings from the AARP's The Future of Caregiving: Leading The Change summit will go a long way towards identifying additional resources and solutions to support family members who care for aging loved ones."

"Family caregivers make a profound difference in the lives of those they care for, and are integral to helping loved ones remain at home," said Greg Olsen, Acting Director of the New York State Office for the Aging. "As New York State continues to create more age-friendly, livable communities for people of all ages to grow up, thrive, and grow older, we must ensure that family caregivers have the necessary resources to allow them to focus on their own wellbeing."

Unpaid family caregivers help loved ones with everyday tasks like cooking, traveling to doctor appointments, and managing multiple medications, as well as bathing, dressing, and feeding - and ever-more complex medical tasks like wound care that used to be handled by nurses or hospitals. The new report shows caregivers face a lack of respite and other challenges that include:

Lost time at work, which can reduce income and retirement earnings and deny potential promotions;
Balancing caring for a parent with working and raising young children in many cases;
Fear of strangers and financial concerns in hiring outside help - and the inability of finding someone qualified, affordable, and available.
Out of pocket caregiving costs that average nearly $7,000 a year nationally – and over $10,600 if caring for a loved one with dementia – and eat up 20 percent of income on average but a whopping 44 percent for Hispanic caregivers and 34 percent for African American caregivers;
Wait lists for home- and community-based services, which support caregivers in helping their loved ones avoid unwanted moves to costlier and mostly taxpayer-funded nursing homes;
Social isolation and other mental health issues.
The needs of family caregivers are growing; by 2050 the number of Americans 85 and older will more than triple, and as many as 34 percent of older adults could experience functional limitations and need full or part-time help to avoid or delay institutional care. Yet the availability of family members to provide unpaid care will dwindle.

Building on New York's strong paid family leave law and the CARE Act, which requires hospitals to better prepare caregivers to care for their loved ones after discharge, the report includes these potential solutions:

A state tax credit for out-of-pocket caregiving costs such as wheelchair ramps, food and medical supplies.
Expanding the CARE Act to include skilled nursing and rehabilitation facilities.
Expanding telehealth and tele-mental health to allow doctors to monitor an older adult's vital signs like heart rate, blood pressure, and blood sugar remotely via smartphone and alerting family caregivers whether medication has been taken, if the stove was left on, or if there's been a fall – building on a 2018 state initiative to broaden the use of telehealth under Medicaid.
More "age-friendly" hospital emergency departments with non-glare lighting, non-skid flooring, large print information, handrails, warmer room tem­peratures, improved sound-proofing, room for family caregivers and specially trained staff.
An accessible, streamlined, and culturally appropriate compendium of statewide and local services that includes eligibility requirements, cost, and paid and volunteer assistance for transportation to medical appointments, minor home repairs and visits that allow caregivers respite.
More caregiver respite centers like those at Montefiore Medical Center in the Bronx and Northern Westchester Hospital.
"Virtual" support groups and online chats and hangouts for family caregivers lacking the time or energy to attend in-person groups.
Expanding the reach of broadband services to underserved areas of the state.
An in-home services provider registry that allows consumers to connect with qualified, local long-term services and support workers.
Nationwide, 44 million Americans –including nearly 2.6 million across New York state—provide care and support to some­one because of a limitation in their physical, emotional, or cognitive functioning. This unpaid care is worth $31.3 billion annually in New York and $470 billion across the country.

AARP is urging 50+ Americans to "Be the Difference" and vote in the upcoming midterm elections - and to consider candidates' positions on supporting family caregivers.

An AARP New York/Siena College survey of New York Baby Boomers and Generation Xers released last fall found strong support for in-home services, with two-thirds or more of respondents saying transportation services, respite for family caregivers and assistance providing meals and managing household chores would be helpful.

Contacts: Erik Kriss (ekriss@aarp.org), Jordan McNerney (jmcnerney@aarp.org)

Follow us on Twitter: @AARPNY and Facebook: AARP New York

AARP is the nation's largest nonprofit, nonpartisan organization dedicated to empowering Americans 50 and older to choose how they live as they age. With nearly 38 million members and offices in every state, the District of Columbia, Puerto Rico, and the U.S. Virgin Islands, AARP works to strengthen communities and advocate for what matters most to families with a focus on health security, financial stability and personal fulfillment. AARP also works for individuals in the marketplace by sparking new solutions and allowing carefully chosen, high-quality products and services to carry the AARP name. As a trusted source for news and information, AARP produces the world's largest circulation publications, AARP The Magazine and AARP Bulletin. To learn more, visit www.aarp.org or follow @AARP and @AARPadvocates on social media.

###