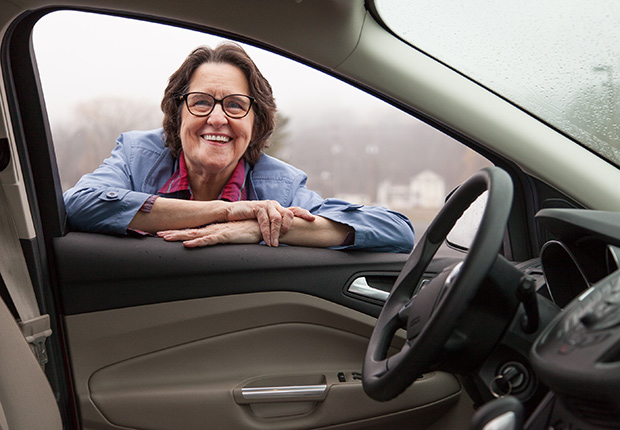 By Ilana Berger

After 52 years of driving, Carol Albright is proud of her record.

She wants to keep that record clean, she said, which is one reason she signed up for AARP's Smart Driver course at her local library, in East Greenbush.

"Driving is a thing you come to take for granted over time," said Albright, 70. "People say, 'Oh, I've been driving for 50 years,' and it can't be taken for granted. You cannot be prepared for a situation unless you're cognizant of the possibilities and alert to changes."

Highlighting the importance of staying attentive and thinking ahead is just one of the ways the six-hour course helps older drivers reduce their risks on the road. Successful participants can also receive a 10 percent discount on their insurance for three years and subtract up to four points from their driving record.

Among the course highlights are discussions of recent changes in the rules of the road, techniques for handling new highway features such as roundabouts and how to use much of the technology in new vehicles.

In 2017 almost 68,000 New Yorkers took the Smart Driver course in person, and over 24,000 took it online.

"We have a whole section in the course that talks about the future," said Pat Latimer, deputy state coordinator for AARP's Driver Safety program. "We start out talking about recognizing unsafe driving behaviors in other people and how you would approach a person if it was your relative. From there, we lead into talking about assessing our own driving."

At a time when people are living and driver longer, talking about the future is crucial. According to the AAA Foundation for Traffic Safety, adults 65 and older are expected to make up a quarter of all drivers by 2025.

Latimer said one of the most common problems that older drivers have is deteriorating vision.
"Your vision starts to change as you get older," she said. "You get less and less light into your eyes, making it difficult to see at night," she said. "Then the glare from the oncoming traffic starts to bother people the most."

A 2016 study revealed that 23 percent of New York driver fatalities in 2014 involved people over 65. Older drivers also have an 8.2 percent greater likelihood of being involved in a fatal accident, making New York the fourth most dangerous state for such drivers.

AARP's free seminar "We Need to Talk" helps friends and family members start a conversation with loved ones about cutting back on their driving—or stopping altogether.

"You're used to it, so you're comfortable with it, and you don't want to lose the opportunity to hop in a vehicle and go where you want to," said Gordon Schipper, 82, a Smart Driver instructor and coordinator from Oswego. "You dread giving up that freedom."

Courses like Smart Driver help provide older people with the tools and strategies they need to be able to continue driving and maintain their independence.

"I always think it's a good thing when I run into somebody someplace who took the class and they tell me they have changed some of their behaviors," Latimer said. "Then they tell me that they may have avoided a head-on collision."

To sign up for a course, go to aarp.org/findacourse or call 877-846-3299 toll-free. In New York, the classroom course is $20 for AARP members and $25 for nonmembers. The online course, at aarpdriversafety.org, is $25.95 for members and $29.95 for nonmembers.

Those interested in becoming an instructor should go to aarp.org/volunteernow.

Ilana Berger is a writer living in Brooklyn.