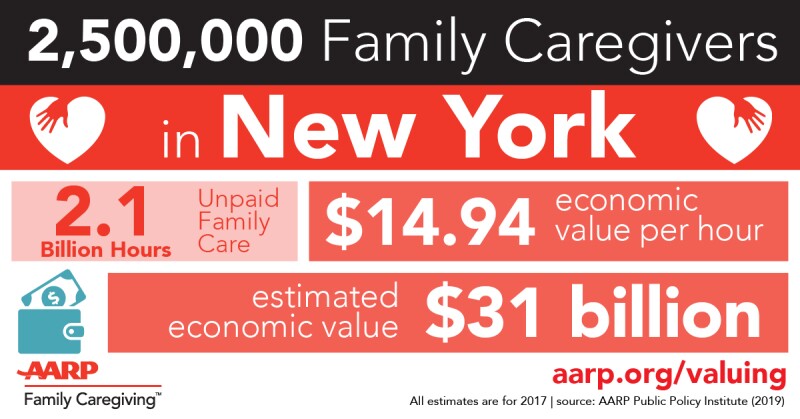 AARP Urging Governor to Propose Caregiver Tax Credit
ALBANY, N.Y. - About 2.5 million family caregivers provided an estimated 2.1 billion hours of unpaid care - worth a staggering $31 billion - to their parents, spouses, partners, and friends across New York State in 2017, according to state data available in the latest report of AARP's Valuing the Invaluable series.

The complexity of family caregiving increases as medical and nursing tasks continue to enter the home, and family demographics change amidst an aging population.

AARP is fighting to support family caregivers and the older family and friends who count on them.

AARP New York is urging Governor Andrew Cuomo to propose as part of his next state budget a state caregiver tax credit, which would help offset the nearly $7,000 family caregivers spend on average each year to care for loved ones.

"Family caregivers are the backbone of our long-term care system," said AARP New York State Director Beth Finkel. "This report shows just how critical their contributions are. We need to support them so they can continue to provide care for our loved ones.

"A modest tax credit for middle class family caregivers would save all New York taxpayers money in the long run by keeping older adults from nursing homes and other taxpayer-funded institutions," Finkel added. "Supporting our family caregivers will become even more important as our population ages, leaving fewer caregivers to care for more frail elderly."

Already in 2019, AARP New York helped family caregivers by successfully advocating for an historic $15 million increase in state funding for in-home services for the elderly such as home-delivered meals, transportation to medical appointments and assistance with daily activities.

In 2020, AARP will continue to fight for commonsense solutions to give family caregivers more support, help at home, training and more. Those solutions include:
· Creating a caregiver tax credit, which would provide up to 50% of eligible caregiving expenses, up to $3,500
· Working to ensure protections under the 2015 CARE Act are fully realized. The CARE Act allows hospital patients to designate a family caregiver and requires hospitals to provide those caregivers with demonstration and instruction in post-hospital care.
· Continued funding for in-home services for the elderly.

· Expanding telehealth—digital information and communication technologies, like computers and mobile devices - that help family caregivers manage their own or their loved one's health

The full report will be available on November 14 and will include national figures, trends in family caregiving, and policy recommendations.

To review state figures and the methodology, visit: www.aarp.org/valuing.

Resources and information on family caregiving, including AARP's Prepare to Care Guides, are available at www.aarp.org/caregiving.

Follow us on Twitter: @AARPNY and Facebook: AARP New York

About AARP
AARP is the nation's largest nonprofit, nonpartisan organization dedicated to empowering people 50 and older to choose how they live as they age. With a nationwide presence and nearly 38 million members, AARP strengthens communities and advocates for what matters most to families: health security, financial stability and personal fulfillment. AARP also produces the nation's largest circulation publications: AARP The Magazine and AARP Bulletin. To learn more, visit www.aarp.org or follow @AARP and @AARPadvocates on social media.