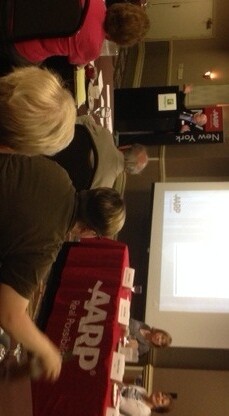 Contacts: Erik Kriss, ekriss@aarp.org; David Irwin, dirwin@aarp.org





Association Proposes More Cost-Saving, In-home Services for Elderly, Med Task Demos for Caregivers Before Hospital Discharges

BINGHAMTON, N.Y. – New York State is already at the bottom of the barrel in providing needed supports for 4.1 million family caregivers, who provide care valued at $32 billion annually to their parents, spouses and other loved ones. Today, AARP warned a looming demographic shift leaving fewer people able to provide that care could spell disaster. The Association joined with fellow advocates to call for change, including making cost-saving in-home services available to all elderly New Yorkers who need them and passing planned legislation ensuring that caregivers be shown how to administer medical procedures at home before their loved ones are discharged by the hospital.
AARP says increasing these supports for family caregivers will not only allow our frail elderly to age with independence and dignity in their own homes and communities with their families, but also save taxpayers money by reducing the need for costly nursing home and other institutional care.

The Empire State ranks 48th in providing support to the over 4 million unpaid caregivers who deliver an estimated $32 billion per year in care to loved ones, oftentimes older relatives. If that wasn't bad enough, a recent AARP analysis finds the caregiving bubble in New York is about to burst, meaning there will be fewer family members to provide care for older relatives. In 2010 there was a potential pool of 6.6 people aged 45-65 for every person 80 and older who would likely need care at some point. By 2030, the number of potential caregivers in the state will shrink to 4.8 for each person over 80, and in 2050, there will be just 3.5 people to provide the care, according to the analysis.

AARP estimates that more than 40,000 Broome County residents 50 and older – more than half – expect to provide unpaid care to an adult relative or friend in the next five years. About 24,000 – nearly a third of the county's 50+ population - are already doing so or have done so in the last year. A quarter of them spend 40 hours or more a week on caregiving – the equivalent of a full-time job – and most of them already have jobs. And nearly half of them have had to go to work late, leave work early or take time off during the day to provide care.

Today AARP, joined by the Broome County Office for Aging and the Alzheimers Associaton of Central New York, warned that New York will pay the price if it doesn't act to support the state's caregivers. It's a top issue for 50+ voters, who make up the most powerful voting demographic in the state – and AARP is working to make sure the Governor and lawmakers hear that message loud and clear.

AARP today called for state lawmakers to support the "CARE Act" (Caregiver Advise, Record and Enable), which is expected to be introduced soon. The bill will ensure that hospitals provide caregivers with live demonstrations of required after-care tasks before their loved one is discharged and consult with caregivers designated by the patient on discharge plans.

AARP also called on the state to increase funding for in-home services for the elderly, which save taxpayers money by helping frail elderly age with independence and dignity at home, rather than in much costlier, Medicaid-funded nursing homes. The 2014-15 State Budget increased such funding by $5 million, but an additional $21 million is required to ensure such services to all qualifying New Yorkers.

"The lack of support and services for caregivers in New York is already a crisis, and it's moving toward disaster," said Neal Lane, AARP New York State President and a former Director of the State Office for the Aging. "Caregivers are the foot soldiers of long-term care, and they need help. Supporting them is the right thing to do not just for them and their loved ones, but for all of us."

"We will be asking our state legislators and Governor Cuomo to support the CARE Act and to increase funding to make sure every elderly New Yorker who needs in-home services receives them, thereby helping to sustain caregivers in the compassionate and cost-saving work they do," said Erin Mitchell, Associate New York State Director for AARP in the Southern Tier.

The recommendations outlined today were part of Caregivers in Crisis FINAL , which AARP developed with the New York State Caregiving & Respite Coalition and the Council of Senior Centers and Services of New York City, Inc. Among the report's other recommendations:

- Establish a "Community Care Navigator" program to help caregivers develop personalized roadmaps to direct them to available help, support and services for their ailing parents, spouses, loved ones – and themselves.

- Strengthen family leave policies to protect workforce productivity.

- Ensure access to competent legal assistance and protect the vulnerable from fraud and exploitation.

- Promote and increase affordable housing options designed to enhance independence.

- Expand successful volunteer services models to provide help and contain costs.

- Encourage direct-care staff recruitment and retention.

The recommendations grew out of suggestions AARP and its partners received from about 1,400 family caregivers from across the state last year.

Follow us on Twitter: @AARPNY and Facebook: AARP New York

AARP is a nonprofit, nonpartisan organization, with a membership of more than 37 million, that helps people turn their goals and dreams into real possibilities, strengthens communities and fights for the issues that matter most to families such as healthcare, employment and income security, retirement planning, affordable utilities and protection from financial abuse. We advocate for individuals in the marketplace by selecting products and services of high quality and value to carry the AARP name as well as help our members obtain discounts on a wide range of products, travel, and services. A trusted source for lifestyle tips, news and educational information, AARP produces AARP The Magazine, the world's largest circulation magazine; AARP Bulletin; www.aarp.org ; AARP TV & Radio; AARP Books; and AARP en Español, a Spanish-language website addressing the interests and needs of Hispanics. AARP does not endorse candidates for public office or make contributions to political campaigns or candidates. AARP Foundation is an affiliated charity of AARP that is working to win back opportunity for struggling Americans 50+ by being a force for change on the most serious issues they face today: housing, hunger, income and isolation. AARP has staffed offices in all 50 states, the District of Columbia, Puerto Rico, and the U.S. Virgin Islands. Learn more at www.aarp.org .

####