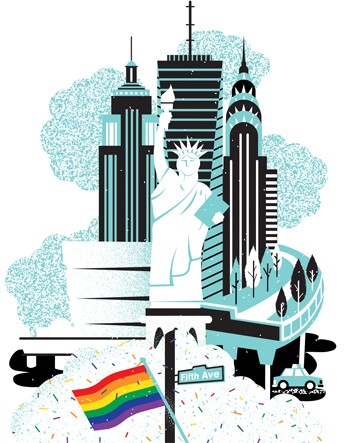 As the nation commemorates the 50th anniversary of the legendary Stonewall uprising on Sunday, June 30, AARP members can join thousands of visitors and local residents taking part in LGBTQ pride activities across New York City.
NYCPride is overseeing the city's annual observance of the Stonewall demonstrations, widely considered the beginning of the modern gay rights movement.
The anniversary marks the days of riots that broke out in response to a police raid of the Stonewall Inn in Greenwich Village on June 28, 1969.
The festivities will include a march down Fifth Avenue, rallies, lectures, entertainment and a free street festival, PrideFest, from noon to 6 p.m.
"New York City has played such an important role in the pride movement over the last 50 years," said Ella Leitner, AARP New York associate state director. "We're excited to bring together AARP members, volunteers and friends to celebrate this milestone year."
Visit the AARP New York booth at PrideFest and learn what the organization is doing in your community. AARP representatives will also be marching in the parade.
To sign up and join, go to aarp.cvent.com/NYCPride19 or call 877-926-8300. Find more on NYC Pride festivities at nycpride.org or call 212-807-7433.
—Ronald E. Roel