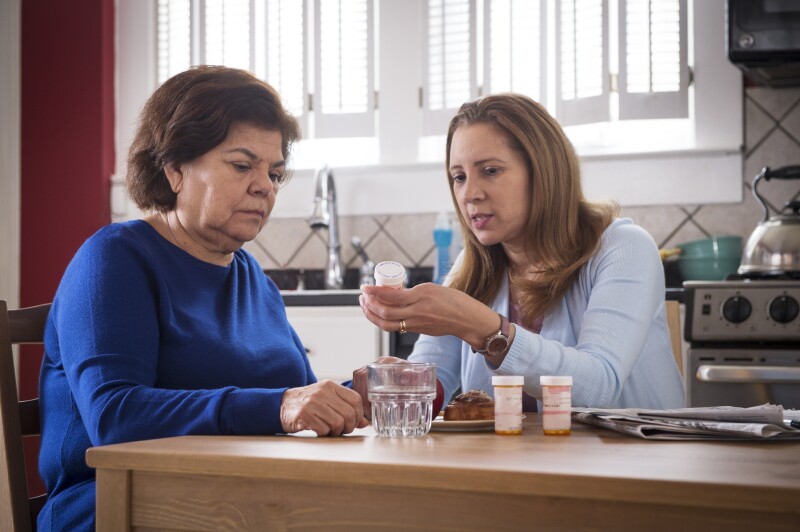 Hispanic Federation, NAACP, NY Urban League, Asian American Federation, Alzheimer's Association, Others Join AARP
ALBANY, N.Y. – More than three dozen health, consumer, aging and other organizations are urging Governor Andrew Cuomo to include a middle class tax credit for family caregivers in his next state budget proposal.

The 39 groups co-signed a letter to the Governor asking him to provide badly-needed financial relief to family caregivers, who spend nearly $7,000 out of their own pockets on average to care for loved ones - while providing about $32 billion in unpaid care each year across New York.

A caregiver tax credit has the support of 84% of New York voters age 40 and over, according to a 2018 survey.

While the average caregiver spends 20% of income on caregiving, the burden is even higher for caregivers of color: 44% for Hispanic caregivers, who spent over $9,000 on average in 2016, and 34% of income for African Americans, according to a national AARP survey.

Joining AARP in calling on the Governor to take action are the Hispanic Federation, the NAACP of New York, the New York Urban League, the Asian American Federation, the Alzheimer's Association of New York State, the umbrella organization for county Offices for the Aging and many others.

"A family caregiver tax credit would provide much-needed financial relief to family caregivers and help them to care for their loved ones at home, where the vast majority want to be," the letter says. "While respite is essential to providing family caregivers relief from their duties, they also need help with the financial toll of caring for their loved ones."

The groups are urging Cuomo to adopt or model a credit on a bill sponsored by the state legislature's Aging Committee Chairs, Senator Rachel May and Assemblyman Harry Bronson (S5100/A7209). Under their bill, individuals with a gross annual income of $75,000 or less and couples with a gross annual income of $150,000 or less could claim a credit for up to $3,500, or half of eligible expenses.

Such expenses could include payments for home health aides, adult day care, personal care attendants, homemaker services, respite care, health care equipment, home modifications, and transportation – all of which help aging adults to continue living independently in their home.

New York's nearly 2.6 million family caregivers play a critical role in keeping health care costs under control. And a caregiver tax credit would benefit all New Yorkers by helping to keep loved ones out of more costly and less desirable nursing homes, saving taxpayer dollars.

Follow us on Twitter: @AARPNY and Facebook: AARP New York

AARP is the nation's largest nonprofit, nonpartisan organization dedicated to empowering Americans 50 and older to choose how they live as they age. With nearly 38 million members and offices in every state, the District of Columbia, Puerto Rico, and the U.S. Virgin Islands, AARP works to strengthen communities and advocate for what matters most to families with a focus on health security, financial stability and personal fulfillment. AARP also works for individuals in the marketplace by sparking new solutions and allowing carefully chosen, high-quality products and services to carry the AARP name. As a trusted source for news and information, AARP produces the world's largest circulation publications, AARP The Magazine and AARP Bulletin. To learn more, visit www.aarp.org or follow @AARP and @AARPadvocates on social media.

###