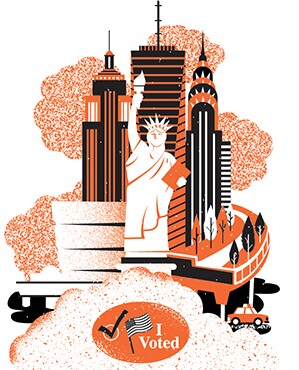 New York City voters will use ranked-choice balloting for the first time in a citywide election when they select mayoral candidates in the Tuesday, June 22, primary.

"Ballots are going to look different. AARP wants to make sure voters know how to use ranked-choice voting when they go to the polls or complete their absentee ballots," said R. Kevin Jones of AARP in New York City.

Voters may rank up to five choices for each office, in order of preference. To win, a candidate must receive a majority of votes. If your first choice is eliminated, your second is counted, and so on, according to the New York City Board of Elections. Voters will also use ranked-choice balloting for public advocate, comptroller, borough president and city council primary candidates.

Early voting is from Saturday, June 12, through Sunday, June 20. Primary Day is the last day to vote by mail.

Mayor Bill de Blasio (D) cannot run for reelection due to term limits, which led to a hotly contested race, focusing on issues such as public transit and the city's pandemic recovery.

AARP New York has created aarp.org/votenyc, detailing the issues, candidates and how ranked-choice voting works.

AARP is a nonpartisan organization and does not endorse candidates.

Donna Liquori is a writer living in Albany.