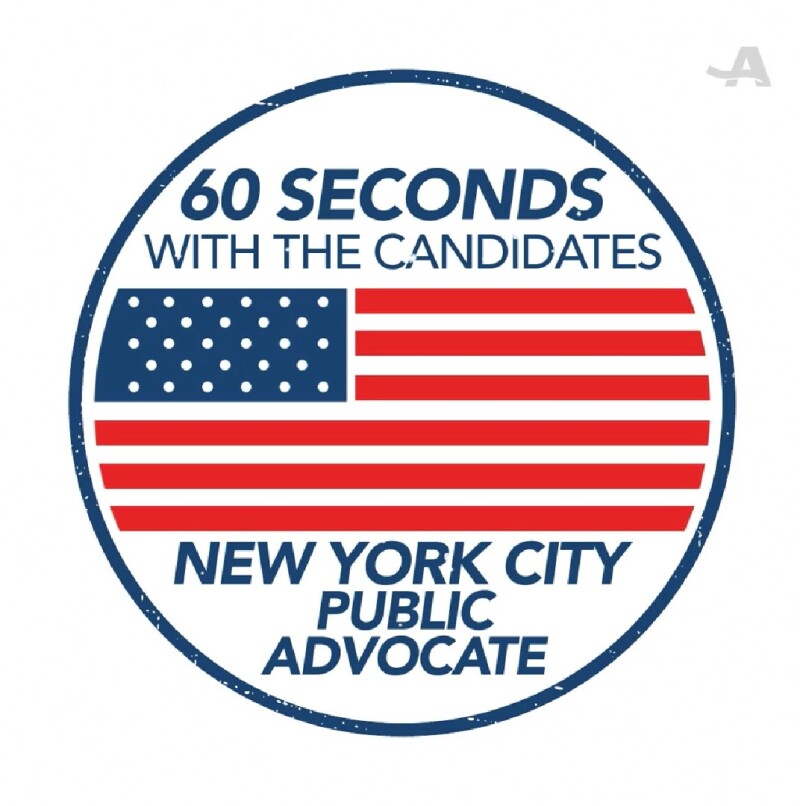 The New York City Public Advocate special election is on Tuesday, February 26, 2019. AARP NY met with the candidates to get their take on important issues that affect New Yorkers including people age 50 and over.
Learn more about the candidates and their policy positions on issues including:
1.) Age-Friendly City:
New York City is rapidly aging. The 65-plus population will soon account for 20 percent of residents. What would you do to make NYC a more age-friendly city?


2.) Disrupting Disparities:
AARP New York, the Asian American Federation, the Hispanic Federation, the NAACP and the Urban League are conducting a campaign to disrupt disparities in health, economic security and livability affecting 50-plus New Yorkers of color. What should the city's top priority action be to address these issues?


3.) Fraud Protections:
An AARP survey found that fraud is a top concern of 50-plus voters and that many have been victims of fraud, especially credit card and identity fraud. What would you do to address this problem?


______________________________________________________________________________
Press Release:

NYC Public Advocate Hopefuls in Their Own Words: AARP Releases Video Voter Guides
Mark-Viverito, Blake, Rodriguez, Ulrich, Alicandro, Eisenbach, Herbert, Rich, Yee Speak to City Voters

NEW YORK, N.Y. – Nine candidates for New York City Public Advocate outline their agendas for city residents 50 and over in video voter guides AARP released today at www.aarp.org/votenyc.
Each candidate offers a 90-second opening statement followed by 90-second answers to each of these questions:

What would you do to make New York City a more age-friendly city?
What should the city's top priority be to address racial and ethnic disparities among the 50-plus?
What would you do to address fraud affecting New Yorkers 50-plus?
All candidates for the February 26 special election to fill the seat vacated by Letitia James after her election as state attorney general were invited to film a voter guide.
New Yorkers 50 and over accounted for more than half of the statewide vote (53 percent) in the November 2018 elections, according to an AARP-commissioned analysis of exit polls.
African American and Hispanic/Latino voters 50 and over made up a bigger chunk of the New York electorate, proportionately, than the national electorate, according to the analysis of the National Election Pool exit polling conducted by Edison Research for ABC News, CBS News, Cable News Network, and NBC News.
"Time and again, New Yorkers 50 and over vote in big numbers, and last November's election was no exception," said AARP New York State Director Beth Finkel. "AARP is pleased to present the candidates 'in person' and in their own words on some of the issues that matter most to our over 700,000 New York City members and all 50-plus city residents. Our goal is to ensure potential voters are educated so they can make informed choices on the future of our city."
AARP is a non-partisan organization that does not endorse candidates, does not have a political action committee and does not make contributions to political campaigns or candidates.
The candidates who filmed AARP video voter guides were A. Manny Alicandro, Michael Blake, David Eisenbach, Anthony "Tony" Herbert, Melissa Mark-Viverito, Jared Rich, Ydanis Rodriguez, Eric A. Ulrich and Ben Yee.
In addition to hosting the videos on a dedicated page on its website, AARP New York is promoting the voter guides on its Facebook page at AARP New York.
Follow us on Twitter: @AARPNY and Facebook: AARP New York