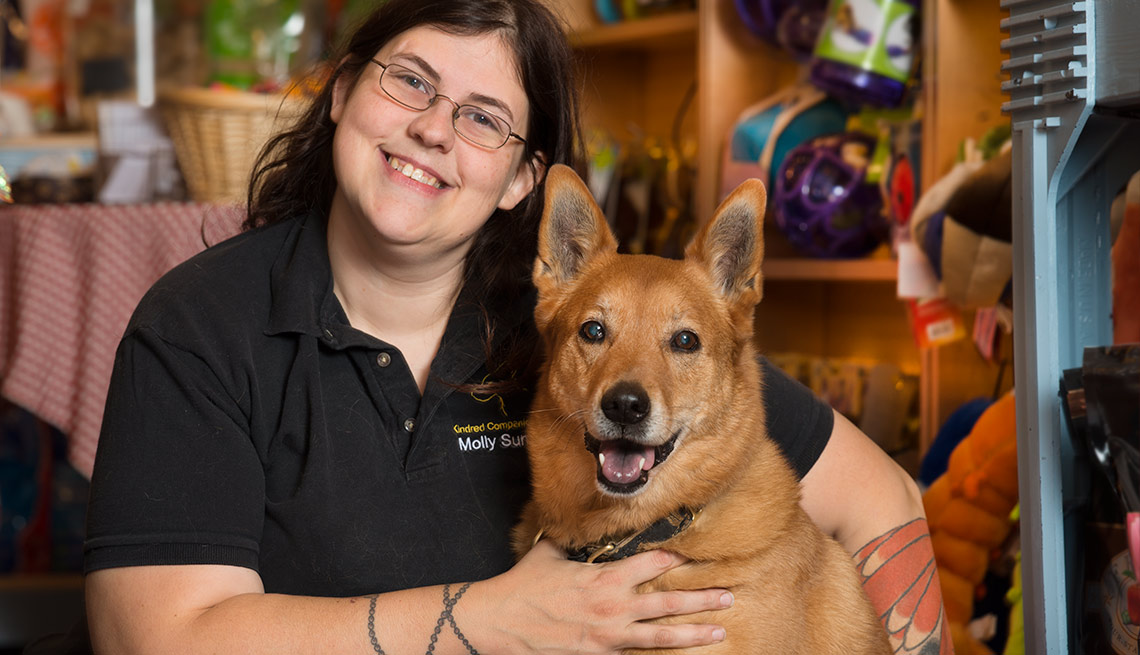 By Christina Hernandez Sherwood

Molly Sumner, owner of a pet supply store and a dog-training service, said she would like to offer her 12 employees a way to save for retirement. "People give their time to their job," she said. "They shouldn't have to fear what happens when they're done working."

But when she's running two businesses in Frenchtown, there's little time to research retirement plan options, said Sumner, 34, a member of the New Jersey Main Street Alliance, a policy-focused coalition of more than 1,500 small-business owners. That's why Sumner said she would support the creation of retirement savings accounts for workers who lack employer-provided plans.

"It's something I wish I had access to when I was an employee," Sumner said. "It's something I want for my employees."

Many New Jersey residents share Sumner's concerns. Earlier this year, 1,000 voters in the state ages 35 to 64 responded to an AARP survey on issues related to retirement security, savings options and a proposed state retirement savings plan. The survey was conducted using 10-minute phone interviews.

The resulting report, "Making Retirement a Reality," found that while nearly all working respondents hope to retire someday, 2 in 3 are somewhat or very anxious about saving enough money to do so.

"This is a particularly acute problem in a high-cost-of-living state like New Jersey," said Douglas Johnston, manager of advocacy for AARP New Jersey. "People aren't saving for retirement and we need solutions."

Approximately 1.7 million people in New Jersey don't have a means to save for retirement at their jobs, according to AARP.

Even employees with savings plans are worried they have not saved enough. Bridget Munyan, 40, a paralegal from Westville, said she's apprehensive about retirement, despite contributing to a 401(k) for her entire career. She said she and her husband tend to put off increasing their retirement contributions, focusing instead on concerns such as home renovations.

Early next year, the state Legislature is expected to take up the New Jersey Secure Choice Savings Program Act, which would let companies establish individual retirement savings accounts for employees, who could make automatic payments from their salaries.

A portable program
"The program will make use of professional investors but it won't cost the taxpayers anything because it is self-sustaining and it is portable, meaning workers can take it with them if they change jobs," said Senate President Steve Sweeney (D-Thorofare), the Senate bill's sponsor. "Everyone should be allowed to live with dignity after their working days are over."

In the AARP survey, 85 percent of Democratic respondents and 79 percent of Republicans backed the program.

"We were pleased it had strong bipartisan support," Johnston said. "That is an important thing to know for the public, and for legislators and for the business community."

The New Jersey plan is part of a national AARP campaign to help people build economic security. Illinois, Oregon and Washington have passed some form of a workplace savings plan. About 25 states are considering similar legislation.

The plan has met some resistance. The Securities Industry and Financial Markets Association said Secure Choice could compete with the private sector and that other options should be explored.

Ed Fitzpatrick, 56, of Haddon Township, said that between his salary as a high school teacher, a divorce, and helping support his son in college and a disabled daughter, he's not prepared for retirement. He said he can't depend on his pension or Social Security.

"I recognize it's going to be up to me to put money away," he said. "I'm a little bit ill at ease from it."

Fitzpatrick said he supports a program like Secure Choice: "Isn't it cheaper to have a program like that than having to take care of a bunch of indigent senior citizens?"

Christina Hernandez Sherwood is a writer living in Collingswood, NJ.