GREENSBORO -- Six North Carolina organizations were presented with the 2015 AARP Multicultural Outreach Award in recognition for their work in promoting greater health and economic prosperity for all.

According to AARP's Debra Tyler Horton, who leads multicultural outreach in North Carolina, "The ceremony was held at the International Civil Rights Museum, the site of 1961 Greensboro sit-ins, to draw attention to the continued struggle for equality when it comes to our personal health and wealth. Great disparities still exist when looking at the earnings, savings and the health care of minority populations in the state."

AARP is addressing some of these disparities through its advocacy and programs in North Carolina and nationally. For example, in 2014, AARP was instrumental in protecting Social Security benefits that, through a proposal called the "Chained CPI," were targeted for reduced cost-of-living adjustments. This year, AARP is pushing to restore the medical expense tax deductions in the state. The elimination of these deductions hurt people of all ages by adding to the already high cost of care.

AARP is also providing information, resources and support for North Carolina family caregivers. There are over 1.7 million North Carolinians providing care to a loved one at some point of time each year. It is also helping older workers and entrepreneurs find meaningful employment and AARP is working with the Civil Rights Museum to offer a selection of upcoming workshops to help people better prepare for their future health and income needs.

AARP's 2015 Multicultural Award Winners:

North Carolina Indian Economic Development Initiative, Inc. (NCIEDI)

NCIEDI advocates and facilitates economic development in North Carolina through business expansion, opportunities and partnerships. NCIEDI collaborates with small business development by empowering 14 Indian tribes with resources and workshops to start and expand their businesses. NCIEDI provides tribal support and has helped many Indians successfully achieve status as a small business.

Universal Institute for Successful Aging of Carolinas (UISAC)

UISAC is a Charlotte-based nonprofit that is developing innovative and highly effective programs for the empowerment of diverse populations. The Institute creates holistic, accessible, and integrated facilities and services that promote diversity, holistic health, peaceful living, equal opportunity, and civic and community engagement – with an emphasis on under-served populations including refugees, immigrants and minorities.

Healing with CAARE, Inc.

CAARE is a grassroots nonprofit organization located in Durham that promotes a holistic and community approach to health by engaging the community. CAARE primarily serves limited income individuals and families without access to health insurance through culturally matched health and wellness programs to help rebuild their lives. Through a wide array of services, CAARE provides weekly free health clinics and offers a meditation room, a chapel, reiki and acupuncture treatments, ear care, a fitness room, nutritional classes, chair exercise classes for older adults, Zumba, African Drumming classes, HIV/AIDS screenings, a Food Benefit Bank, and substance abuse treatment.

Center for Outreach in Alzheimer's, Aging and Community Health "COAACH"

COAACH is working to advance healthy aging in all communities. COAACH promotes the science and the application of healthy aging through research, education, capacity building, and empowerment so that individuals, particularly the most vulnerable, can live life with quality, dignity, and independence.

Skills learned at the community center will lessen the financial and emotional burden for everyone involved with patients with Alzheimer's and dementia. COAACH is committed to making helpful resources available to caregivers, affected individuals, and community stakeholders.

GDAvis Productions, Garrett Davis— Bringing Real Life Situations to the Stage

Garrett Davis of Winston Salem has helped increase awareness of important social issues by bringing important real life information to stage. Garrett Davis has produced, written and directed over 20 productions including one in partnership with AARP. Davis's highly acclaimed Mama's Girls, helped draw attention to the needs of family caregivers and was presented in communities across the country.

Latin American Coalition

The Latin American Coalition, or La Coalición, is a community or immigrants and allies that promotes full and equal participation of all people in the civic, economic and cultural life of North Carolina. Its multifaceted approach to promote justice and equity includes direct intervention, support, alliance building, institution and systems change—all building toward meaningful culture and policy change. The Coalition has been instrumental in providing immediate education and resources to newcomers in the community and serves as a catalyst for community integration.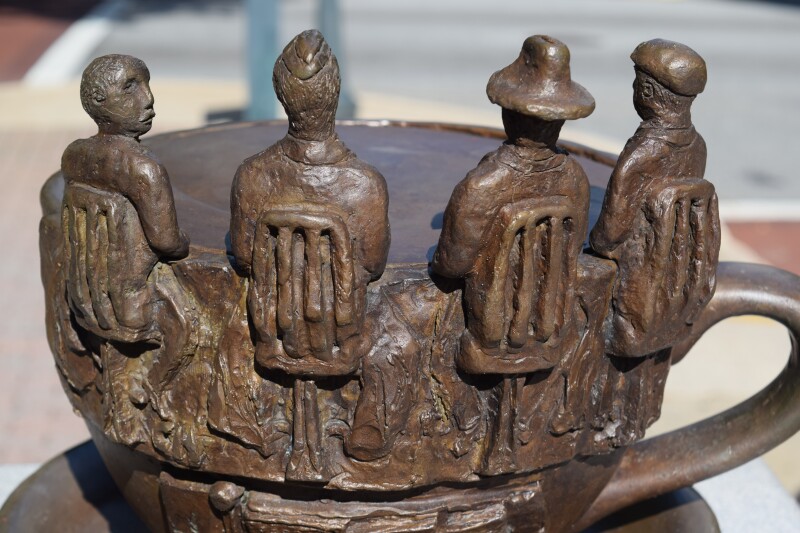 About AARP North Carolina