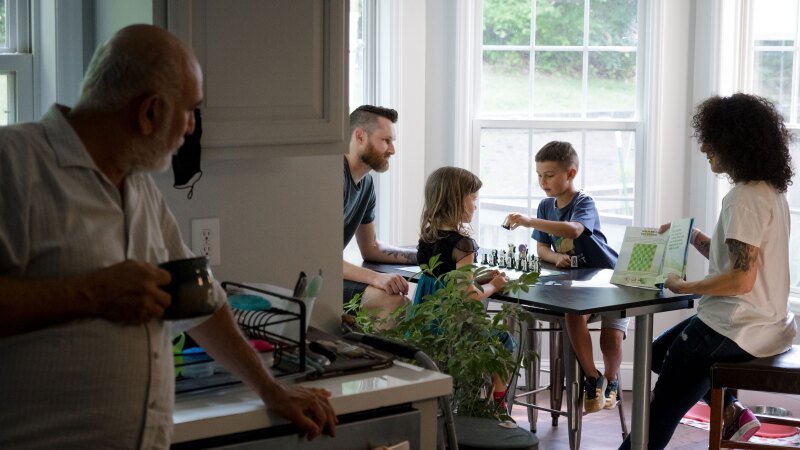 Brian Behm, 36, and his wife, Victoria, 33, have have been living with her parents since the start of the COVID-19 pandemic, when they needed extra help with their two young children, ages 7 and 4.

The arrangement worked so well that the two families decided to make it permanent. When the Behms move into their new custom home in Chapel Hill later this year, it will have an attached apartment for the grandparents.

Technically called an accessory dwelling unit, or ADU, the 750-square-foot apartment will have its own entrance, kitchen, bathroom and living space.

"It's an amazing opportunity for all of us and for them to know their grandkids," Behm says. "Being in proximity was important, but we didn't want to be on top of each other all the time."

ADUs—sometimes known as in-law suites or attic/basement apartments—are secondary homes built on the same lot as single-family residences. They've become especially popular during the pandemic for families who want to keep relatives near- by, and they create more affordable living options, especially in areas with high housing prices. ADUs have a kitchen and bath- room and are usually about 350 to 800 square feet. They can be a separate backyard structure, a garage apartment or a converted basement or attic space.

In some cities, however, zoning rules and regulations, such as limits on square footage and parking requirements, make it difficult or even impossible to build one.

AARP North Carolina is pushing to end those restrictions and is educating policymakers, builders and the public about the benefits of ADUs for those of all ages.

"We need more accessible, affordable housing in our communities," says Lisa Riegel, manager of AARP North Carolina's Livable Communities initiative.

Easing Restrictions

With AARP's support, Durham, Raleigh, Wilmington and Asheville have made changes to their ordinances to make it easier to build the structures. In Durham, for example, building an ADU used to mean having to pay for a separate utility hookup, which could cost as much as $15,000, says Bryce Jahner, executive director of Haven Ventures, which designs and produces housing units.

"Now the city allows you to tie in plumbing and electrical to the main house," he says.

ADUs are great for older adults because they offer different ways to age in place, Riegel says. Individuals could move into a small- er, more accessible home on their property and rent out the main house or invite a grown child to live there with family. An adult child could live in an ADU while helping take care of a loved one. ADUs can also be rented out as a source of retirement income.

Behm's father-in-law, Farid Yunez, 67, says he's looking for- ward to moving into the new space with his daughter's family.

"It's better for kids to have grandparents instead of babysitters," he says. "We've already gone through a lot of things in life. We can tell them stories, share some of that."

He and his wife, Kim, 59, will also have some help as they get older, Yunez adds.

Link to a virtual tour of ADUs in North Carolina at bit.ly/ADUs22. AARP also offers guides for building ADUs. Learn more at aarp.org/ADUs.

Michelle Crouch is a writer living in Charlotte.

Livable Communities Challenge
For More on Livable Communities

About AARP North Carolina