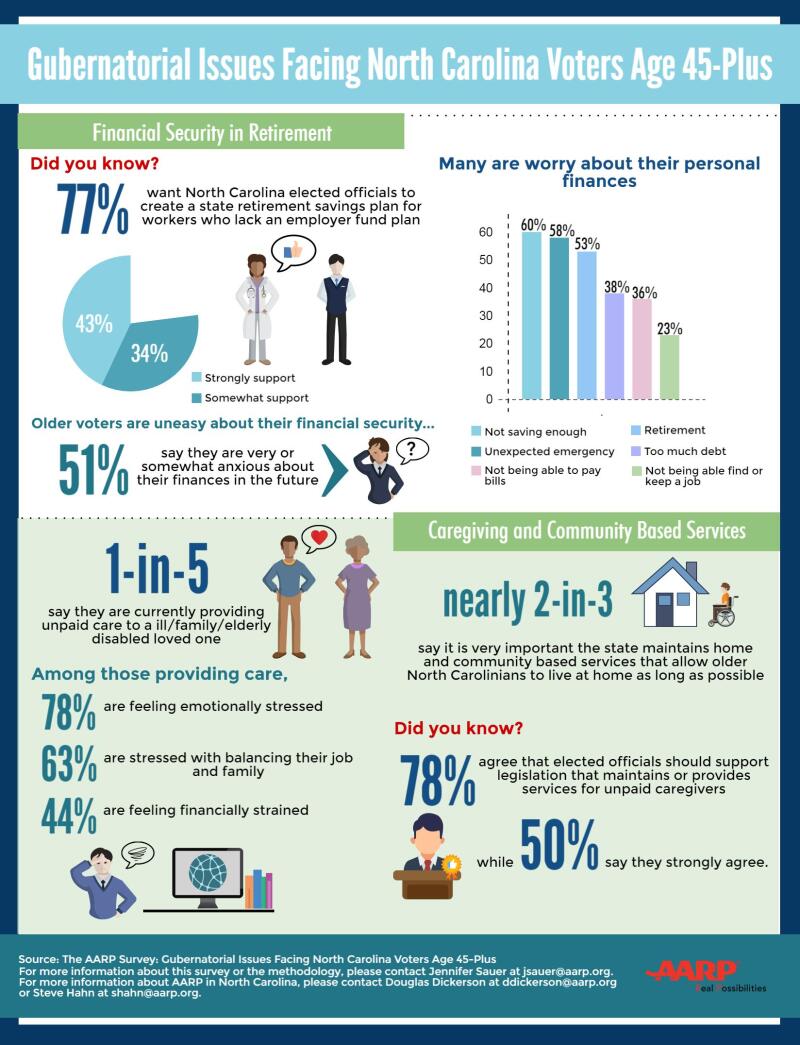 RALEIGH -- A new AARP survey of North Carolina registered voters ages 45 plus, finds an information gap when it comes to voters' knowledge of the gubernatorial candidates' policy proposals and the voting issues that age cohort care most about. The same survey found that the vast majority of older voters, 97 percent, plan to participate in Election 2016, and will be a deciding factor in both the federal and state races.
AARP North Carolina Director Doug Dickerson explains, in this state, voters are becoming increasingly uneasy about their future financial security, and how they're going to take care of themselves as they age. "Over half of those surveyed worry that they are not saving enough to cover their basic needs in retirement."
Dickerson said that one significant impediment is that only one-out-of-two workers in NC have employers who offer a payroll retirement savings plan, such as a 401K or pension. As a possible solution, the survey found strong support (77 percent) for a specific proposal that is gaining popularity in other states, where legislators could create a professionally-managed savings plan that would make it easier for employers who want to offer a plan.
The survey also found that 19% of voters are providing unpaid care to an ill, frail, elderly or disabled loved one, and most of them (78 percent) are feeling emotionally stressed, with 63 percent feeling stressed with balancing their job and the responsibilities of caring for a loved one.
With the number of family caregivers in the state on the steady climb, nearly two-thirds of the survey respondents say it is important for the state to maintain home and community-based services that allow older North Carolinians to live at home as long as possible.
Dickerson said, like other age-groups, the survey also showed strong interest in public education, roads, infrastructure and fiscal responsibility. But as our population ages, this group of voters are very concerned about their financial security and being able to provide care to loved ones.
Through a Gubernatorial Video Voters Guide, AARP is working to better connect the candidates to voters on these issues they care most about. AARP's Take a Stand effort is also connecting voters to the Presidential candidates' plans on Social Security, still the most vital part of income security for retired and disabled Americans.
A diverse panel of North Carolina policy experts further explored the AARP survey findings and discussed the impact and interests of voters ages 45 plus. You can watch the AARP Public Policy Forum here.
The AARP SURVEY : GUBERNATORIAL ISSUES FACING NORTH CAROLINA VOTERS AGES 45 AND OLDER was conducted as a telephone survey among registered voters ages 45+ or older in North Carolina obtained from a registered voter list. Calls were made via cell phones and landline. The survey collected the opinions of North Carolina voters on issues relating to retirement financial security, state retirement savings plan, and state services for caregivers. The interviews were conducted in English by Precision Opinion from August 18 th to August 21 st, 2016. The margin of sampling error for the sample of 1000 is +/-3.2%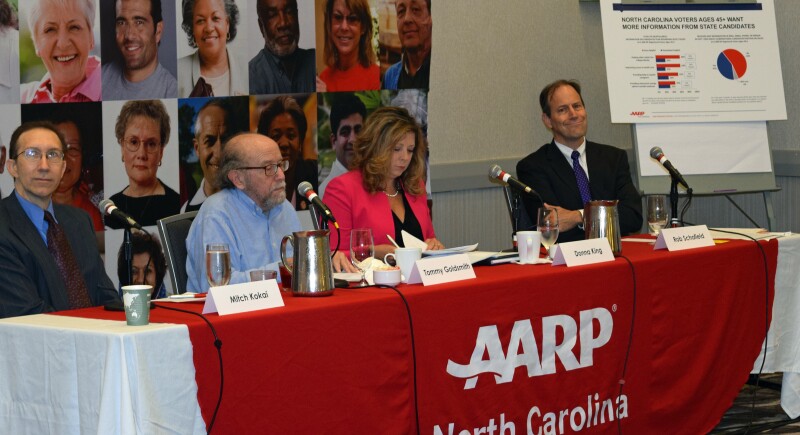 About AARP North Carolina