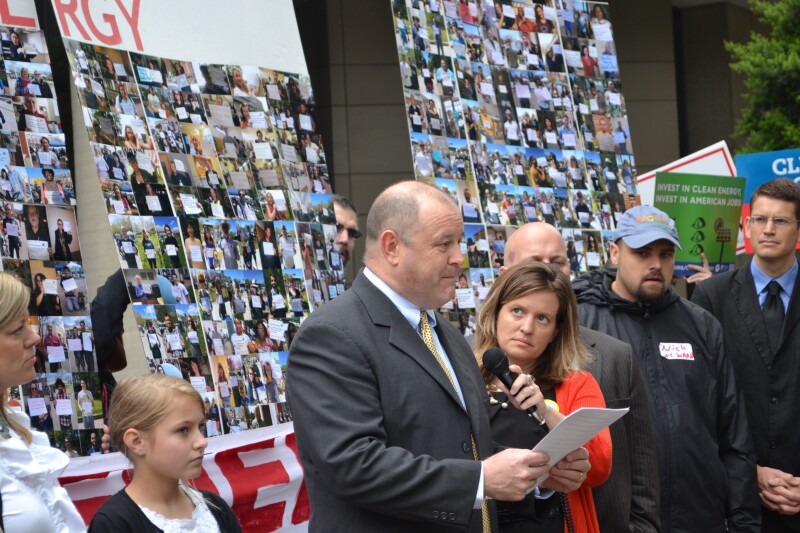 CHARLOTTE -- AARP members from the Carolinas joined a chorus of protesters at the Duke Energy shareholders meeting who feel the company's rate hike requests are excessive in today's economy.

In April, the NC Supreme Court agreed with AARP and the NC Attorney General that an approval of Duke's 11.5 percent return on equity was unsubstantiated and did not take consumers interests into consideration. AARP filed an amicus brief to a Attorney General Roy Cooper appeal. Issues raised in AARP's brief were cited as the determining factors in the court's decision.

Duke CEO Jim Rogers is set to retire this fall. But before he does, AARP wants to make sure he sets a balance between the need to keep energy affordable, and the increased energy demands of the future.

In remarks to media and protesters outside the shareholders meeting, AARP South Carolina Associate State Director Patrick Cobb said:

"With the takeover of Progress Energy, Duke Energy Corporation is now the largest electricity provider in the U.S., with more than 7 million customers in 6 states. Duke is large and profitable, but continues to ask too much of its customers, many of whom are still struggling economically.

The North Carolina Supreme Court got it right in its recent decision when it said that ratepayers must not be a mere afterthought when setting utility rates and utility profits. AARP, which surveys and serves those ages 50 and above, has found high utility costs to be one of the biggest challenges for our members in this state. North Carolinians need affordable energy now. We believe that utilities can be profitable while still considering the needs of its customers. Duke is very committed to economic development and gives deals to large employers. But what about the workers who are burdened with excessive rate increases?

The current rate cases in North and South Carolina shows this disparity. In North Carolina rates would increase by $446 million, increasing overall revenues to Duke North Carolina by 9.7%. But for residential customers, the percentage increase is higher—11.8%, or more than $14 per month for a customer using 1000 kwh. That includes at $4.47 increase in the basic facilities charge (BFC), which hits lower usage customers hardest. It will now cost consumers more than $14 each month before they ever turn on a light. The pending South Carolina rate case is as lopsided for residential customers. There a $220 million/15% overall rate hike, will be a 16.3% increase for residential customers, or nearly $18 more each month for a customer using 1000 kwh.

Last year at this meeting AARP complained about the high rate of return on equity that was included in a settlement of the last North Carolina rate case. After Attorney General Cooper appealed that case, AARP submitted an amicus brief, or friend of the court brief, in support of the AG's position. The court agreed with the AG and AARP—state law requires that the impact on consumers should be taken into account when setting the allowed rate of return on equity. Yet in the current rate cases Duke again ignores its customers, and seeks an increased ROE of 11.25% in both states. Duke deserves a fair rate of return, but not an excessive one. 11.25% is excessive in today's market.

Duke should not be trying to get more from Carolina consumers to make up for setbacks in other states. Shutting down a nuclear plant in Florida, cost overruns at a coal gasification plant in Indiana, a recent rate case settlement in Ohio may have Duke management looking for revenues elsewhere. Don't look here, consumers in the Carolinas are tapped out.

For older consumers, many of which are on fixed incomes, Social Security increases have not kept pace with the size of the rate increase proposed. Older consumers and those of low income pay a higher percentage of their income for electricity than do other households. With the seventh highest poverty rate in the nation, programs that provide energy assistance cannot keep up with the demand for assistance. Funds established by Duke Energy for further assistance are appreciated, but will only make a tiny dent in the true nee

For the past 20 years, AARP has been one of the only national advocacy organizations working at both the federal and state levels to help people save money on their utility bills. In these difficult economic times, we, along with our members, will continue to advocate on behalf of families struggling to pay their utility bills."




About AARP North Carolina