ASHEVILLE – At a regional fraud prevention event held by elder advocates across the Mountain Region, AARP volunteer Betsy Cantrell was presented with the AARP Andrus Award for her outstanding contributions to improving the lives of adults as they age.

The award, named after AARP's founder, Dr. Ethel Percy Andrus is given each year to the North Carolinian who has done the most to promote the health, economic security and well-being of older adults. According to AARP North Carolina, Cantrell has been one of the state's top watchdogs when it comes to preventing fraud and scams that target the elderly.

AARP State President Dr. Catherine Sevier, when presenting the award said, "Betsy Cantrell has been a front line of defense against fraud and abuse in the state and nation. When a partnership to reduce victimization of older persons developed as collaboration between AARP, the International Association of the Chiefs of Police, and the National Sheriffs' Association, Betsy became the group's national director. She had the pleasure – and challenge – of working for nearly a dozen years with law enforcement and elder abuse prevention groups to expand this partnership across the country."

After moving to Asheville 7 years ago, Betsy continues to consistently volunteer with AARP and other groups dealing with elder issues and fraud prevention. Her background in fraud prevention has helped the AARP Fraud Watch Network provide timely and important information to members and their families.

Sevier added, "Dr. Ethel Percy Andrus was a long-time educator and the first woman high school principal in California. She was also an elder rights activist who founded AARP in 1958.

Dr. Andrus's enduring motto was 'What we do for one, we do for all.' Without any doubt, Betsy Cantrell has worked hard to protect us all. She has been a lifelong educator giving people the information they need to recognize and report threats to their savings, earnings and financial future."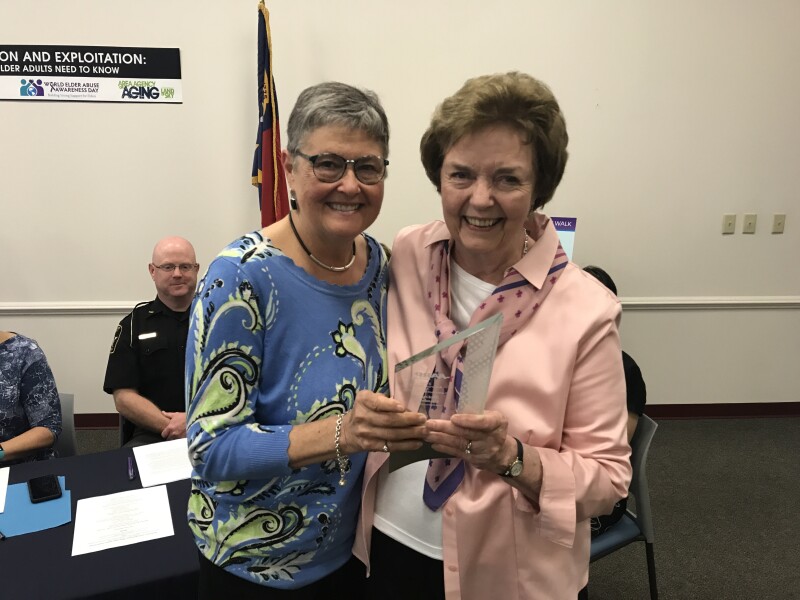 Those interested in volunteer opportunities can send inquires to ncaarp@aarp.org Please add "Volunteer" to the subject line.
About AARP North Carolina