En Espanol | The state passed bipartisan legislation to make voting more accessible during the coronavirus pandemic, with support from AARP North Carolina.

Election Day is Tuesday, Nov. 3, and polls will be open from 6:30 a.m. to 7:30 p.m. The state's voter information portal has more information about where to cast your ballot. Your polling place may be different this year, so check before you leave.
Be prepared for potentially long lines, and remember to take your mask and to follow social distancing measures at the polls. Voters won't be required to show ID at the polls this year.
With Election Day only days away, consider dropping off your completed absentee ballot in person at an early voting location in your county.
Curbside voting will be available at polling places for voters who are unable to enter the facility because of a physical or mental disability. Voters who are elderly or who have an underlying condition that makes them susceptible to severe medical complications from the coronavirus will also be able to vote curbside.
Election offices are getting an extra $27 million to pay for items such as technology, upgraded security, protective barriers, sanitizing supplies, hand sanitizer and personal protective equipment for poll workers at voting locations.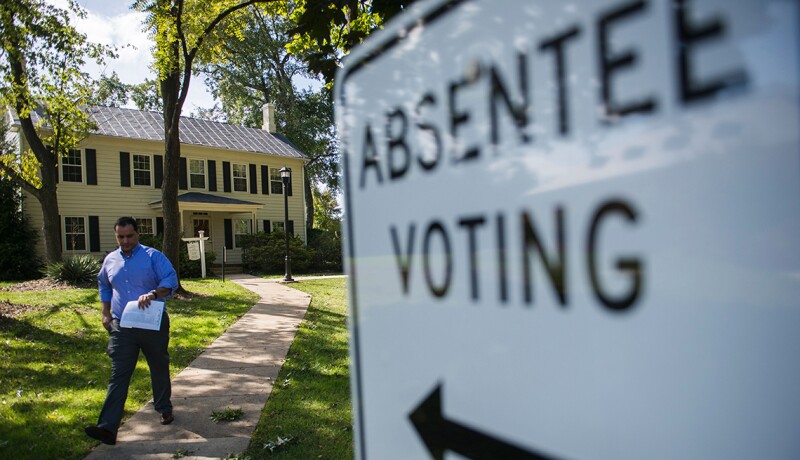 Here's what else you need to know:

How do I register to vote?

Register, update your address or change your party affiliation online at the North Carolina State Board of Elections website if you have a North Carolina driver's license or ID card. You can also register to vote by mail or in person at your county board of elections, Division of Motor Vehicles offices or in person during early voting.

The deadline to register is Oct. 9. If you miss it, you can do same-day registration during in-person early voting.

How can I get an absentee ballot? Are there important deadlines?

For the first time this year, voters can request absentee ballots by email or fax, or through a special state board of elections online portal that will debut by Sept. 1. For now, you can download an absentee ballot request form online and email, mail, fax or hand-deliver it to your county board of elections.

A voter's near relative (spouse, brother, sister, parent, grandparent, child, grandchild, mother-in-law, father-in-law, daughter-in-law, son-in-law, stepparent or stepchild) or legal guardian can also complete and submit the form. To be counted in the November election, your absentee ballot request form must be received by 5 p.m. on Oct. 27.

How do I know my absentee ballot is secure?

Election officials will deliver absentee ballots only to voters who specifically request them. Every absentee ballot will have a unique identifier to allow both election officials and the voter to track the completed ballot following its return to the county board of elections. The state employs technology to prevent anyone from voting twice.

When is Election Day? When are polls open?

Tuesday, Nov. 3. Polls are open from 6:30 a.m. to 7:30 p.m. Curbside voting will be available at polling locations for older voters and for voters with physical or mental disabilities.

Can I vote before Election Day?

Early in-person voting is open from Oct. 15 to 31. Check with your county board of elections or the state board of elections website for hours and locations.

What form of identification do I need to vote?

North Carolina is under a federal court injunction that put its voter ID requirement on hold. ID is not currently required. But the state's absentee ballot requires an ID number from a North Carolina driver's license or a special identification card for nonoperators, or the last four digits of your Social Security number.

What is being done to make polling places safe from the coronavirus?

Election officials received an extra $27 million from state and federal funds for the November election to cover technology, equipment, sanitizing supplies and personal protective equipment to safeguard poll workers at voting locations.

Because many poll workers are over 65 and more vulnerable to COVID-19, the board of elections has launched a campaign to recruit additional people to work at voting sites. To give them more flexibility, the elections law temporarily eliminates the requirement that a majority of poll workers must live in the precinct where they work.

If you vote in person, expect to see a plastic barrier at the check-in table and markings to enforce social distancing. Poll workers will be wearing masks, face shields and gloves.

Hand sanitizer and masks will be available for voters, and each voter will get a single-use pen in counties with paper ballots, or a cotton ball in counties with ballot-marking machines. Voters who are unable to enter the polling place due to age or disability will have the option of casting their ballot from their cars.

Will I be able to vote in the same place as I always have?

Some voting sites may be moved to larger locations to allow more room for social distancing. You can find your Election Day polling place on the state board of elections website.

What are the key races in my state?

U.S. president
U.S. Senate: Incumbent Thom Tillis (R) vs. Cal Cunningham (D)
U.S. House: All 13 seats
Governor: Incumbent Gov. Roy Cooper (D) vs. Dan Forest (R)
This story was updated on Nov. 2 with more information about voting in person. Voting rules and procedures may change before Election Day. We'll update this story if they do, so bookmark this page and check back.

AARP is urging older Americans to ask the candidates 5 key questions:

Just over half of all older Social Security beneficiaries rely on the program for at least 50 percent of their income. If elected, how will you ensure that current and future Social Security benefits are not cut as part of deficit reduction?
Half of the people with traditional Medicare spend at least a sixth of their income on health care. If elected, how will you protect Medicare from benefit cuts, as well as lower health care costs and ensure seniors continue receiving the affordable health care they have earned?
COVID-19 has caused death and suffering for too many older Americans who require long-term care. If elected, how will you make sure seniors can access safe and affordable long-term care at home, as well as in facilities like nursing homes and assisted living?
Also of Interest

About AARP North Carolina