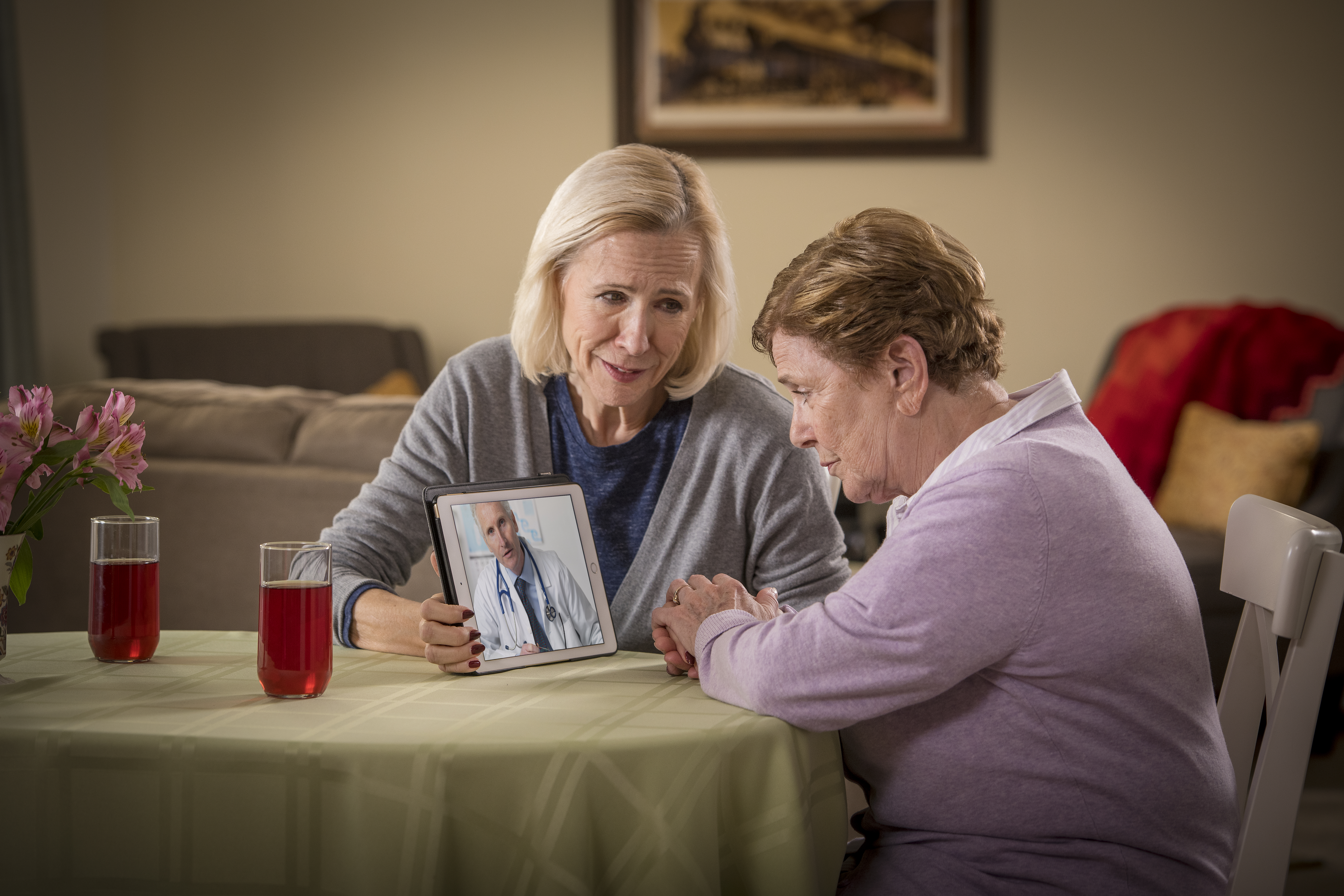 By Michelle Crouch

When patients come into the emergency room during the overnight shift at St. Luke's Hospital in
Columbus, they can be examined by a doctor much faster than they used to be—but the doctor may be on a computer screen.

It's a trade-off most patients are happy to make, said Kimberly Vaughn, a nurse at St. Luke's.

"I was a little skeptical at first, but it has been wonderful," she said. "Our patients are getting admitted faster, and we can start their treatment sooner."

The hospital, in rural southwestern North Carolina, uses a virtual care system to connect patients to off-site physicians.

The setup includes a computer with a large screen and a camera that the remote doctor can manipulate to examine the patient up close. There's even a stethoscope that transmits sounds from the heart, lungs and digestive system.

The growth of hospital telehealth has exploded. It has the potential to provide care in rural areas where residents might not otherwise see a provider and to shorten primary care wait times for patients in all areas.

Yet health care advocates say legislation is needed to address state-level barriers, which have made it difficult for telehealth to expand across North Carolina and beyond hospital settings.

More convenience, lower cost

"We have seen burgeoning interest in telehealth tools that can transform care, support patients in managing their health and increase access to high-quality care," said Brian Cooper, chief of staff at Bluedoor, a digital-health consultancy in Chapel Hill, who coauthored a statewide report on telehealth.

There are still improvements the state could invest in, Cooper noted. "Our payment models, policies and broadband infrastructure have not kept up with the technology. It requires a cultural transformation."

Telehealth isn't meant to replace face-to-face care, said Charmaine Fuller Cooper, AARP North Carolina associate state director for advocacy.

But telehealth does have the potential to make it more convenient and less expensive for people to visit the doctor, to get second opinions and to monitor chronic conditions.

Fuller Cooper said AARP North Carolina will urge the General Assembly to establish standards to support the expansion of telehealth this year and work to develop policies that improve access to health care for all.

Telehealth is limited without high-speed internet or cellphone service. Addressing the affordability of those services is also a concern, Fuller Cooper said.

An estimated 638,000 residents still don't have the minimum broadband speed of 25 megabits per second for downloads, as defined by the Federal Communications Commission. Others lack access completely, especially in rural and mountain regions.

State Reps. Donny Lambeth (R-Winston-Salem) and Josh Dobson (R-Marion) introduced legislation last year that would have set a definition for telehealth, required patient consent and put standards in place.

Although the bill received bipartisan support, it was tabled for further improvement.

AARP plans to urge passage of a telehealth measure this spring. To sign up for alerts on this and other issues, visit action.aarp.org.

Michelle Crouch is a writer living in Charlotte.
About AARP North Carolina