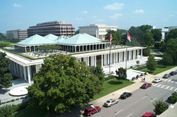 Governor McCrory released his $21.5 billion budget that holds most existing programs steady with inflation. Looking toward the future of this state, health, retirement and financial security for families and seniors are critical.

The budget fails to restore previously cut funding for programs for low income seniors and fails to fully address the retirement security of all North Carolina workers and the overall financial security of us all as we age. The budget does, however, allocate new funds for staff to begin the transition to an accountable care Medicaid reform model while setting aside $50 million for unplanned Medicaid costs. The governor's budget rejects federal funds for expanding Medicaid to approximately half a million low income North Carolinians.

AARP seeks an open door with the Governor and the legislative leadership to ensure that issues that matter to North Carolina's families and seniors are addressed as we seek to increase support for family caregivers, to improve services that allow people to live independently in their homes and to make all North Carolinians more financially independent while protecting hard-earned benefits, safeguarding retirement savings and creating easier, more accessible ways to save.

As many as thirty states are evaluating the retirement security of their workers and considering the creation of workplace savings programs for private sector workers who have the greatest disparity in access to retirement savings. 1.7 million private sector workers in North Carolina alone lack a way to save for retirement at work and the lack of such a savings program increases the likelihood that workers will not have adequate financial resources in retirement and would be more likely to require increased assistance from state and locally funded assistance programs as they age. AARP is working with North Carolina legislators to create a turnkey, easy set-up, low maintenance, voluntary, payroll deduction retirement plan program for small businesses and their workers to help address this issue.

























































Financial Security
ISSUE
GOVERNOR'S POSITION
AARP'S POSITION
STATE MEDICAL TAX DEDUCTIONS REINSTATEMENT
NOT ADDRESSED
Reinstate medical deduction and protect people with high health care costs.
TAX TREATMENT OF ROLLOVERS INTO QUALIFYING BAILEY PLANS (SENATE BILL 18/HOUSE BILL 42)
NOT ADDRESSED
Do not apply retroactively. Allow previous rollovers to remain tax exempt.
INCREASED RETIREMENT SECURITY FOR STATE RETIREES
NOT ADDRESSED
Public retirement systems should provide prefunded, annual, automatic and full cost-of-living adjustments (COLA) based on an accurate inflation index
INCREASED RETIREMENT SECURITY FOR STATE WORKERS
FULLY FUNDS ANNUAL REQUIRED CONTRIBUTION TO STATE PENSION PLAN
Government workers should continue to have access to defined benefit plans and North Carolina should maintain full funding of retirement systems and strengthen the funding of plans.
INCREASED RETIREMENT SECURITY FOR PRIVATE SECTOR WORKERS
NOT ADDRESSED
Supports efforts to expand retirement plan access to 1.7 million private sector North Carolina workers who currently lack retirement savings options through their employer.
HEALTH SECURITY
ISSUE
GOVERNOR'S POSITION
AARP'S POSITION
MEDICAID EXPANSION
DOES NOT EXPAND MEDICAID BUT ALLOCATES ADDITIONAL MEDICAID FUNDS FOR HIGHER ENROLLMENT AND PATIENT COSTS
Expand Medicaid
MEDICAID REFORM TRANSITION
$1.2 MILLION FOR TRANSITION TO ACCOUNTABLE CARE REFORM MODEL
Efforts to restructure Medicaid should maintain and improve current federal and state consumer protections and adopt financing policies and payment strategies that enhance and improve access and quality. Participation in an ACO by Medicaid beneficiaries should be voluntary and not affect access to physicians or practitioners.
About AARP North Carolina