By Charmaine Fuller Cooper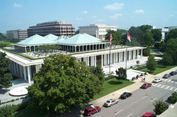 State House leaders responded to North Carolina's seniors in the House budget proposal released Monday night. Over the past two weeks, AARP members sent over 75,000 emails and 2,000 faxes to legislative leaders urging full restoration of state medical expense deductions and full funding for the Home and Community Care Block Grant. Both came out winners in the State House budget proposal.
Check out the key highlights from the proposed House Budget:
Medical Deductions Fully Restored
Fully restores state medical expense deductions to all ages in line with federal tax code.
Home and Community Care Block Grant (HCCBG) Increased
Restores nearly $1 million previously cut for each of the next two years increasing the grant's total availability by 2% to $55 million. The Home and Community Care Block Grant provides funding to counties for senior in-home care services, transportation services and senior hunger and nutrition programs. Additional funding provided will help to reduce the current waiting list for services.
Adult Day Care Overnight Respite Added as HCCBG service
Allows licensure for Adult Day Care Overnight Respite and adds it as an allowable service under the Home and Community Care Block Grant. Family caregivers frequently seek a planned short-term break from their caregiving duties through a safe and positive place for their loved ones. Additional funds to cover service delivery were not added to the Home and Community Care Block Grant.
State Retirees & Current State Workers get 2% increase
Provides a 2% Cost of Living Adjustment to State Retirees and a 2% raise to most state workers.
Residential Hospice one time Funding Increase
Provides one-time $20 million in grant funds for capital to increase capacity in hospice residential care facilities and requires a match.
Workforce Housing Loan Program Funding Increase
Funds the Workforce Housing Loan Program at $20,000,000 for each of the next two fiscal years to assist with development of low-income housing units across the State. The total state appropriation for the Housing Finance Agency for FY 2015- 16 is $29,118,739.
Military & Veterans – Higher Education Residency Waiver & New Cabinet Agency
Allows waiver of 12-month residency requirement for in-state tuition for certain veterans
Converts Veterans Affairs Division currently under the State Department of Administration to its own Cabinet-level organization to be known as the new Department of Military and Veteran Affairs
What did the House pass over for funding?
House leaders did not restore state retirement income deductions to seniors. Seniors who retired with private sector pensions and many who retired with government pensions completely lost state retirement income deductions during the 2013 State Tax Reform. Previously non-Bailey vested government retirees including the military could deduct up to $4,000 per year and private sector workers could deduct up to $2,000 per year.
Is the House Budget Final?
No. Today, State House leaders will meet in the Appropriations Committee to debate the budget and make amendments before the House budget is heard on the full House floor on both Wednesday and Thursday this week. After the full House votes on Thursday, the budget bill will be sent to the State Senate. The State Senate will then consider the House's budget recommendations and make their own adjustments over the next few weeks. After the House and Senate work out differences between their two budget recommendations, the overall legislative budget will be sent to the Governor for his approval or veto stamp.
Does this mean that Medical Deductions and funding for the Home and Community Care Block Grant are guaranteed?
No. Until the budget is finalized by both the State House and State Senate, we must continue to call, email and write legislators to urge them to keep fully restored medical deductions and the restored funding for the Home and Community Care Block Grant in their various versions of the budget. Click here to contact State House and Senate leaders.
Check out the State Budget.
State House Budget Bill 97 – 2015 Appropriations Act (bill language)
State House Budget Bill 97 – Money Report (fiscal line items)
About AARP North Carolina