By Bridgette A. Lacy for AARP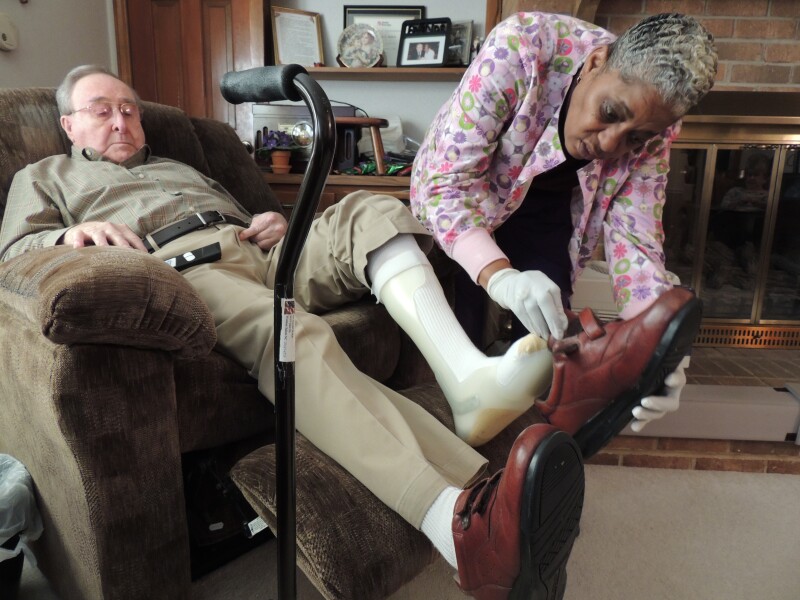 Winston-Salem resident Geraldine Welch cherishes the six hours of weekly at-home support services she receives for her husband, Harold Welch.

"He's a miracle," Geraldine says of her husband of 57 years, who survived a massive stroke in December 1998. The couple left their jobs for good that day even though neither was old enough to collect Social Security. Harold is paralyzed on his left side and needs help for the everyday duties of life such as bathing, dressing and sitting at the dining room table.

For Geraldine, a 74-year-old former customer service representative, it's been a godsend to have a home aide assist with her 6-foot tall, 220-pound husband. The couple receives services funded by the Home and Community Care Block Grant, which provides an in-home aide to help Harold with personal grooming while his wife gets a chance to run out on errands including doctors' appointments and grocery shopping.

"They have been a blessing for us," says 5-foot-1-inch Geraldine. "I have a hip and back out of whack." Sometimes, I have trouble taking the trash out."

According to Dennis Streets, division director for the state's Division of Aging and Adult Services, 53 of the state's 100 counties have more residents ages 60 and older than 17 and younger. Streets is worried that the capacity of the services funded by the Home and Community Care Block Grant are shrinking as the funding has remained flat on the state and federal level while the state's older population continues to increase. Providers are getting farther behind since food prices and gas prices are on the rise, meaning fewer people could be receiving services.

While Streets commended North Carolina's local service providers for making the most of their resources and targeting those most in need, he did express concern about wait list for services—especially for in-home aide and home-delivered meals. These two services can make it possible for vulnerable seniors to continue living at home and for families struggling with caregiving. As of December, more than 12,400 older adults reportedly were waiting for home and community services.

Streets says the Block Grant, which combines state and federal funds along with local matching dollars, assists people 60 years of age and older, especially those who are not eligible for Medicaid and cannot afford to pay for the services like the Welches. Luckily for them, Streets says, "At least, the two have each other.

Richard Gottlieb, president and CEO of Senior Services, Inc., in Winston-Salem, says in many cases, the recipients live alone. Many are widowed, divorced or single women who are frail and vulnerable. Some are homebound and unable to get to doctor's appointments or to prepare food. While families, neighbors, friends, and the faith community often pitch in to help, the Block Grant fills the gap for many.

Alan Winstead, the executive director for Wake County's Meals on Wheels, says 245 people are on his waiting list. Meanwhile, it will cost $40,000 more to serve the same number of meals this year because of higher food and fuel costs. "We would be impacted if funding does not increase or there is a funding cut," he says. We already know we need additional money just to serve the same number. That won't expand services or reduce the wait list.

Candie Rudzinski, executive director for Randolph County Senior Adults Association Inc., fears flat funding or cutbacks will mean fewer meals and rides for her seniors. She already has a waiting list of 140 county residents who would like to come to the senior center for a hot meal.

Asheboro resident Marge Moody who is 66 and suffers from multiple sclerosis attests to the importance of being able to come to the center and receive to a meal. She and her husband, Kenneth who is 71 and has Alzheimer's come to the center Monday through Friday for lunch.

Suzanne Black, associate state director of community outreach with AARP, says in addition to serving the needs of patients, caregivers want emotional support, time for themselves, money and access to resources and services. Because their work has great value, she notes it is imperative that caregivers are supported in their role.

According to AARP, one-in-four North Carolinians age 50 and over are caregivers and their average out-of-pocket-cost to provide care is $5243 per year. In addition, employers pay around $2111 per year for the cost of absenteeism, sick and vacation leave for each employee caregiver.

April Perry, clinical educator at Duke Home Care and Hospice, says family caregivers are being asked to do very sophisticated things. Most of the patients are over age 65 and many are in the 75 to 80s range. When you have patients with serious medical problems, it requires a fair amount of resources. "We are asking a tremendous amount from caregivers," Perry says, so all the more reasons for more funding, instead of asking people to do more with less."

Gottlieb says he believes it's better to pay upfront to help seniors stay at home with a little help from in-home aide and other services than to send them to a facility, which is actually more expensive. "Helping our seniors is not only the compassionate thing to do, it's a lot less expensive in the long run."

Info Box:

For more information about caregiving services in NC, visit http://www.caregiver.org/caregiver/jsp/content_node.jsp?nodeid=1231

http://www.aarp.org/caregiving

According to AARP:

More than a quarter of older North Carolinians living in the community have two or more physical or mental conditions that make it difficult for them to do activities such as walking, dressing, and bathing.
Many of these older adults are in need of home and community-based services.
Persons in particular need are the 321,000 older adults in the state who are 80 and older and those who are disabled.
The economic value of providing care to an adult with limitations in daily activites by family members in North Carolina in 2009 was $11.7 million.
In 2012, average cost of care in a semi-private room in a nursing home in North Carolina was $194 a day. The average cost of home care aide services was $19 an hour.
About AARP North Carolina