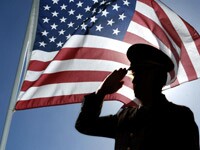 AARP is hosting a Celebration of Freedom on Veterans Day weekend to honor North Carolinians who served in the armed forces. The free event will be Saturday, Nov. 12, from noon to 8 p.m., at the Battleship North Carolina Park in Wilmington.
North Carolina ranks eighth in the nation in the number of veterans, with 775,000 resident vets.
Everyone is invited to dance to the sounds of the Legacy of Motown Revue and the Imitations band. A free screening of World War II era movies begins at 5:30 p.m. on the fantail of the battleship North Carolina.
AARP will provide information on caregiving resources, financial planning and fraud protection—as well as free water taxi rides and discount tickets for battleship tours.
About AARP North Carolina