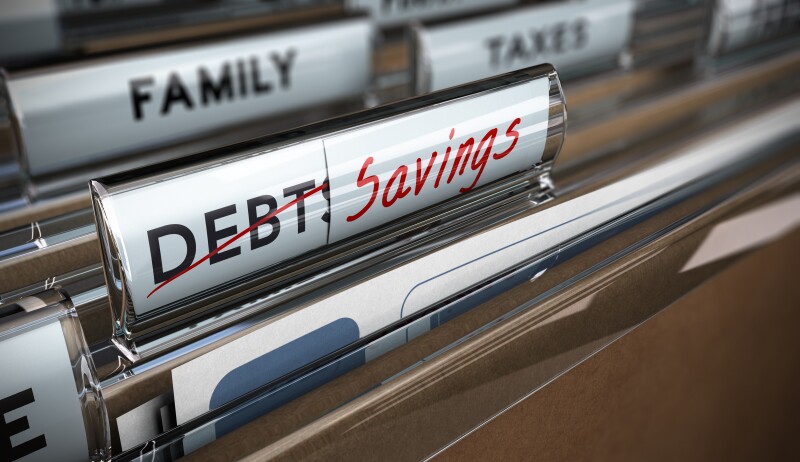 Answers to the RETIREMENT CRISIS QUIZ below


Crisis even more urgent with savings depleted during the pandemic

RALEIGH – With the lack of retirement savings becoming a growing and urgent problem in North Carolina, a legislative study committee has proposed a state-facilitated solution to help workers who do not have access to workplace retirement savings options.
Under Session Law 2019-205, North Carolina established a Study Committee to explore options for small businesses and their employees to address the state's retirement savings gap. Committee Chairman, Representative Bobby Hanig explains, "North Carolinians, like most across the US, are not saving sufficiently for retirement and the impact will be felt by all through increased spending on programs that help limited-income older adults.

Hanig points to a study by the UNCW Cameron School of Business that found savings shortfalls will impact North Carolina taxpayers by over $468 million in the near term. A modest increase in savings rates of 3% by workers in the shortfall group would close this fiscal gap. [i]

The Taskforce Report highlights just how low savings are for those approaching retirement. Across all households, median retirement savings are $2,500; for near-retirement age households they are only $14,500. [ii]

For one- third of North Carolinians over the age of 65, Social Security is the only source of income. North Carolina residents' average benefit is only about $1,405 per month, or less than $17,000 per year. [iii]

AARP North Carolina Director Michael Olender said, "With the cost of health care, medications, utilities, food and other necessities rising, is hard to make ends meet without some sort of assistance as well as encouragement to save more."

AARP North Carolina has been advocating for easier saving options for workers to save more for retirement. "North Carolinians want to save and want to be self-reliant. However, even though retirement savings options are plentiful, only about five percent of workers who don't save through automatic payroll deductions find and fund retirement accounts. Workers who have savings options through their employer are 15 times more likely to save than those without," Olender explains.

An AARP study on workplace savings found that 53 percent of workers in North Carolina do not have access to a workplace retirement savings plan. These workers tend to be employed by small businesses and are disproportionately African-American, Hispanic and transition from job-to-job frequently. [iv]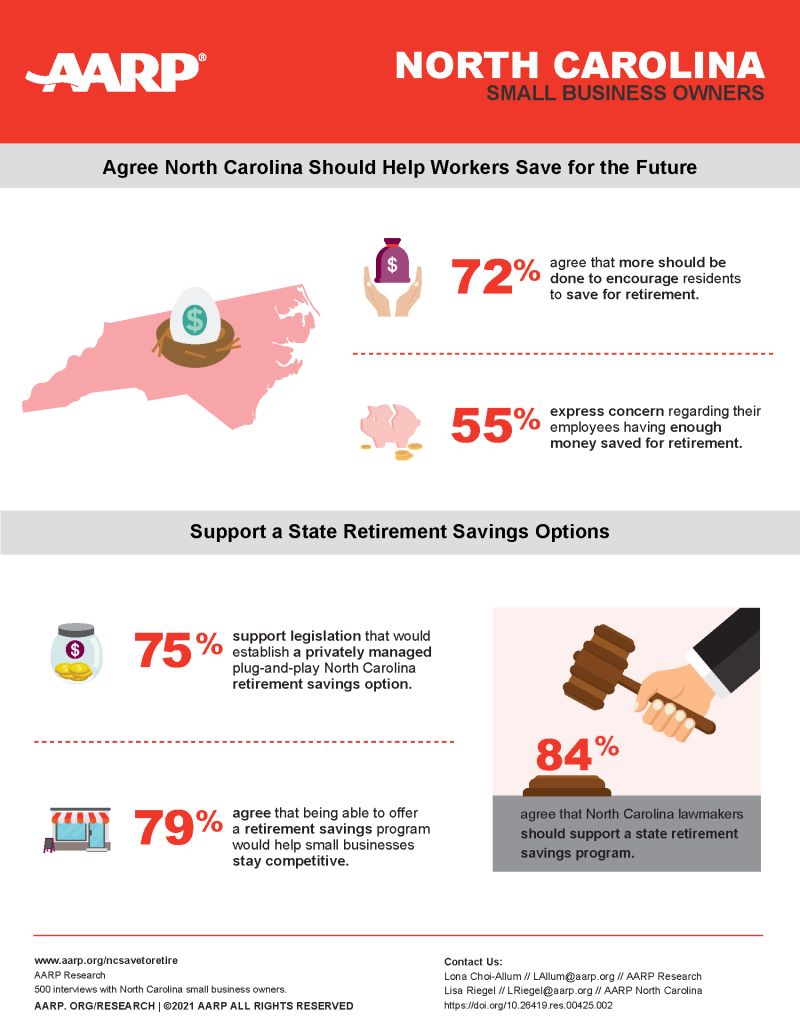 AARP also conducted a recent survey of 500 small business owners that found that 72 percent feel more should be done to help people save for retirement and 84 percent agree that North Carolina lawmakers should support a state retirement savings program.

AARP North Carolina Manager of Advocacy Lisa Riegel, who has been helping push for a plan to be put into place, said, many other states are taking action and it's working. "Most states are considering or taking action to expand access and improve long-term retirement income outcomes. States are working with providers to launch programs as public-private partnerships. The first three states with active programs have achieved over $130 million in savings by more than 216,000 workers in less than three years."

The plan proposed for North Carolina, draws on the best practices from other states. A nine-month study with lawmakers, small business owners, fiduciaries and others, recommends a state-facilitated, plug-in-play, auto IRA program. This plan is the simplest, lowest cost solution that would also allow workers to draw on their savings in emergencies such as hurricanes, and pandemics, and unforeseen life events. If enacted by the General Assembly in 2021, this plan could create retirement savings for 1.7 million workers.

[i] Galbraith, Craig S., Fiscal Benefits of Increasing the Savings Rates of North Carolina's Aging Population: Impact on State Expenditures for Retirees, University of North Carolina Wilmington, December 2016.

[ii] 4 Employee Benefit Research Institute. As provided to AARP Public Policy Institute, 2006

[iii] 1 Rhee, Nari PhD and Ilana Boivie, The Continuing Retirement Savings Crisis, National Institute of Retirement Security, 2015.

[iv] John, David, and Gary Koenig, Fact Sheet: North Carolina - Workplace Retirement Plans Will Help Workers Build Economic Security, AARP, August 2015.

Small Business Retirement Savings Plan.mp4
QUIZ ANSWERS
Question 1.
"a" -- Nearly half of families have no retirement account savings at all, and near-retirement households only have around $21,000 saved for retirement.
Question 2.
"c" – Workers are 20 times more likely to save for retirement if it comes automatically out of their paychecks.
Question 3.
"c" -- This retirement savings crisis will impact all of us – even those who save. Giving workers an easy way to save will mean fewer people will need to rely on social services saving taxpayers. Too many older adults are aging into poverty. Average Social Security benefits for a 65+ North Carolinians are $21,000 per year, while yearly costs for food, utilities, and health care alone average $22,000.



About AARP North Carolina