RALEIGH – A new survey of North Carolina registered voters ages 40 plus finds that the vast majority of respondents (83.5 percent) of current caregivers said that they will provide future caregiving or assistance on an unpaid basis to an adult loved one. It also found that over 95 percent think it is important to have services available in their communities to help older adults live independently.

Caregivers are feeling stressed
The survey of 800 registered voters conducted by AARP in February and March, found that current working caregivers are feeling stressed (59.8%), with the primary cause of their unease being balancing work and family (66.1 %).

AARP North Carolina President Dr. Catherine Sevier explains, "More than half (56 %) of current and former caregivers are taking care of parents, meaning that many have to balance the demands of work, their own children and other needs. That is why there is such strong support for simple measures introduced in the NC General Assembly that will make their labor of love less stressful and demanding.

Other than balancing work and family, the survey found that the other major sources of stress for current caregivers are getting enough rest (58%), finding time to exercise (51%) and difficulty maintaining a healthy diet (40%).

Sherri from North Carolina is one of the state's 1.3 million caregivers. She takes care of her parents who are both in their nineties with dementia and other health problems. "I also have health problems and have put my health needs on the back burner often to look after them. I stay tired all the time. I also worry about finances and how to pay for things that are needed," she said.

A big challenge for most caregivers, is being able to provide care to loved ones so that they can keep living independently in their own homes (91 %). Two measures introduced in the General Assembly will go a long way to help.

Reducing costly hospital readmissions
The bipartisan NC Caregivers Act with 66 bill co-sponsors, has already been enacted in 38 states. This commonsense legislation works to prevent hospital readmissions and helps reduce caregiver stress and expense.

Voters show overwhelming support for the major NC Caregivers Act provisions such as 83.3 percent who favor requiring hospitals to record the name of a patient's family caregiver in the medical record upon admission, 90.8 percent who believe hospitals need to keep a family caregiver informed of major decisions, like transferring or discharging the patient, and the 94.2 percent who feel hospitals should be required to explain and demonstrate any medical or nursing tasks family caregivers will need to perform after the patient returns home.

Improving health care access
Another bipartisan proposal, the Safe, Accessible, Value Directed and Excellent Health Care Act (SAVE Act), also finds overwhelming support. 85.5 percent of the survey respondents support a proposal to modernize outdated rules related to nurse practitioners and advanced practice registered nurses. These nurses, who have additional training in specific areas like elder care, often visit older patients in their homes. By updating the rules, nurse practitioners can serve as the primary or acute care provider for a patient relieving a growing problem of physician shortages, long appointment wait times and other barriers to care.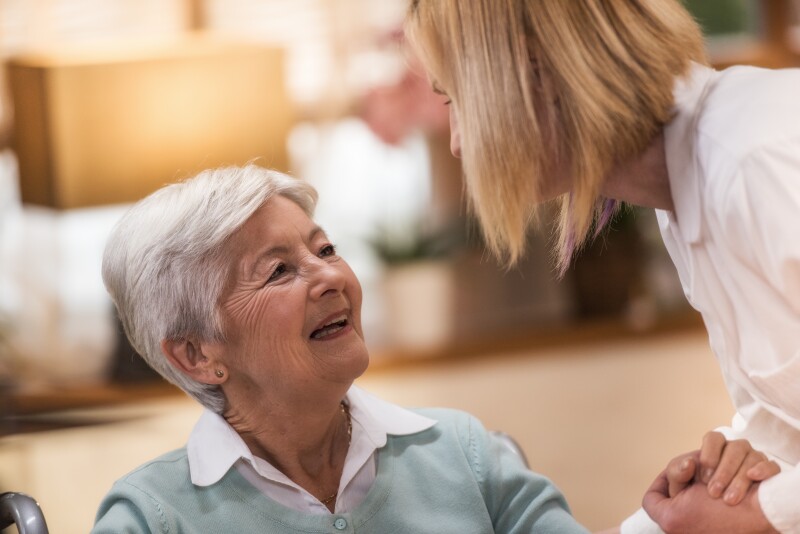 Opponents of the SAVE Act have been using anecdotal evidence that patients will receive lesser care. But studies have shown the contrary to be true, where ARPNs provide high quality care. The survey finds that 93.4 of respondents who saw an APRN rated that patient visit as "good" or "excellent."

Dr. Sevier concludes, when it comes to the difficult task of caring for loved ones, most people wouldn't have it any other way. But to help caregivers reduce some of their stress and strain, and to help people stay in their own homes and communities, we need to work now to implement best practice approaches such as the bi-partisan CARE Act and the SAVE Act."

AARP North Carolina commissioned a telephone survey among 800 registered voters age 40-plus in North Carolina to learn about their experiences with family caregiving. The sample utilized an age-targeted landline and cell phone registered voter list obtained from Aristotal International. The sample database consisted of 3,967,161 registered voters age 40-plus in the State of North Carolina. Quotas were used in this study based on age and gender and were filled based on responses to questions in the questionnaire.
They were designed to yield a proportional representation of the North Carolina age 40-plus registered voter population.
Respondents were selected at random from the sample list to be dialed. American Directions Research Group (ADRG) asked to speak with the registered voter listed on the file. If that person was unavailable, ADRG asked to speak with another member of the household aged 40-plus who was registered to vote in North Carolina. The interviews averaged 25 minutes in length and were conducted in English. The survey has a margin of sampling error of ±3.46 percent.
This report highlights results from 800 registered voters interviewed from February 16 to March 3, 2019. The data collection and weighting were performed by ADRG. The data is weighted by age and gender to reflect registered voters in North Carolina age 40-plus, based on the sample source.
About AARP North Carolina