RALEIGH -- For their efforts to support the needs of family caregivers, AARP recognized four members of the North Carolina General Assembly and former Governor Pat McCrory for their legislative leadership to help those taking care of loved ones in the Tarheel State.

At a meeting today of the NC Task Force on Alzheimer's and Related Dementia, AARP North Carolina presented its "Capitol Caregiver" Awards to the former Governor as well Representatives Jean Farmer-Butterfield (D), Pat Hurley (R), Graig Meyer (D) and Rena Turner (R) for the roles they each played in 2016 in securing a significant victory for those caring for loved ones across state lines.

The Uniform Adult Guardianship and Protective Proceedings Jurisdictions Act (UAGPPJA) signed into law last year will help those caring across state lines by outlining a set of rules for transferring guardianship from one state to another.

Allowing states to recognize and register guardianship orders from other states.
Creating a clear process for determining jurisdiction.
Protecting older people against abuse and exploitation because the guardianship order is registered in other states.
"This Act helps people save money and cuts red tape," said AARP North Carolina President Dr. Catherine Sevier.

Award recipient Representative Pat Hurley said, "As the primary caregiver for my mother for 11 years after she had been diagnosed with dementia of the Alzheimer's type, I understand what families are going through. To be able to help ease their stress in any way is very important. I was a Deputy Clerk of Superior Court helping people with guardianships and incompetency for 14 years and saw many tears. We still have a lot of work ahead of us, but keeping the conversation going helps create solutions and ease the situation for caregivers."

Rep. Jean Farmer-Butterfield stated that her primary reason for introducing the Act was to help those guardians appointed in other states and moved to NC as well as those who are appointed in NC who moved to other states. She became very aware of this need through numerous contacts from such guardians in her role as Senior Director of Guardianship at the Arc of NC over the years. In addition she was a caregiver and the primary coordinator for her parents' care for five years prior to their deaths.

AARP North Carolina Director Doug Dickerson, who presented the Awards, explained that Representative Farmer-Butterfield's story is not unique. "Every day, over 1.2 million North Carolinians help their older parents, spouses and other loved ones live independently at home — where they want to be. They provide transportation, cook meals, manage finances, perform complex medical tasks, help with bathing and dressing, and so much more. AARP advocated for the new law to help make caregiving a little easier and more affordable.

A labor of love to be sure, family caregiving can also be a stressful, exhausting and emotional job. That's why AARP is fighting for commonsense solutions to make these big responsibilities a little bit easier — and we've seen real progress here and in other states across the country," he said.

The Uniform Adult Guardianship and Protective Proceedings Act was just one of many recommendations the legislatively- mandated NC Task Force on Alzheimer's and Related Dementia made to the General Assembly. The Task Force led by the NC Institute of Medicine and co-chaired by AARP, developed a plan to better prepare the state to deal with a wave of dementia expected in the coming years. AARP and other advocates have been urging the legislature to continue to focus on the needs of family caregivers and the other recommendations of the Task Force.

Awardee Representative Graig Meyer said, "As a social worker, I know that there are many North Carolina families caring for aging adults and they are lucky to have the AARP on their side. I am happy to work with the AARP on legislation to help them all."

Doug Dickerson concluded "Moving forward, AARP will continue to work in a non-partisan way to find solutions to help improve the lives of family caregivers and the other needs important to the growing number of older adults in the state."

A list of AARP's 2016 Capitol Caregivers and the le gislation they championed can be found here.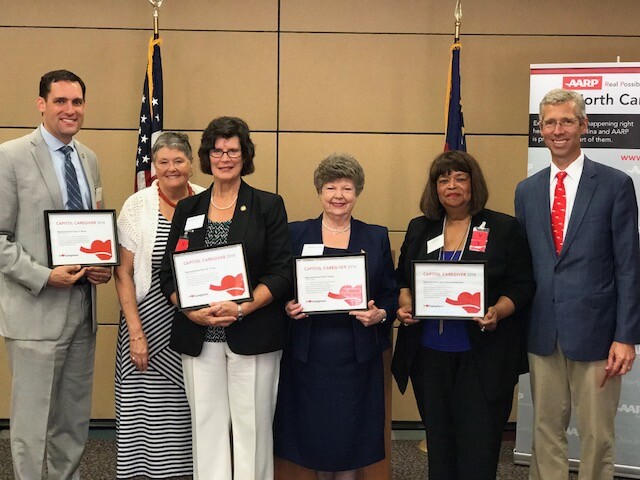 About AARP North Carolina