RALEIGH – To recognize their integral work to support family caregivers in North Carolina last year, AARP named Governor Roy Cooper, State Senators Warren Daniel and Paul Newton and State Representatives John Szoka, Gale Adcock, Beverly G. Boswell, Donna McDowell White as "Capitol Caregivers."

The North Carolina lawmakers join a group of over 100 Capitol Caregivers from 30 states. These leaders have advanced policies in 2017 to support family caregivers, who help their parents, spouses and other loved ones live independently at home and in the community—where they want to be.

This year's recipients join previous awardees including former Governor Pat McCrory as well Representatives Jean Farmer-Butterfield, Pat Hurley, Graig Meyer and Rena Turner for the roles they each played in 2016 in securing a Uniform Guardianship Act -- a significant victory for those caring for loved ones across state lines.

"AARP thanks the Capitol Caregivers for championing the new Uniform Power of Attorney Act and the Nurse Licensure Compact. Both laws will help family caregivers by improving access to care and reducing some of the red tape, time and legal expenses of reestablishing legal guardianship," said AARP State President Dr. Catherine Sevier.

The Uniform Power of Attorney Act, which went into effect this year, will ensure power of attorney laws provide family caregivers with the tools they need to make important financial decisions and help protect individuals.

The new Nurse Licensure Compact will allow nurses to have one multistate license , with the ability to practice in their home state and other compact states. This will help reduce nursing shortages and help the state in the event of a natural disaster or other emergency,

Across North Carolina, more than 1.7 million people provided 1.19 billion hours of unpaid care for their older parents, spouses, children and adults with disabilities, and other loved ones— valued at about $13.4 billion annually. They help with bathing and dressing, meal preparation, managing finances, transportation, grocery shopping and more.

"Family caregivers provide invaluable care to their loved ones," says AARP North Carolina Director Doug Dickerson. "And they need our support."

Suzanne Black of Wilmington, who cares for her father, believes the Uniform Power of Attorney has already helped her family. "When we moved my dad here from New Mexico, I was able to retain my status as his legal guardian saving us time and thousands of dollars in legal expenses."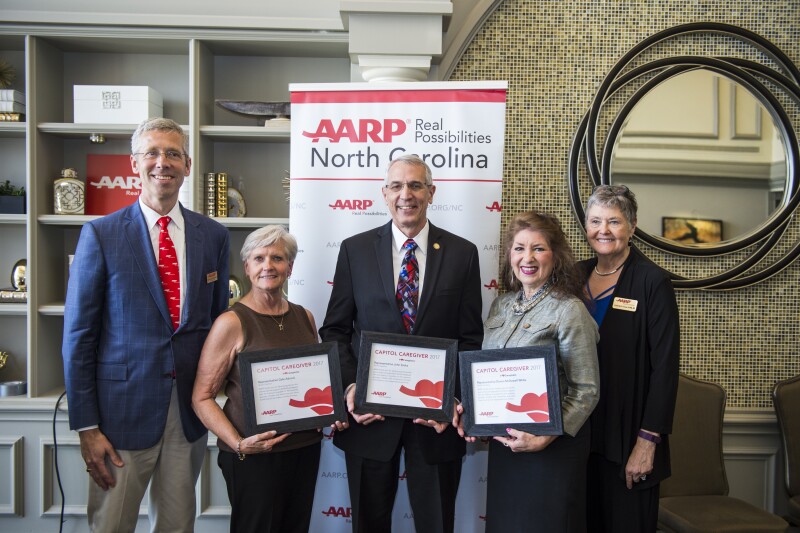 AARP presented the North Carolina "Capitol Caregivers" with their awards at a special ceremony at the City Club of Raleigh.

Doug Dickerson added, these new laws are just first steps to providing a little bit of help for family caregivers. "We hear from so many caregivers who are challenged AARP will continue to fight for the state's family caregivers and their loved ones in 2018. Caregivers need more support such as help at home, access to telehealth, workplace flexibility, training, respite and more."
About AARP North Carolina