RALEIGH - Recognizing the immediate and long-term challenges that those affected by Hurricane Florence still face, particularly vulnerable older adults, AARP members and AARP Foundation are donating $635,000 to various rebuilding as well as legal assistance efforts in North Carolina.

AARP North Carolina Doug Dickerson said, "For vulnerable older adults, a natural disaster intensifies the struggles they already experience — so when communities are pummeled by catastrophic natural disasters, AARP responds. The donations were in large part due to an outpouring of support from thousands of donors whose gifts were matched from AARP and AARP Foundation, allowing us help older adults get back on their feet in the wake of the disaster."

Organizations receiving AARP donations are as follows:

Legal Aid of NC -- $95K
Habitat of Fayetteville -- $90K
NC Housing Finance Agency -- $90K
Habitat of Cape Fear -- $90K
Habitat of Craven County -- $90K
Habitat of Brunswick County -- $90K
Southeast Association For Area Agencies on Aging - $90K
Dickerson noted that much focus is being placed on housing needs, not just to repair homes that were damaged, but to make housing more resilient to storms that will continue to threaten the safety and wellbeing of communities across the state.

One focus of Habitat for Humanity, which received multiple donations, is affordable housing. This is an important need for a growing number of older adults as housing costs escalate, especially in high growth regions in the state.

Cape Fear Habitat, one of the donation recipients states, "We work with families and individuals of all faiths in need of a decent, affordable place to live. Through community partnerships, volunteers, and donors Cape Fear Habitat builds and rehabs homes to be purchased by future homeowners on terms they can afford."

The NC Housing Finance Agency recently shared that,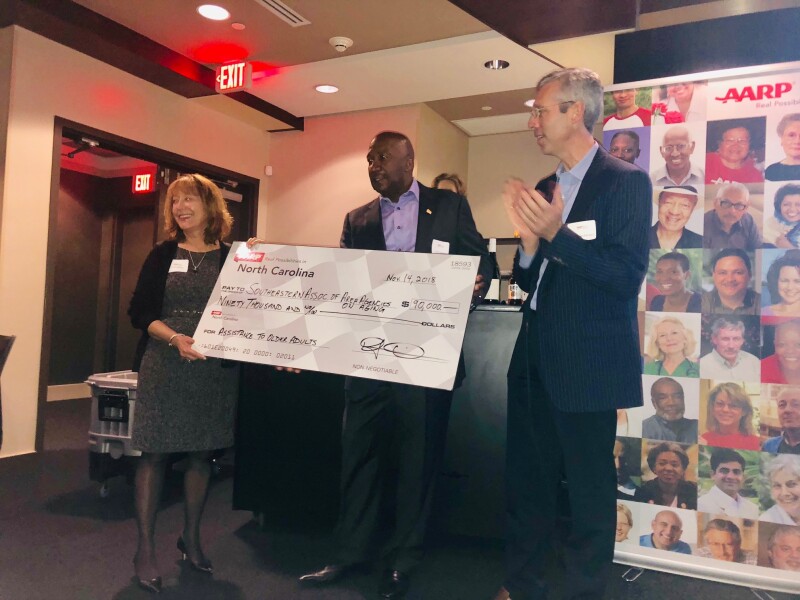 "more than half of Americans older than 65, including 58% of North Carolinians in that demographic, pay more than 50 percent of their income on housing costs, according to a new report from the Harvard University's Joint Center for Housing Studies (JCHS). "Housing America's Older Adults" reaffirms that baby boomers are already facing housing affordability challenges that will only grow as they age.

The sheer size of this population compounds the problem. More than 65 million U.S. households were headed by someone aged 50 or older in 2016, and that number will more than double by 2037. North Carolina's older adult population is mirroring that trend, with 90 of the 100 counties projected to have more people over the age of 60 than under 18 by 2025."

Dickerson said, affordable housing is one important domain of what makes our communities great places for all ages. As we work toward helping our cities, towns and rural areas prepare for this demographic change, our goal is to make homes not only affordable, but resilient as well.

About AARP North Carolina

AARP is the nation's largest nonprofit, nonpartisan organization dedicated to empowering people 50 and older to choose how they live as they age. With 1.1 million members in North Carolina and a nationwide presence and nearly 38 million members, AARP strengthens communities and advocates for what matters most to families: health security, financial stability and personal fulfillment. AARP also produces the nation's largest circulation publications: AARP The Magazine and AARP Bulletin. To learn more about AARP North Carolina, visit www.aarp.org/NC or follow @AARPNC on social media.

About AARP Foundation

AARP Foundation works to end senior poverty by helping vulnerable older adults build economic opportunity and social connectedness. As AARP's charitable affiliate, we serve AARP members and nonmembers alike. Bolstered by vigorous legal advocacy, we spark bold, innovative solutions that foster resilience, strengthen communities and restore hope.




About AARP North Carolina