RALEIGH -- Contrary to this week's reports of contentious Congressional town hall meetings over federal policy proposals, the North Carolina Congressional delegation held 13 productive meetings with teams of AARP volunteers. AARP volunteers in each district informed their elected official that certain health policy changes being proposed in Washington could have costly consequences on many of their constituents.

AARP voters were eager to explain that the Congress must be careful not to destroy key consumer protections now in law. Some immediate concerns are over a bill that would allow insurance companies to deny or exorbitantly charge healthcare coverage for individuals who have had prior illnesses such as cancer, asthma or other "pre-existing" conditions.

Another proposal, advocated by House leadership, is to change Medicare to a system of cash vouchers rather than the guaranteed full coverage that Medicare has long provided. AARP North Carolina Director Doug Dickerson explained, "It was evident in meetings with our delegation this week that our elected representatives have a desire to better understand how their proposals could affect older voters. Older adults also want their children and grandchildren to have the same guarantee that Medicare has always had.

"With important votes on the near horizon, Members of Congress displayed their desire to get beyond partisan talking points and better understand the issues and tradeoffs of the decisions they will make," he added.

Defeating an unfair "age tax"

In meetings this week while Congress members were home on President's Day recess, AARP advocates met directly with Representatives Walker, Budd, McHenry, Foxx, Meadows, Price, Rouzer, Jones, and key staff from Senators Burr and Tillis, and Rep. Holding, Hudson and Pittenger. In the coming days, volunteers are also scheduled to meet with Representative Adams and Butterfield. The constituents expressed a serious concern about future health care affordability, especially those ages 50-64 who are deeply troubled over a proposal that would result in what AARP calls an "age-tax."

AARP volunteer Deborah Wagoner from Swannanoa, who met with Rep. McHenry, said HR 708, a proposal that allows age-rating, "Is Washington-speak for an unfair age tax on older workers that would line the pockets of big insurance companies. Americans over age 50 could be forced to pay an age tax as much as five times more than what everyone else pays for the same health coverage. If this discriminatory age tax bill passes, the average 60-year-old could pay over $2,000 more a year on top of their existing health bills."

Working to Protect Medicare

Other AARP advocates talked about their worries of turning Medicare into a system of vouchers, which proponents called "supplements" or "premium support." Jack Hansel of Greenville said, "The proposed voucher system would hurt hardworking Americans who have paid into the program their entire working lives – hitting those near retirement age the hardest. The 57 million people who rely on Medicare – and the workers who have been paying in from the time of their first job decades ago -- would face increased costs and more risks they can't afford."

Although Dickerson said in today's politics, the future is hard to predict, he did say he feels Congressional members are open to sounding ideas and policy proposals off of the state's most active voters. "There is a desire to go deeper than a party line and really understand how policy decisions impact people in their districts."

Increased Local Presence

He added that AARP has increased its local presence as well as advocacy in each Congressional District. "When it comes to making an impact, our volunteer-led efforts in local communities and regions are opening doors and improving dialogues across the political spectrum." AARP has 1.1 million members in North Carolina, with teams of advocacy volunteers in each congressional district.

He urges those who want to get involved to sign up for AARP Legislative alerts at http://action.aarp.org, or attend a local volunteer recruitment session.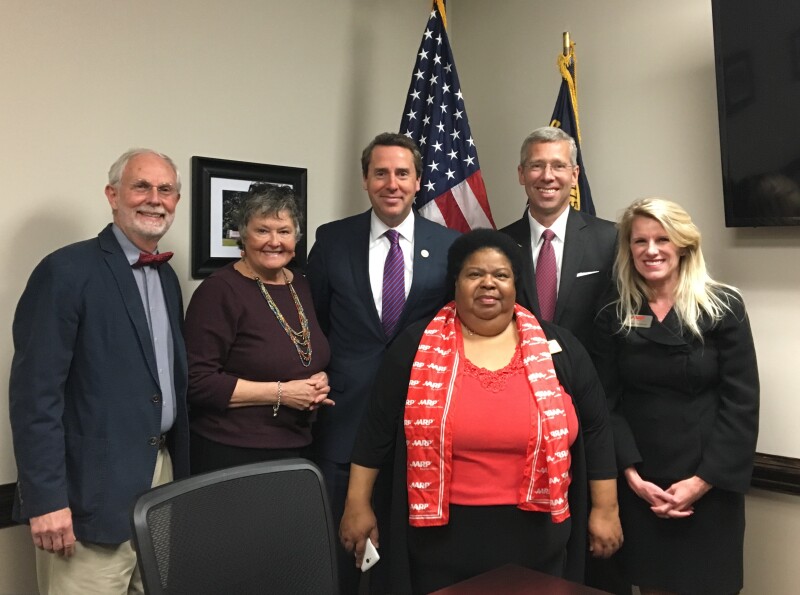 About AARP North Carolina